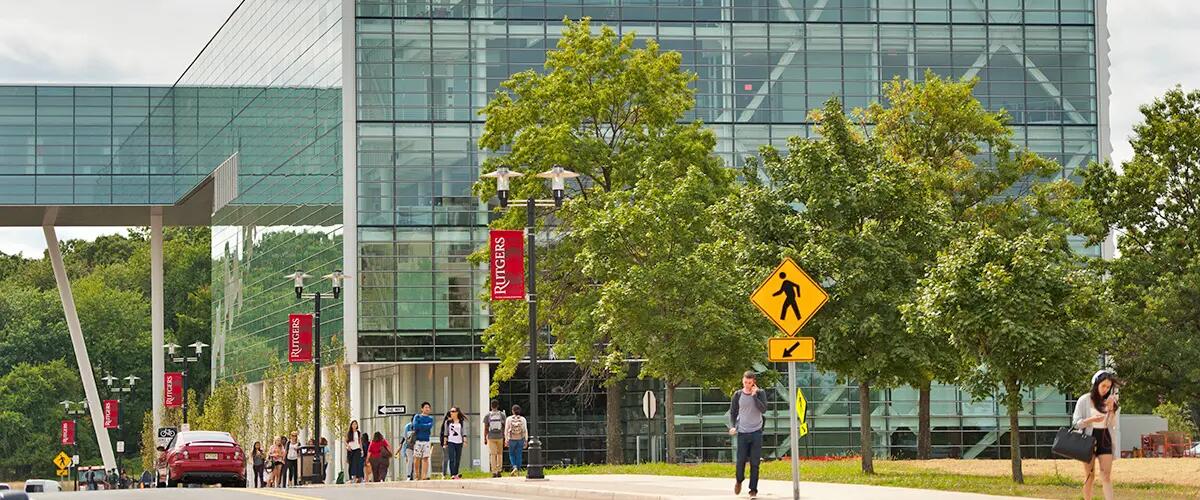 9th Annual LIBOR Finance Summit celebrates Rutgers alumni-student connections to Wall Street
Rutgers Business School's pipeline to Wall Street has never been stronger. Through the hard work and dedication of the student club LIBOR (Little Investment Bankers of Rutgers) and their faculty advisor Ben Sopranzetti, Rutgers placed 26 front office internships in the finance industry this summer at global companies such as Bank of America, Credit Suisse, Deutsche Bank, Goldman Sachs and Citi.
Integral to this success has been the relationship building between Rutgers alumni and students. Celebrating Rutgers 250-year anniversary, LIBOR and the Rutgers Financial Alumni Network brought together over 330 alumni, students and faculty to their 9th Annual Finance Summit held at Citi's world headquarters in Manhattan, the third straight year the event has been in New York City.
"It is here in the heart of the financial capital of the world that Rutgers Business School is proving itself," said Sopranzetti, professor of finance and economics. "Our success is due to the accomplishments of our alumni."
Highlighting the event was a panel discussion on technology and the future of Wall Street led by Rutgers alumnus Gary Chropuvka, a partner at Goldman Sachs. Joining the high-level discussion were Edward Brandman, Chief Information Officer at KKR; Brian Fagen, Head of North American Execution Services Sales at Deutsche Bank; and Peter Zangari, Head of Analytics at MSCI – all Rutgers alumni.
During the evening LIBOR honored "Dr. Ben," as the students call Sopranzetti, for his 10 years of deep involvement mentoring the student club, which has grown to over 300 members.
"Dr. Ben is always thinking a step ahead to figure out the best plan for the group," said Vikram Kesavabhotla, LIBOR co-president and a senior who majored in finance and mathematics. "He empowers us to take on new initiatives so that we can accomplish our goals." Kesavabhotla will be working at Credit Suisse in the equity research division after graduation.
For many students interested in a career in finance, being a part of LIBOR has been a stepping-stone toward their careers as alumni help juniors and seniors and upper class students help the younger students connect to Wall Street.
"Being a part of LIBOR has been a great honor," said LIBOR co-president and senior Nishant Gidvani who majored in economics and computer science. "We've had the rewarding opportunity to pay it forward by helping so many underclassmen land their dream internships." Gidvani is headed to Morgan Stanley to work in their sales and trading division.
Even though LIBOR is a huge organization within a giant state university, students felt a sense of camaraderie being part of the club, which started in 1993. "The best part of Rutgers Business School is how close you become with the diverse array of students," said Michael Dirla, director of alumni relations for LIBOR. "Although Rutgers is one of the largest universities, you always feel like you're at home in the business school," the junior finance major said.
Dirla will be taking on the role of co-president of LIBOR next semester after interning at Credit Suisse in the investment banking group this summer.
Ivan Brick, chair of the finance and economics department, and founder of Rutgers Finance Alumni Network credited the entrepreneurial spirit of the undergraduate students at Rutgers Business School – New Brunswick to land jobs on Wall Street. "These students are go-getters," he said. "They are anxious to learn. They know what they want, and they are not afraid of the hard work to get it."
Rutgers Business School has a proven track record connecting students to jobs after graduation evidenced by the school's No. 3 ranking in the nation for MBA employment according to U.S. News & World Report, 2016. "We believe strongly in supporting our student's careers at all levels," said Yaw Mensah, vice dean of Rutgers Business School, in his opening remarks at the Summit.
Over the past decade the school has invested in creating dedicated career management offices for its programs: MBA, undergraduate-New Brunswick, undergraduate-Newark, as well as masters programs in Quantitative Finance and Financial Analysis.
About LIBOR
Little Investment Bankers of Rutgers (LIBOR) is Rutgers' largest student-run finance organization. LIBOR's goal is to prepare students for careers in financial services, specifically "front office" roles on Wall Street. LIBOR was founded in 1993 and has built an extensive network of alumni in careers across investment banking, investment research, sales & trading, and buy-side roles. Our meetings throughout the year include educational workshops to help students develop the skills needed to succeed in finance, as well as networking activities to connect our students to internship and full-time job opportunities. This upcoming summer, LIBOR will be sending 26 students to Wall Street for internships in front office roles.
- Daniel J. Stoll
Press: For all media inquiries see our Media Kit