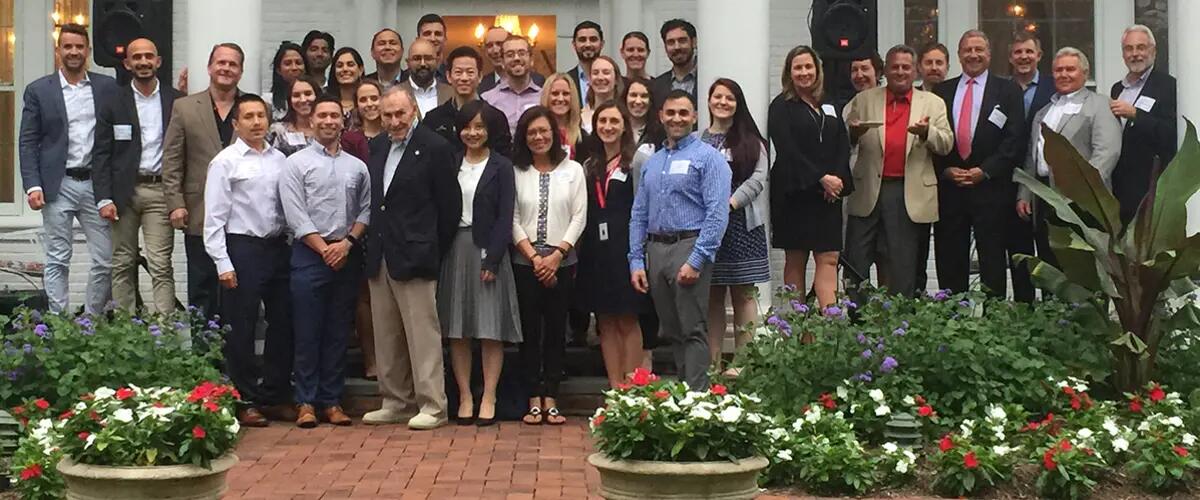 Alumni initiative begins to take hold
The momentum behind Rutgers Business School's new Corporate Alumni Advisory Council was evident last week during a special meeting of the dean's board of advisers at Johnson & Johnson's Riverview Guest House.
Leonardo (Len) DeCandia, vice president and chief procurement officer at Johnson & Johnson and a member of Dean Lei Lei's board of advisers, invited the board to hold its meeting at the property, a location typically reserved for company retreats.
JNJ employees who are alumni of Rutgers were also invited to attend. Nearly 50 Rutgers alumni turned out for the meeting, which also featured a presentation by Sulis, a team of student entrepreneurs pursuing the $1 million Hult Prize for social entrepreneurship.
"It was a unique opportunity for the board to meet alumni and a chance for alumni to get to know the board of advisers," said Andrea Cunnell, director of alumni and corporate engagement.
DeCandia is an alumnus of the Rutgers MBA program and was a driving force in helping Dean Lei Lei, who was then a professor, to build the supply chain management department at Rutgers Business School into one of the leading programs in the nation.
The meeting is an example of Rutgers Business School's efforts to engage with alumni in the companies where they work. The Corporate Alumni Advisory Council, which was formed in February, is working to increase engagement and strengthen the RBS alumni network.
Press: For all media inquiries see our Media Kit