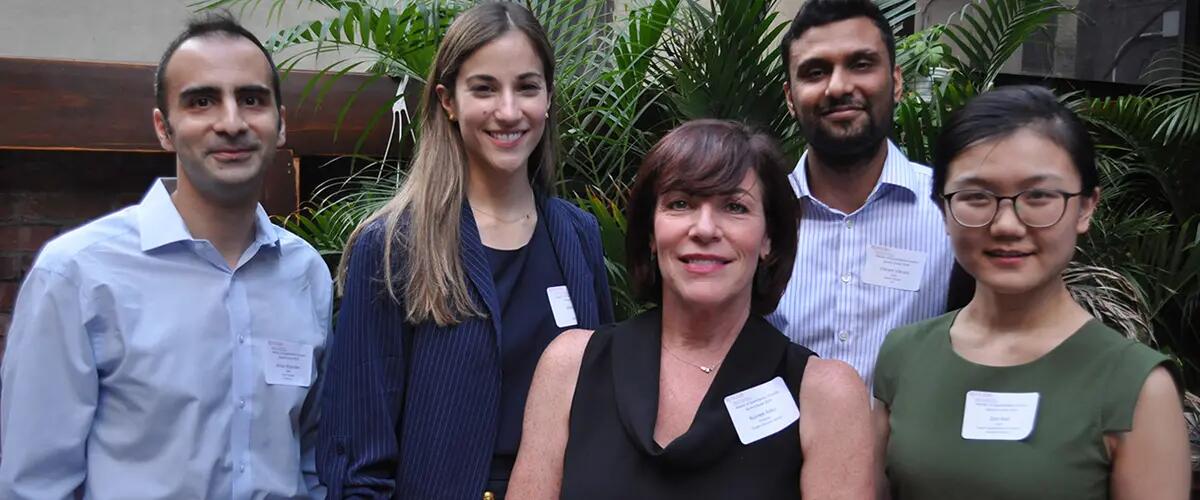 Alumni involvement strengthens Master of Quantitative Finance program
Twenty-one Master of Quantitative Finance alumni are re-connecting with Rutgers Business School to serve as ambassadors who will share their job experiences and connections with current students in the program. 
The willingness of alumni to give back strengthens the program's ability to prepare current students for careers and enhances the network it can offer to all graduates of the program.   
"We need more real-world resources for our students," said Ronnee Ades, who teaches the MQF program's career management class. "What we've learned is the advice of alumni is highly valued by our current students."
Paras Pasrija, a second-year MQF student, landed a summer internship at HSBC after attending a recruiting event and meeting MQF alumnus Yuheng Li, a vice president in asset liability management and market risk at HSBC.
Pasrija said having the MQF program in common immediately creates a strong connection between a current student and alumni. Students are comfortable asking alumni about courses to take or career paths to take. "There's a personal touch. We can ask them about anything," he said. "I don't think we can ask the same thing of a random person."
Ades kicked off the MQF Alumni Ambassador Committee with a dinner in June. Alumni who agreed to serve ambassadors will be required to attend at least one dinner meeting a year. In addition to having opportunities to network among themselves, they will be asked to give back, to mentor a first- or second-year student, attend a career management class as a guest panelist or speaker, and participate in a workshop conducting mock interviews.
Maria Karalis, who completed the MQF program in 2017 and now works at Bank of America, said the ambassador committee represented a great opportunity to stay connected with "the professors who have contributed to our success" and to guide current students. 
Alumnus Vikrant Vikrant, who completed the MQF program in 2016, said one of the main benefits of keeping alumni close to current students is to reinforce the importance of building a network.
Vikrant said alumni have valuable insights to share. "We have industry experience and we know how to leverage our education in the marketplace," he said.
Graduates of the MQF program who are interested in being an alumni ambassador may contact Professor Ronnee Ades at rades@business.rutgers.edu. 
Press: For all media inquiries see our Media Kit