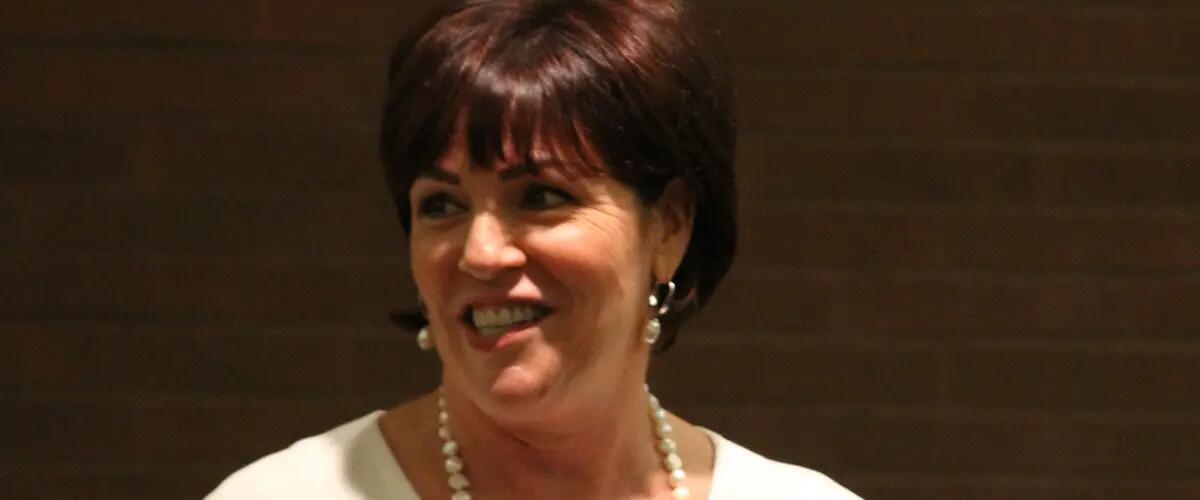 The work of creating new quants
The director of MQF's Career Management Office draws on her career experience and industry contacts to help make students job ready.
Nearly two years ago, Ronnee Ades came to Rutgers Business School with a plan to teach a class on Exchange Traded Funds, a popular but poorly understood subject on Wall Street.
In a matter of months, she also took on the task of running the office of career management for Rutgers Business School's highly ranked Master of Quantitative Finance Program. And with the manner of a caring Mother Hen, the wisdom – and the connections – of a Wall Street veteran and the passion of a cheerleader, she began coaching students on how to improve their resumes, how to sell themselves in interviews and advising them on possible career paths.
"I immediately saw how much I could help them," Ades says.
Help, indeed. During the second part of her first year at Rutgers, she had 199 sessions with students, counseling them, coaxing them and connecting them with her contacts.
Ades spent her career – nearly three decades – working in the financial industry. After 15 years in corporate finance, she started working in the very different world of capital markets, launching a new phase of her career at Dow Jones Indexes where she developed an expertise in Indexes and Exchange Traded Funds (ETFs), which were just starting to emerge as a security.
After seven years at Dow Jones, she moved to FTSE (now FTSE Russell) as head of alternate indices, which required her to learn the firm's array of products, including real estate, commodity indices and to draft the first round of its infrastructure indices.
She had two more jobs, first at Bloomberg and then Markit Ltd., and added fixed income products to her experience before she designed a class on Indexing and ETFs. "I wanted to teach indexing and ETFs because I knew that the industry was growing fast," she says. And she wanted to teach it at Rutgers.
"The stronger our students are the stronger our program is." - Ronnee Ades, director of MQF's Career Management Office.
She started teaching in January of 2015. Her first class of 25 students, a mix of MQF and MBA students, ballooned to 61 after the first semester. She expects to be teaching 40 students in the spring, a compromise between managing the size of the class and satisfying students who want to be in it.
Each semester she also teaches a mandatory once-a-week career management class for the MQF students, a role that she seemed qualified to fill because as she describes it: "Once I started working with them, I realized how impactful I could be."
It's an important role. Students enter Rutgers Business School's top-ranked specialty master's program in quantitative finance to develop a special expertise, and the director of career management augments the program by making them more job ready, with skills that will help them navigate career paths long after their graduation.
"I tell the students, you can get a job. It's not a puzzle. You don't have to be a perfect fit," Ades says. "You have to have enough skills to do the job and learn at the same time. You're always going to be learning no matter how many years of experience you have."
Garry Jingyu He, who completed the MQF program in May, said he met with Ades every two weeks as he hunted for a job. She helped to make his resume stronger, he said, and introduced him to her contacts in companies where he was sending applications.
In January, He will begin working full time in New York City as a market, treasury risk advisor at KPMG, providing information to auditors working with the company's bank clients. "Ronnee helped me a lot," he said.
He, who was born in China, said international students in the program are often struggling with language barriers and cultural differences in addition to the usual challenges that come with job-hunting.  "They don't know how to sell themselves. Maybe they have good skills, but they don't know how to let others know," He said. "Ronnee is a good seller. She knows how to guide students to emphasize their strengths."
In her career management class, Ades brings in guest speakers and tailors her lectures with contemporary issues that a working quant would need to know. In the process, she opens up students eyes to more career possibilities.
"There's a world out there that uses quant skills in the financial community and it's much broader than just banks," she says. "It's also hedge funds, asset managers, software analytic firms, data companies and media."
Jerinsh Jeyapaulraj, a second year MQF student, said one of the speakers Ades invited to her class last year, Stefano Pasquale, talked about his work with machine-learning algorithms. Jeyapaulraj found the area incredibly interesting.  
Weeks later at the annual quant summit event, Jeyapaulraj took the opportunity to introduce himself to Pasquale and they had a chance to talk more about Pasquale's work and Jeyapaulraj's interest. The introduction led to Jeyapaulraj getting a summer research job with Pasquale.
This summer, he will intern at BlackRock, where Pasquale now works. "I was quite fortunate to meet someone who was using machine-learning algorithms," Jeyapaulraj said. "Networking is important."
In addition to the contacts that she shares with students, what Ades brings to the class is real world and based on her own compelling work experience in capital markets, which has become focused on risk. "I can help them and I do help them see what is necessary to develop a good career path and be able to change it effectively," she says. "I've done it so I have the insights and the ability to say it's possible."
Last year, she recruited students to represent Rutgers Business School at international trading competitions in Chicago and Canada, which give them a unique opportunity to apply the skills and knowledge they've learned in the classroom to an experience that simulates real life. The competitions also help to raise awareness of the MQF Program and of Rutgers as a source of talented quants.
"Competitions will give them experience that will make them stronger candidates for jobs beyond trading, such as in research, where many of them want to be," Ades says.
"The stronger our students are," she adds, "the stronger our program is."
-Susan Todd
Press: For all media inquiries see our Media Kit