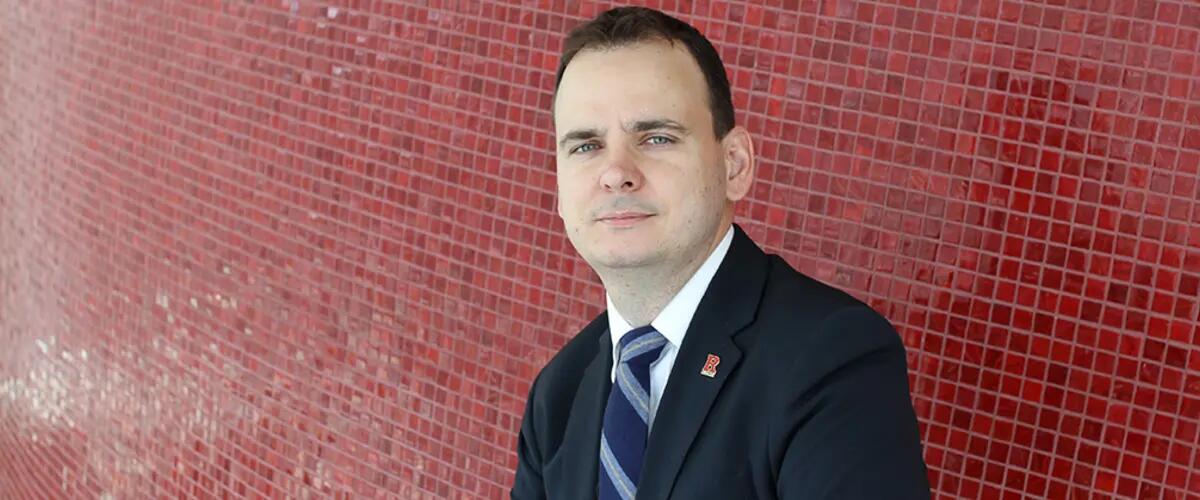 Alumni prove to be valuable resource for Pharma MBA student researchers
When Rutgers Business School alumnus Mark Slomiany heard that students from the MBA pharmaceutical management program were hoping to produce academic research on issues facing the biopharmaceutical industry, he had an idea about how to help them.    
Slomiany, a 2012 MBA graduate who is managing partner of a biotech start-up, said he knows entrepreneurs rely heavily on their networks to provide everything from information to investment while many universities lend their resources to support start-ups and community ventures. He applied the same principle to help fuel the student research.
Working with Rutgers Business School Professor Mahmud Hassan, Slomiany orchestrated a collaboration between the Blanche and Irwin Lerner Center and the Rutgers Business School Alumni Association to provide the students with the resources of alumni scattered throughout the biopharmaceutical industry.
"We wanted to bring all the components together and engage everyone," said Slomiany, who also holds a doctoral degree and co-chairs the RBSAA's student outreach committee.
The collaboration produced a series of academic papers. The first, which delved into the role of alliances in pharmaceutical research and development productivity, appeared in the Journal of Commercial Biotechnology in April. The same month, The International Journal of Pharmaceutical and Healthcare Marketing published a second paper on "Comparative Effectiveness Research and the Rise of Orphan Drug Indications." A third article generated by the research is expected to be published later this year.
"It's extremely valuable for the industry," Slomiany said of the research, "and it's great to get the Rutgers brand out there."
Slomiany was also drawing on an MBA experience of his own when he suggested the students reach out to alumni. Before he graduated from the MBA program in 2012, he set out to explore the role of social media in the pharmaceutical industry. His research spawned an article that later appeared in In Vivo, a prominent industry publication.
This time around, classmates Rema Bitar, Sarah Jeffers and Sarah Kruse, all of whom graduated from the MBA program in May, carried out the research in lieu of course assignments in their class with Hassan. They started out by identifying several pressing issues for the industry, and with Hassan's guidance, they drilled down until they got to a more specific area they could focus on.
As part of their research, they distributed a survey to alumni working in the industry and then followed up with some of them to get additional information and insights. The research, which the students worked on for about a year, was further refined by editors at the individual publications.
"The student knew it could take time," Slomiany said, "and they knew there was a potential for it to be published."
Professor Hassan, director of the pharmaceutical management program and the Blanche and Irwin Lerner Center for Pharmaceutical Management Studies, said the published research will bolster the center's mission and reputation. For the students, it also proved to be a valuable lesson.
"I found the research project to be a very rewarding experience that helped to push me academically and professionally," Jeffers said in an email. "I not only learned more about the topics we researched, but I gained great insight into what it takes to get a manuscript published."
Bitar said getting access to professionals in the industry who were willing to share their views "helped tremendously" in developing the research.
"They got into extensive detail about how the trends we were researching in the pharmaceutical industry affected their day-to-day work," Bitar said in an email. "These interactions played a significant role in the successful outcomes (of the papers) because real-life experiences provide compelling evidence that cannot be found through customary research methods."
Slomiany said he expects the research project will help establish a starting point for developing new ways to engage RBS alumni.
"When you talk about alumni outreach, the big question is, how do you return something to them for their engagement? In this case," he said, "the information does that."
-Susan Todd
Press: For all media inquiries see our Media Kit