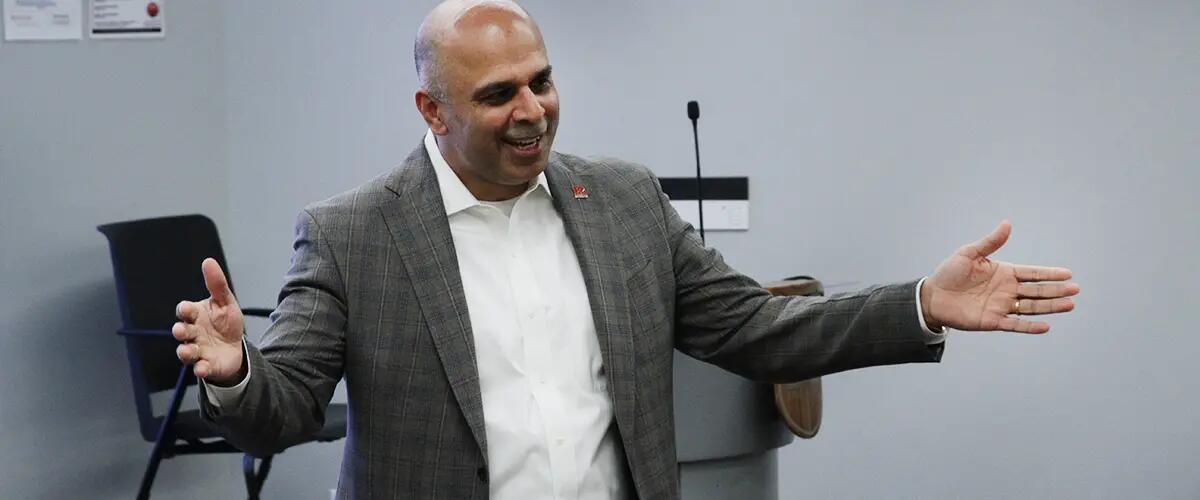 Alumnus created annual award for second-year MBA students as a way of giving back to Rutgers
After completing his MBA in pharmaceutical management at Rutgers Business School in 2005, Rohit Sood started a new career at Campbell Alliance.
In his job, he works side by side with some of the world's most innovative drug manufacturers when they are preparing to launch a new medicine. Sood, who has a background in computer science and applied mathematics, wanted to work in the pharmaceutical industry because he said he found it "fascinating."
"I got this feeling that the learning in pharma never stops," he said. "I'm still learning, which is what I really wanted. It keeps me excited."
For the past three years, Sood has been offering help to MBA students who have the same passionate interest. The Sood Singh Award, named for him and his wife Priya Singh, provides $7,000 to a student beginning a second year of the full-time MBA program who is planning to work in the pharmaceutical business.
Students who apply for the award are required to write an essay on an industry related topic. The winning essay is determined by a blind vote and the author receives the Sood Singh Award.
Sood started as a full-time Rutgers MBA student in 2003 after spending a decade working in the tech industry, including four years as the division manager of a start-up company in Chicago. "I think those four years in Chicago were great. I learned a lot, but I still had this interest in going back to school and learning business principles," Sood said.
Sood recently talked about his connection to Rutgers, his reasons for giving back and why he created the award specifically for second-year, full-time MBA students. 
Q: Can you share some of the thinking that went into creating the Sood Singh Award? 
A: "My wife and I have been very fortunate. We've had great careers, we have great careers and we wanted to give back. She has an award at her alma mater, and I wanted to have one at Rutgers. When I made that decision, we started thinking about what we went through when I was an MBA student. In the second year, students tend to face some financial challenges because they've taken time off from work. Everyone starts worrying more about money and whether they will get a job or how long it will take them to get one. So we decided to focus on the second years. We wanted to do something to encourage them. But we didn't want to just give money away. We wanted it to be based on merit. This is a way of saying, you put some solid thought into the essay and you deserve the award. It's not much, but it's something."
Q: Why did you decide to tie it to the pharmaceutical management concentration?
A: "When I graduated from RBS, there was no award for students who were working on their MBA and interested in working in the pharmaceutical industry. There were supply chain awards and marketing awards and awards in a lot of different categories, but there was nothing for the pharmaceutical students."
Q: What motivated you to use your money this way?
A: "If you go to a business school and you are financially able, I think you have an obligation to give back, and when I say give back, I don't mean just money. It could mean you mentor a student or you come back and sit on a panel and speak to students about meaningful things they should know as they pursue careers."
Q: Why did you decide to create the award at Rutgers?
A: "Business school was like a new beginning for me. I did everything at business school that I should have done as an undergrad and didn't. My undergraduate experience was interesting because I was new to this country. Money was extremely tight, so I spent a lot of time working to make sure I could pay tuition. When I came back full time at Rutgers, I found myself in a group of people of different ages. It was interesting, and it was fun. I still keep in touch with many of my classmates. I feel very fortunate for the experiences I had during the two years, and I feel very connected to Rutgers."
All first-year MBA students will be notified about the Sood Singh Award and the essay topic in early April.
Thinking about giving back? Alumni interested in finding out how they can give back to Rutgers Business School and its current students may contact Maureen McGuire, senior director of development at 973-353-5124.
PREVIOUS WINNERS OF THE SOOD SINGH AWARD
2014: Javier Rodriguez, "Value of Emerging Markets to the Pharma Industry"
2013: Sarah Kruse: "How will Biosimilars Affect the US Biologic Market – National vs State?"
2012: Marcus Silva,  "The Role of Biotech in the Development of Innovative Drugs"
Press: For all media inquiries see our Media Kit