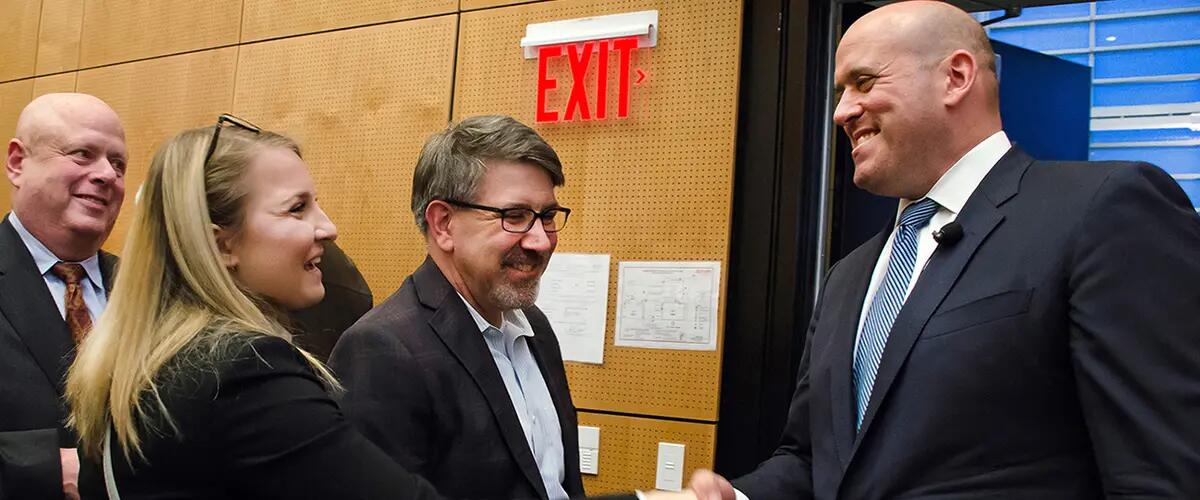 Alumnus Harvey Schwartz shares insights on his journey to Wall Street
Harvey Schwartz, president and co-chief operating officer at Goldman Sachs, spoke to hundreds of Rutgers students on April 4 about his journey to Wall Street, the value of mentoring, and disruption in the financial industry.  
Schwartz, LC'87, who studied economics as a Rutgers University undergraduate, was instrumental in launching the Road to Wall Street, an eight-year-old program that grooms students for jobs in the financial industry's biggest banks and connects them to alumni who are already there.
In an hour-long talk moderated by finance professor Ben Sopranzetti, Schwartz described his motivation for starting the program.
"I knew Rutgers students were having a hard time getting jobs on Wall Street," he said. "I tried to identify someone (a Rutgers graduate) at every firm and brought them together over dinner." 
Schwartz described his own path to Wall Street as "unconventional." After graduating from Rutgers, Schwartz said he jumped from job to job before a friend helped him to get a job at Citibank.
While he was enamored with economics from the start, he wasn't really aware of Wall Street or the opportunities that existed in the financial industry. But he did benefit from people who were willing to take time to help him and give him opportunities.
"I owe Rutgers an incredible debt," Schwartz said.
He said he got his own introduction to mentoring as a resident adviser when he was a student living in the Quads on the Livingston Campus. "I've always prided myself on being a mentor to as many people as I could," he said.
Ensuring that the mentor-mentee relationships work, Schwartz said, is the burden of the mentee. "As you progress in whatever you're doing," he told students, "don't forget about your responsibility in that relationship."
He described creativity as a quality that differentiates people in an industry where there are a lot of smart people and where technology continues to bring "very quick, exhilarating changes."
"The trends today may be more fascinating than ever," he said. "There are incredible things happening."
Technology has enabled those changes for decades, he said, but the pace is faster now and more sweeping.
Schwartz discussed his views on the fundamental value of cryptocurrencies. In a lively exchange with Christian Buren, a Rutgers Business School sophomore, Schwartz was invited to speak with members of RutgersBit, a new student club formed around the intense interest in cryptocurrencies.
When Sopranzetti asked about Schwartz's pending retirement, Schwartz said after decades of being a hyper-manager of his time, he thought this was a time when "no plan is a plan."
"I'm in an incredibly fortunate position right now," he said. "I have time to contemplate things."
More than 400 people – Rutgers students, alumni, faculty, and staff – filled a theater-style lecture hall at Rutgers Business School-New Brunswick for Schwartz's visit. Rutgers Business School Dean Lei Lei, who welcomed him, also ended the event by thanking Schwartz "for a very inspiring conversation."
The night will be a "lasting memory for all of us," Lei said.
Schwartz's talk did make an impression on Johnny Shamir, who studies finance and business analytics and information technology and attended the event with his friend, Amol Lotia, a sophomore studying economics. They both said they were struck by Schwartz's down-to-earth style and the intimate nature of his talk.
"It was a great opportunity for us to hear from someone who has been in our shoes and listen to how he was able to get to where he is," Shamir said. "It gets us excited about the opportunities we have."
-Susan Todd   
Press: For all media inquiries see our Media Kit