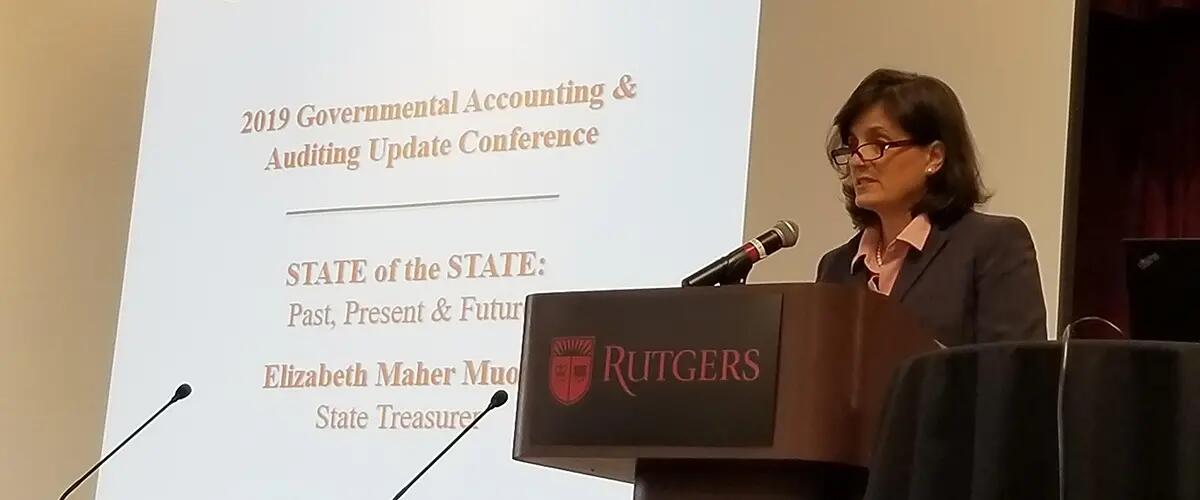 Annual Governmental Accounting & Auditing Update Conference connects professionals
The Center for Governmental Accounting Education & Research (CGAER) with the Support of the Bloustein Local Government Research Center hosted The 26th Annual Rutgers Governmental Accounting and Auditing Update Conference at the Douglas Student Center.
The Rutgers Annual Governmental Accounting and Auditing Update Conference brought leaders in public financial management, career professionals, and Rutgers Masters of Governmental Accounting students together to provide an update on current regulations, accounting pronouncements, auditing issues and other subjects of interest.  Speakers welcomed questions from participants and listened to concerns and suggestions.
Updates and reports were presented by Elizabeth Maher Muoio, New Jersey State Treasurer; Melanie Walter, Director, NJ Division of Local Government Services; R. Kinney Poynter, Executive Director, National Association of State Auditors, Comptrollers and Treasurer; Stephen M. Eells, NJ State Auditor; and Pamela Dolan, Supervising Project Manager.
Professor Irfan A. Bora, conference chair, director, Master of Accountancy in Governmental Accounting said, "This is the 26th year that Rutgers hast hosted this conference.  We appreciate the accounting professionals returning each year and we strive to provide a meaningful and valuable event."
Current Master of Accountancy in Governmental Accounting students William Lanyi, Isabel Calero, and Patricia Vasquez enjoyed meeting each other and speaking with Professor James Smith.  The program is only offered online so communication is generally digital.
Lanyi said: "The nationwide class networking and sharing perspectives from different levels of government: local, county, state or federal, broadens our awareness and understanding."
"Managing the course load while working full time is challenging," said Calero.  "But it is worth the effort.  My supervisors appreciate what I am doing and support my working toward my CPA." 
Vasquez agreed with Calero that the program is challenging; however, they both appreciate how accessible the faculty are for questions and clarifications.  "We have the responsibility for time management and learning the material," said Vasquez.  "It is up to each of us, but we are not alone; we have discussions and ask questions in the online platform, and faculty are very helpful."
During the lunch break, Professor Smith demonstrated the faculty accessibility and concern for students as he spoke with the students in attendance about the program and their career goals.  All three students said that they were looking forward to the options and career advancement that the Master of Governmental Accounting will provide.
Press: For all media inquiries see our Media Kit