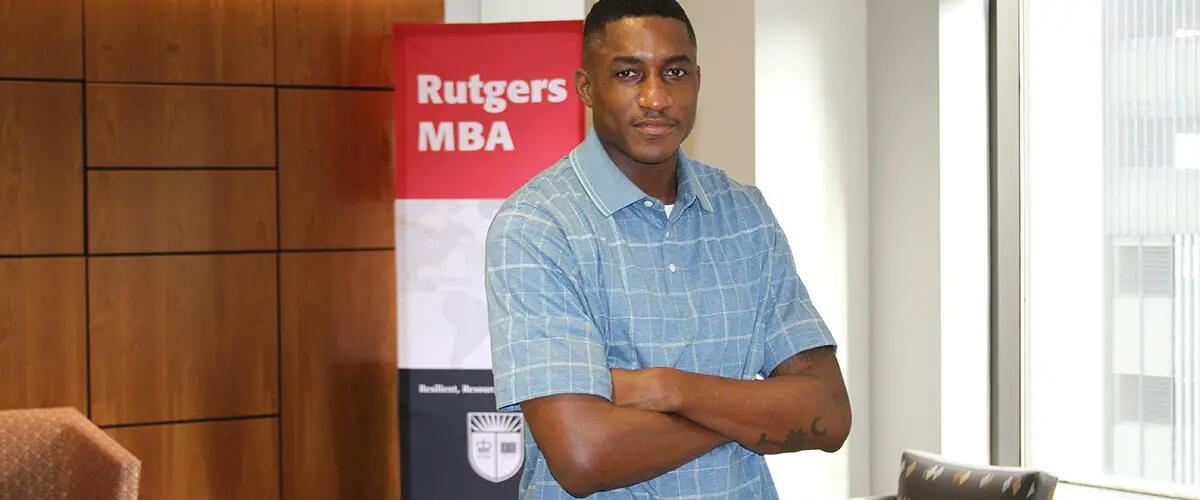 Army Reservist sets sights on MBA to prepare for new career
The military was always an influence on Army Captain Capone Ryan's life, but during a stint of active duty in East Africa in 2022, the work he was doing for the military led him to choose a new career path.
After years of serving as a reservist, Ryan signed up for active duty and was deployed to the Horn of Africa. During the nine months he spent there, he was involved in creating radio messages that were meant to help curb violence in the region.
The work was his first experience in marketing, creating messaging that could influence an audience and elicit a response. "I saw the effect," Ryan said.
The active duty made him eligible for the GI Bill which he's taking advantage to attend Rutgers Business School's Full-Time MBA Program. "I knew Rutgers had a strong program in marketing and it was close to New York City so I thought I would be able to find an internship there," he said. "I wanted to try it out."
He was among 205 military-affiliated students (veterans, active service personnel, including reservists and members of the National Guard, or dependents) who started classes at Rutgers Business School. That number includes 75 students in graduate programs.
"Working with student veterans, such as those using the GI Bill to pursue an MBA or specialty master's degree, is particularly rewarding," said Margaret O'Donnell, manager of Military and Veteran Engagement Programs at Rutgers Business School. "They come to school with a unique skill set and perspective. They bring this with them wherever they go on to civilian employment as a complement to their RBS degree."
"Civilian employers are getting new hires with leadership experience on Day 1 when a veteran joins their organization," she said.
As an undergraduate, Ryan studied business administration. While serving as a U.S. Army reservist, he worked closely with accountants and auditors as a consultant at two different firms. After nearly eight years in that work, he wanted to make a change. His transition started with the period of active duty.  
Now he's considering work in brand management or marketing strategy. During the first part of the semester, he attended a series of events to learn about opportunities in different companies. "I'm keeping my options open," he said.
Ryan was born in England while his father was serving in the Air Force. His mother, who was a native of the Netherlands, named him Capone after the Chicago gangster whose organization was legendary during Prohibition. "My mother wanted me to have a name that would make me sound tough," he said chuckling.
The military took the family to California and then South Carolina, where Ryan spent most of his childhood. As an undergraduate at Florida Southern College, he received an ROTC scholarship and moved up in rank during eight years in the Army Reserves.
What has he gained from his military experience? "You learn how to deal with different people and manage different personalities," he said. "You learn to make decisions." He remains a member of the Army Reserves now.
- Susan Todd
Press: For all media inquiries see our Media Kit