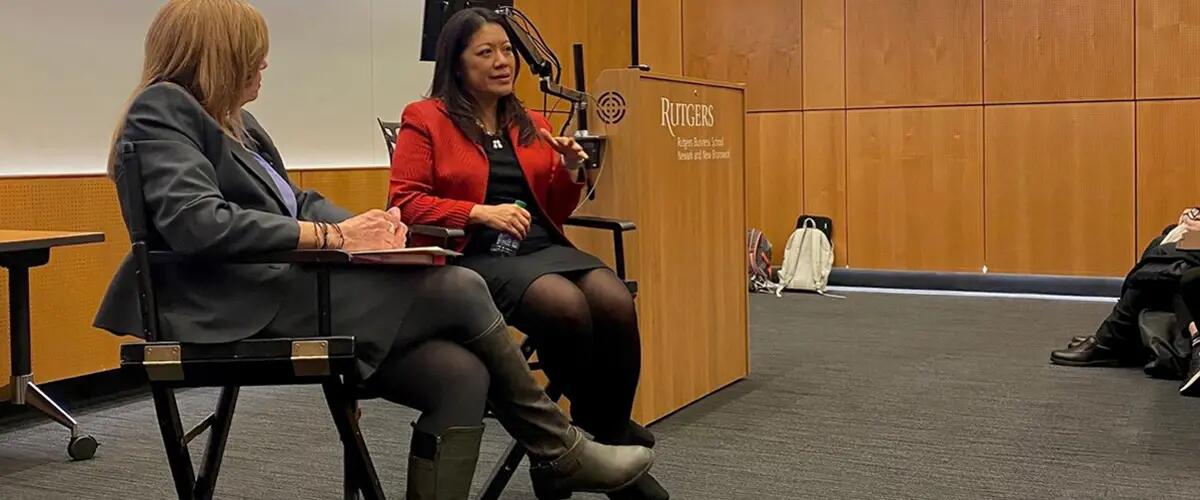 Author Charlene Li tells students: Find something to change
New York Times best-selling author and entrepreneur Charlene Li spoke to hundreds of students during a recent Distinguished Speakers Series event at Rutgers Business School.
Li shared some of her real-world experience and touched upon some of the disruptive growth strategies she has implemented at the places where she worked. It's challenging to get people comfortable with change, but Li pointed out that "you need to look at the change and relate it back to an opportunity and an objective."
During the presentation, she asked the audience to think about their Disruption Quotients Disruption Quotients – a measure for how much desire an individual has to formulate and execute a disruption strategy that results in breakthrough growth. And then she asked where everyone gauged themselves on a scale of one to 10. Individuals fair differently on the scale, reflecting that everyone is on a different path to becoming a disruptor and leader, she said. When asked how undergrad students can practice developing a disruption mindset, her advice was to "go and find something to change." 
Li graduated magna cum laude from Harvard College and then received her MBA from Harvard Business School. In 2008, she founded Altimeter, a disruptive analyst firm that was acquired by Prophet in 2015. Li started writing as an analyst and has now  written six books, including the New York Times bestseller "Open Leadership."
Li closed her talk with a valuable insight: "The most important thing is to go out of your comfort zone," she said, "that's where growth occurs."
Rutgers senior Janet Liu, who is studying psychology and entrepreneurial and small business operations, said Li's talk was inspiring and encourages students to think ahead of their time.
"The entire Rutgers Business School brand is based on being resilient, resourceful, responsible, and reinventing yourself for the digital era," she said. "Charlene Li shed new light on what that truly means."
Some key takeaways from Li's talk:
"Great ideas can come from anywhere. Make people believe in these ideas with stories."
"Don't select companies based on reputation. Identify their leaders, mentors, and culture."
"Disruption is messy and hard, but the end result is going to be beautiful."
"Don't be nice, be fair."
-Sri Narayanan
Press: For all media inquiries see our Media Kit