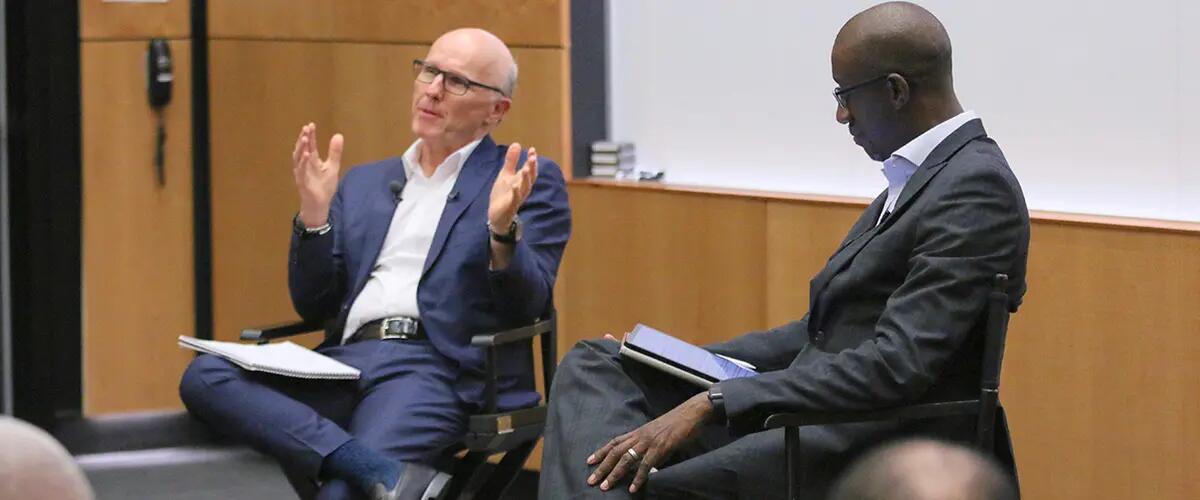 Author: Society's major issues call for revolutionary remedies
Businessman and author David McCourt made a visit to Rutgers Business School to share his views on why entrepreneurial innovation is needed to drive solutions to skyrocketing costs of education, health care and housing.
McCourt's perspective that technology and revolutionary thinking are necessary for these problems to be fixed is contained within his new book Total Rethink. In it, McCourt explains how readers can revolutionize their thinking, take more entrepreneurial approaches to issues and suggests way that politicians, business people and teachers can be more empowered to address the challenges facing society.
The visit was hosted by The Center for Urban Entrepreneurship and Economic Development.
During his talk, McCourt suggested the possibility of using social media to galvanize people around an issue, using technology to fix healthcare and generally rethinking the cost of housing. "Since the industrial revolution, incremental change was good enough, but technology, globalization and social media have made it so incremental change is not good enough."
Professor Jeffrey Robinson sat with McCourt asking questions that prompted the author to talk about his background and his outlook. "What makes entrepreneurship the answer," Robinson asked, referring to McCourt's book.
"What it means is a different way of addressing the problems," McCourt said.
An audience of entrepreneurs, business people and educators attended the event, which was hosted by The Center for Urban Entrepreneurship and Economic Development. Among the crowd were Mukesh Patel and Alfred Blake, who teach entrepreneurship and nurture student entrepreneurs at Rutgers. McCourt's appearance highlighted Rutgers Business School's thought leadership and strength in entrepreneurship.
Photos by Jaime Escarpeta. Text by Susan Todd
Press: For all media inquiries see our Media Kit