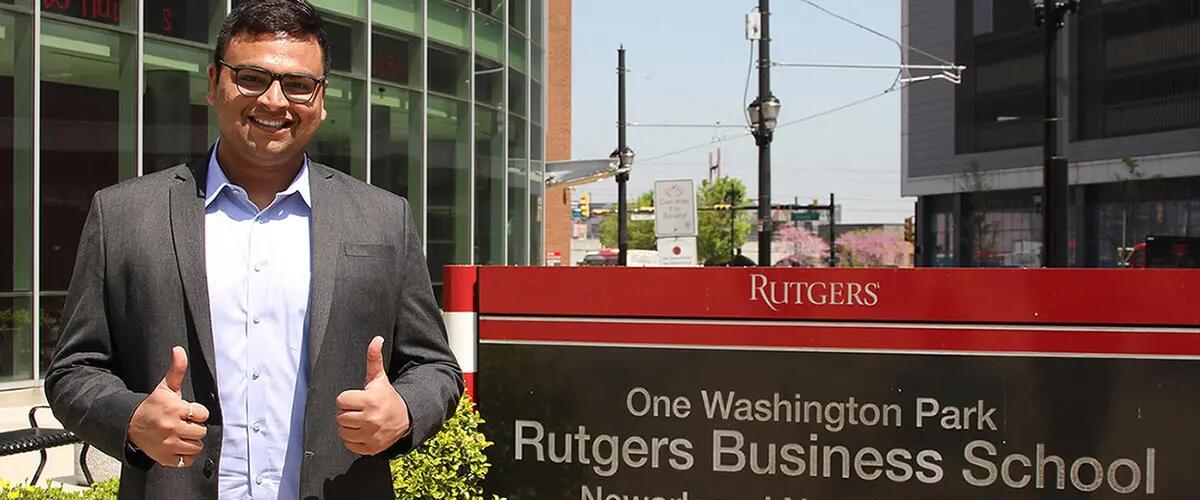 Award tops off MBA student's "life-changing experience"
Mohit Hardikar, a full-time MBA student studying supply chain management, helped institute changes to make student organizations run more smoothly.
Mohit Hardikar described his time in the Rutgers Full-Time MBA program as a "life-changing experience."
An engineer who spent four years working in quality assurance at Volkswagen India, Hardikar came to Rutgers Business School to study supply chain management.
"Supply chain touches on all aspects of a business. If you tweak one part, you can see the results of that in other areas," he said. "It's similar to electronic engineering in that way. When you tweak one circuit, you can improve a system."
Hardikar was determined to make the most of his experience at Rutgers from the start. "When I came, I saw many opportunities for how I could contribute," he said. In the second semester of his first year, he was elected to serve as president of the MBA Student Government Association.
During his time as president, he changed the student government election processes, helped to create a shared calendar and an online repository for club meeting minutes. He also succeeded in getting student organizations to create clearly defined charters so members understood each club's objectives and incoming officers had some guidance for how to carry out their roles.
Hardikar was chosen to receive the 2018 dean's Distinguished Leadership Award based on his outstanding academic achievement, his service to Rutgers Business School and his leadership potential. The award, which was created in 2011, is given annually to a student from the graduate program and to one student from each undergraduate program.
"I feel very honored to receive this award. It's a validation of the efforts that student government made," Hardikar said. "But I also understand there are many other leaders in my class."
"Supply chain touches on all aspects of a business. If you tweak one part, you can see the results of that in other areas." - Mohit Hardikar, Rutgers MBA '18.
After completing an "enriching" internship with candy-maker Ferrara, Hardikar chose to pursue work in the supply chain management field as a consultant. After graduation, he will begin a job with GEP Worldwide. He was drawn to the fast pace of consulting world and the varied work it offers. "I love the challenge of learning new things all the time," he said. 
While he's excited to get started on a new career, he said there are a few Rutgers professors he wishes he could spend more time with, including Professors Farok Langdana and Jerry Kim.
Press: For all media inquiries see our Media Kit