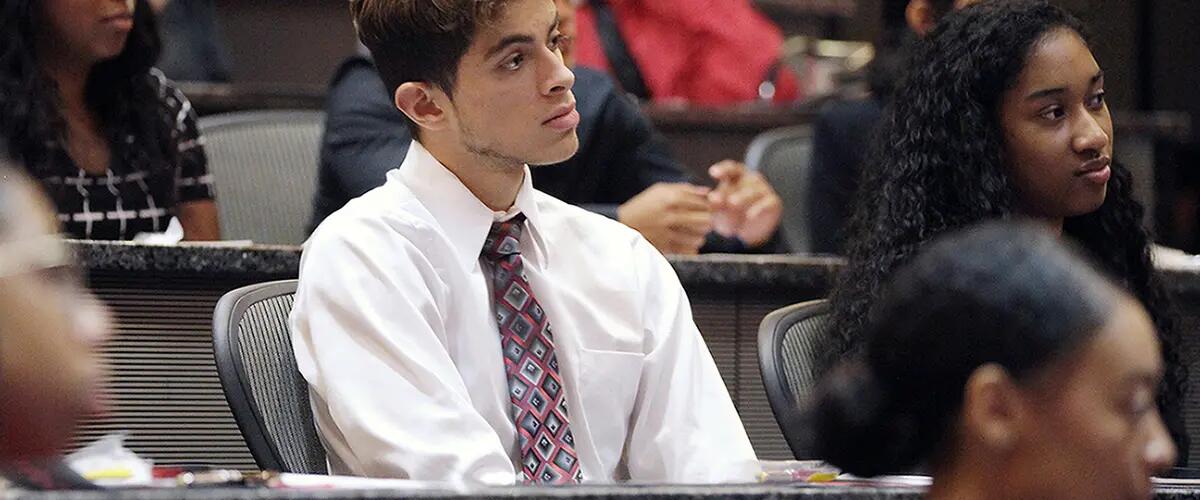 B-STAR graduates ready to take on freshman year
The Business Student Transition At Rutgers program provides participants with a unique orientation to college life and a support system to sustain them through their four-year journey.
Twenty-seven incoming freshmen celebrated the completion of the Business Student Transition At Rutgers (B-STAR) program, which launches them into college as the newest B-STARs at Rutgers Business School.
The B-Star program was recognized by the AACSB as one of the "Innovations that Inspire" in 2017 for helping underrepresented students have a strong start to college. 
The Aug. 17 graduation marked the culmination of six credits worth of college course work, special sessions and a unique orientation to life at Rutgers Business School. Charles A. Brown, assistant dean for diversity programs, described it as "the most influential six weeks of their academic journey."
Once the fall semester begins, B-STAR graduates are provided with ongoing follow-up and engagement and given various support services, resources and opportunities to develop their leadership abilities as they work on their undergraduate business degrees. As the students advance, they are given access to corporate partners and encouraged to pursue internship and full-time employment opportunities.
B-STAR is run by Brown and Diego Santiago, the program coordinator, with the support of the dean's office. The program, one of the strongest examples of Rutgers Business School's ability to have social impact, reflects its commitment to diversity, inclusion and access.
"My office is here to support you," Brown said. He encouraged the students to "take advantage of resources, to support one another and to seize opportunities."
Thirty-two percent of the students who have completed the B-STAR program are the first in their families to attend college. Two of this year's B-STAR students will study at Honors Living-Learning Community at Rutgers University-Newark.
The students received some inspiration from Rutgers Business School sophomore Paige Johnson, who graduated from B-STAR last year. Johnson, who is studying marketing, told the new class how a networking event for B-STAR students led to a summer internship at KPMG.
As a freshman, Johnson said she never imagined she would have an opportunity to land "on the radar screen of a big company."
"Don't let the opportunities pass you by," she said.
The students heard inspiring words from other speakers, including Yaw Mensah, executive vice dean at Rutgers Business School, and Michael Dillard, program director at RU Ready for Work in the Rutgers University-Newark chancellor's office.
Bove Auditorium was packed with family members of the B-STAR students and they were acknowledged for their role in getting their children to college. "Thank you to the families," instructor Shikha Mittra told the crowd, "who are raising future leaders."
The ceremony also reflected on how the students learned, collaborated and grew during the experience. The most poignant recollections came from Tatyana Rios, who represented the Newark B-STAR class, and Isabella Martins, who represented the New Brunswick B-STAR class. Hear the speech Rios delivered at graduation.
They provided a sentimental look at how the group evolved from high school seniors into confident college freshman and how the experience connected them in a way that would likely last throughout college – and as Brown later noted possibly even beyond.
"We fed off of each other's ideas," Martins recalled. "We had each other to rely on, which made us stronger and more confident."
The first week was "harrowing." Martins said. And Rios also evoked the early realization that B-STAR was not meant to be part of their summer vacation. "The work never stopped," she said..
"The experience made me grow as a person," Rios said. "It feels good to be surrounded by such determined people."
-Susan Todd
Press: For all media inquiries see our Media Kit