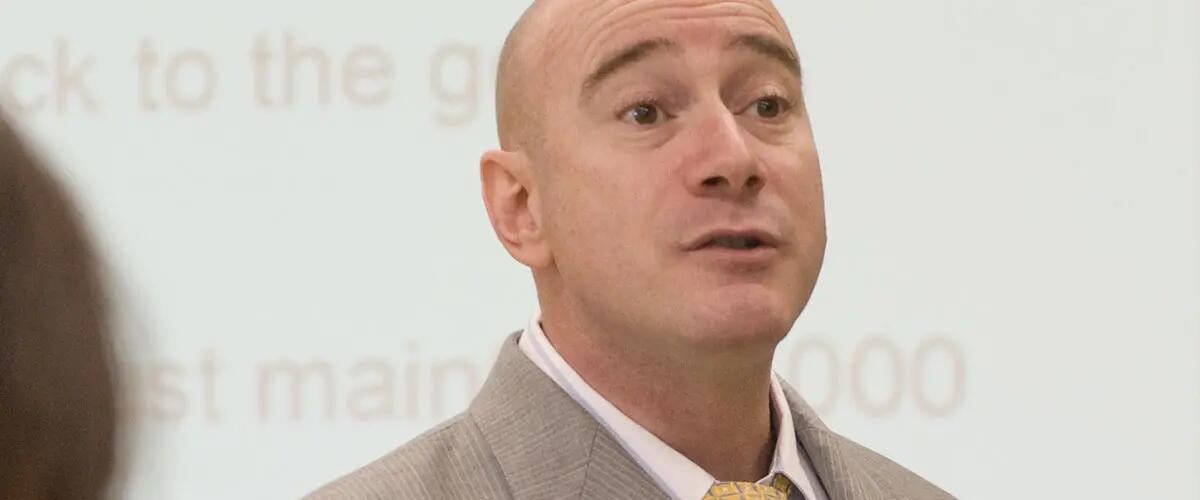 Ben Sopranzetti is among Poets & Quants Best Undergraduate Professors for 2020
The story was originally published by Poets & Quants for Undergrads: 2020 Best Undergraduate Professors. It was written by Nathan Allen.
Ben Sopranzetti is a rock star.
The professor of finance has been winning awards longer than most current undergraduate students have been alive. After earning his Ph.D. in finance in 1995 from the University of Illinois at Urbana-Champaign, Sopranzetti began his full-time teaching career at Seattle University's Albers School of Business in 1995. Sopranzetti won the Undergraduate Teacher of the Year award during his first year teaching. For his second year, he won the Graduate Teacher of the Year award.
Since, Sopranzetti has continued to win more than a dozen awards, but now at his undergraduate alma mater, Rutgers University. Sopranzetti is also an innovator. He launched Financial Solutions, a Beijing-based boutique investment banking and advisory services firm in 2000. He also founded the Business, Engineering, Science, and Technology (BEST) organization at Rutgers.
Sopranzetti says if he could change the business school of the future, he'd change it to have more diversity, inclusion, and equity.
Current age: 56
At current institution since what year? 1997
Education: Ph.D. in Finance, University of Illinois at Urbana-Champaign
List of courses you currently teach: Advanced Corporate Finance
TELL US ABOUT LIFE AS A BUSINESS SCHOOL PROFESSOR
I knew I wanted to be a business school professor when… I was a master's student taking a valuation class.  I was doing very well in the class and the professor approached me after class one day and said, "I should think about getting a Ph.D. and being a professor."  He said that I had the potential to be a very good teacher and scholar.  Moreover, he believed that I would really enjoy the job.  He was right and he absolutely changed my life.
What are you currently researching and what is the most significant discovery you've made from it? 
My current research interests are in the area of jump induced tail risk, which has to do with the way in which market participants process information about extreme black swan type tail events.  The predictions that we made about the way that extremely negative news is processed and travels slowly can be seen clearly in the slow, perhaps even glacial, way in which the world responded to the pandemic.
If I weren't a business school professor I'd be… a strategy consultant, or perhaps I'd go back to an investment banking/financial advisory practice.  I might even consider being a life coach.  I like to help people, and these three vocations are deeply rooted around helping people achieve their goals.
What do you think makes you stand out as a professor?
I strongly believe in the power of relationships.  I sincerely care about my students and want them to succeed.  I get to know them individually, and I take great pleasure in helping them achieve their life goals. I especially like using my network and relationships to help students get jobs on Wall Street.  Of all the things that I do as a professor, building and maintain my relationships with my students and alumni are probably what brings me the greatest joy.
One word that describes my first time teaching: Shakey
Here's what I wish someone would've told me about being a business school professor: Ben, make sure that you maintain a work-life balance.
Professor I most admire and why: Ivan Brick, my department chairman. He is an individual of great integrity. He is smart, kind, and humble. I have the utmost respect for him.
TEACHING BUSINESS SCHOOL STUDENTS
What do you enjoy most about teaching business students? 
Rutgers business students are responsible, resilient and resourceful. They have grit.
What is most challenging? 
The most challenging aspect of teaching business school students, although I don't believe that this is limited to just business school students, is that they can sometimes be very demanding, without perhaps fully understanding the impact of their demands on the work-life balance of faculty and staff.
In one word, describe your favorite type of student: Scrappy.
In one word, describe your least favorite type of student: Arrogant.
When it comes to grading, I think students would describe me as… tough but fair. Always fair.
LIFE OUTSIDE THE CLASSROOM
What are your hobbies? 
I've been a musician (bass player) for over 35 years.  I still gig with my band about twice a month.
Favorite place(s) to vacation: Italy
Favorite book(s): Liar's Poker and Den of Thieves.
What is currently your favorite movie and/or show and what is it about the film or program that you enjoy so much? 
My favorite movie is hands down Willy Wonka and the Chocolate Factory, with Gene Wilder.  I like that Charley, the underdog, wins.  He wins because he has integrity and does what he believes to be right, despite his Grandfather telling him to do otherwise.  I've watched this movie at least two dozen times, and I can see myself watching it two dozen more and still not getting bored of it.
What is your favorite type of music or artist(s) and why? 
My favorite band is Rush. Geddy Lee, the bassist for Rush, was the inspiration for me to start playing bass. Rush has an interesting blend of world-class musicianship and smart lyrics that tell a story. I like music that is epic.
THOUGHTS AND REFLECTIONS
If I had my way, the business school of the future would have much more of this: Diversity, Equity, and Inclusion.
In my opinion, companies and organizations today need to do a better job at… better aligning their actions with their perfectly written mission statements.
I'm grateful for… the fact that I still have my two parents.  This is a blessing that I will never take for granted.
Faculty, students, alumni, and/or administrators say:
I cannot imagine graduating with a finance degree without taking this course. Dr. Ben is an All-Star and really cares about his students. He will help with your job search. Cannot recommend enough.
Best Professor Ever. I learned a lot.
Great professor and a great class. This class is a must take before you graduate. Dr. Ben cares about his students and dedicates countless hours to see his students succeed and get the best jobs there are. Best prof. at RBS hands down.
Best professor at Rutgers. Dr. Ben truly cares about his students and wants to prepare them for the real world. Dr. Ben is well respected by his students and I learned more in this class than everything else at Rutgers combined.
He's awesome!!!! Teaches you things that you need in order to land jobs – both technical and soft skills. One of the most unique courses I have ever taken, and definitely walked away feeling better prepared for interviews.
He's an amazing professor that truly cares about his students. His tests are challenging but he really prepares you for the material and the class is no BS.
He is the best teacher I have ever had. His exams were not by any means easy, but they were fair and he never put things on there that he did not teach. He makes everything very easy to understand and is so helpful… always a mob of kids at his office hours. He cares a lot about his students and is an absolute GENIUS ..so glad I was able to take him.
BEST PROFESSOR! I'm in the 3-hour section on Monday nights and he holds attention my for the entire period. Great speaker, lots of industry experience, really helps you understand book concepts and ties them to real world application. Exams are very fair. Cares about students and wants you to land a killer job 🙂
AMAZING professor. He's really passionate about students learning and helping them out. A great resource especially if Wall Street is your destination. This guy is for people who truly love finance.
Press: For all media inquiries see our Media Kit