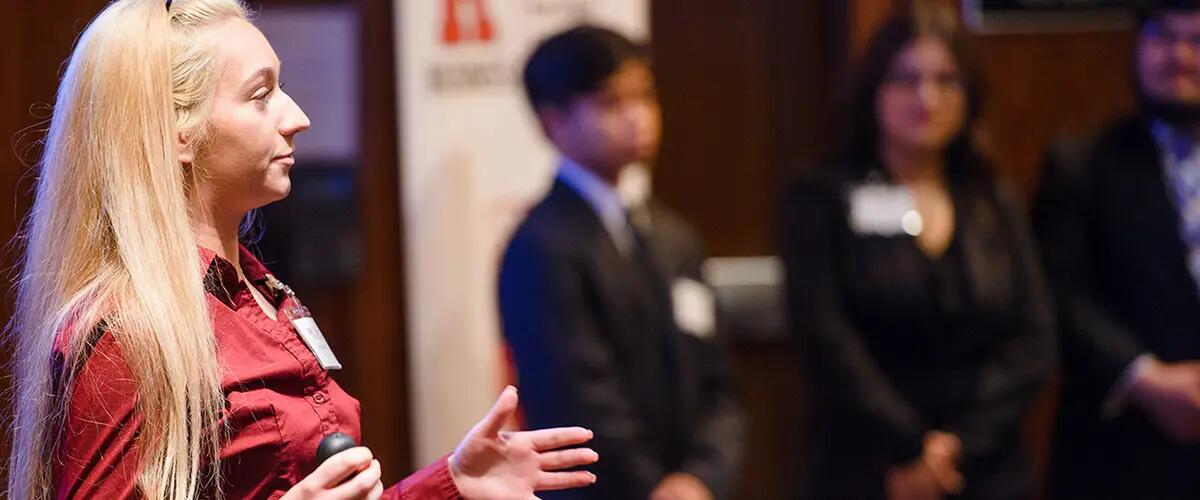 Bergen Community College students are case competition champions (again)
First-place team benefits from experience of two returning winners and a practice run with M&T bank executives
For a second year in a row, a team from Bergen Community College emerged as the first place winners in the New Jersey County College Case Competition at Rutgers Business School.
BCC student Max Morganstein said just days before the competition, his team put aside jitters and with the help of their M&T Bank ambassador Aaron Anglada, practiced their presentation before a handful of bank executives.
"After doing that and getting the feedback from real executives, we were definitely ready for the competition," Morganstein said.
This year, M&T Bank was the presenting sponsor of the competition, which attracted teams from County College of Morris, Essex County College, Hudson County Community College, Ocean County College, Passaic County Community College, Sussex County Community College and Union County College as well as Bergen.
Students from Ocean County College won second place, and third place was awarded to County College of Morris.
In addition to putting themselves through a critique leading up to the competition, the Bergen team followed the lead of Antony Manyeki and Anthony Penna, two students who participated in the competition last year. Having to work together closely as a team left an impression on student Dana Maloney, but it wasn't the only impression.
"The competition was a unique experience to take what we've learned in class and put it in a real-life scenario," she said.
The New Jersey Community College Case Competition, dubbed NJC4, was created for several reasons, including its social impact, which is part of the strategic plan of both Rutgers University-Newark and Rutgers Business School.  At Rutgers Business School in Newark, more than 50 percent of students transfer from one of the state's county or community colleges. The event was also intended to help strengthen Rutgers Business School's ties with the colleges and give county college students a glimpse of the experience of being at RBS.
The 2017 case required participating students to propose how a fictitious social media platform could increase its revenues and continue to grow. Students were asked to examine the company's competition, make financial projections and identify the biggest business challenges going forward.
Robert Kurland, associate dean of undergraduate student and academic services at Rutgers Business School-Newark, was impressed by the level of skills the students demonstrated. "You could tell by the quality of the presentations that every team was focused and prepared," Kurland said. "After two years, we are certain, NJC4 will continue to get better each year."
While the teams took turns making their presentations to the judges during the day, other participants attended sessions on team-building, special talks and campus tours, including a stop at the neighboring Newark Museum. 
In addition to sponsoring the event, M&T Bank executives were assigned to each team as ambassadors to help coach the students.
"This competition gave our employee-ambassadors a great opportunity to build relationships with the county college teams and serve as mentors to the students," said Paula Mandell, a senior vice president at M&T Bank who served as a judge at the event. "I was very impressed with how well the students did with their presentations."
Anglada, who was ambassador to the winning Bergen County team, said he viewed his position as a "coaching role."
"They were an incredibly strong team," he said. In the first meeting, he helped the team map out a strategy, but he said it was BCC Professor Albert Cupo who "brought out the best" in the students.
Devin Gribbon, who studies business administration at County College of Morris, said her team met three times a week leading up to the competition, often working together until midnight.
"It was a lot of work," she said. "I think things like this prepare you for the future."
Essex County College student Marcus Mathelier, who hopes to one day serve as a chief financial officer of a company, agreed. "It seemed like a great experience," Mathelier said of the competition. "I know it's just like this in the business world."
The seven individuals judging the students were: Thomas Comiskey, regional president-New Jersey, for M&T Bank; Frank Giarratano, president, chief operation officer and partner, SGW Integrated Marketing Communications; Brenda Hopper, CEO and state director, New Jersey Small Business Development Centers; James Hughes, managing director, market executive, Merrill Lynch Global Wealth Management; Paula Mandell, M&T Bank, senior vice president and area executive; Arturo Osorio, assistant professor of professional practice for management and global business, Rutgers Business School; and Jennifer Rodrigues, vice president, planning and analysis, Group Insurance, Prudential Financial.
M&T Bank executives serving as team ambassadors were: Aaron Anglada, Amit Shuker, Therone Hopkins, Alicia Brockway, Andrew Martin, Patrick Keegan, Vivek Siddhu, Adrianna Amandola and Marcela Ramirez.
-Susan Todd
Press: For all media inquiries see our Media Kit