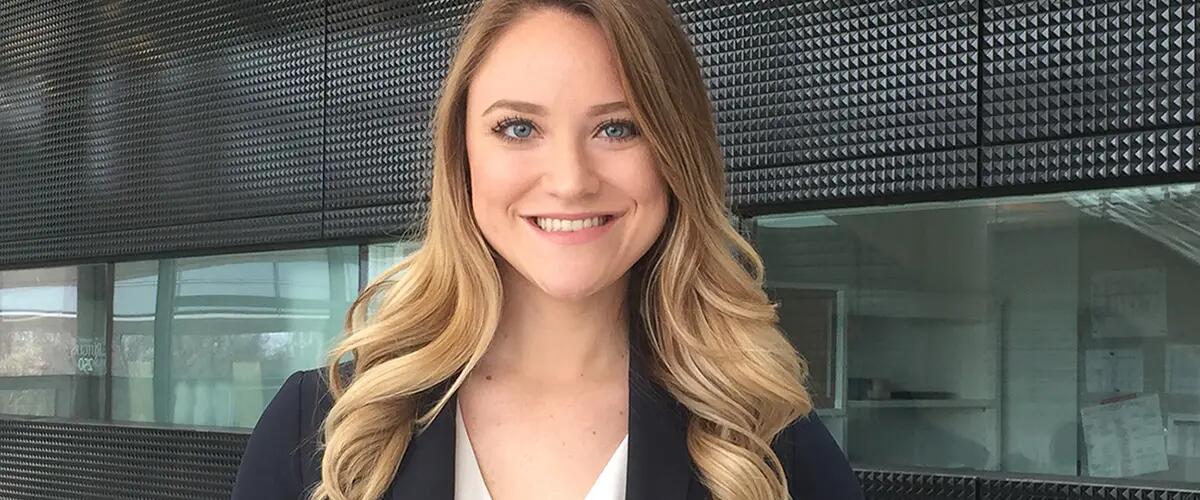 Bound for Wall Street with hopes of doing more than making money
Lauren Kelly always had a knack for numbers, but it wasn't until she got to Rutgers Business School-New Brunswick that she realized her talent could take her to Wall Street.
She studied finance and combined it with a second major in math. She joined clubs, made connections, accepted advice and got a sense of the financial industry through a series of internships. The Road to Wall Street program and the Little Investment Bankers of Rutgers club were both key in providing her access to alumni mentors and career insights.
After graduating in May, Kelly will begin working full time at Morgan Stanley in Lower Manhattan where she will be part of a team that specializes in engineering investment options for clients. The work, she said, is "mathie and technical." In other words, perfect.
Rutgers Business School professor Ben Sopranzetti, who met Kelly as a freshman and became a mentor and thesis adviser, said he knew instinctively that she would find her way to a Wall Street banking job. "Lauren has this marvelous integration of integrity, earnestness and self-discipline," he said. "That's what sets her apart, and that's why she achieves so much."
In an interview, Kelly spoke about finding the ideal job, the value of mentors and the realization that her own drive and leadership might be part of a new generation's effort to finally lift women through Wall Street's glass ceiling.
Q: In high school, you studied engineering. How did you wind up in finance?
A: "I actually went to a high school called High Technology High School, which focuses on S.T.E.M. – Science, Tech, Engineering and Math. I liked the technical fields, and I liked math. The high school has a very rigorous focus on engineering, and you're actually programming and coding and physically making products and designing things. I absolutely hated engineering. At that point, I was a senior and figured business school could be a way of combining that technical interest and interpersonal skills."
Q: How did you decide that you wanted to work on Wall Street?
A: "It wasn't really a clear-cut moment. My freshman year, Dr. Ben (Sopranzetti) said, 'You don't know what this is yet, but you're going to be doing sales and trading on Wall Street. Mark my word.' And funny, four years later, that's what I'm going to be doing. I knew I wanted to do something in finance and tie in math, but I wasn't sure the best way to do that. I got involved in everything. I joined clubs – Little Investment Bankers of Rutgers (LIBOR) and our student-managed fund – and I interned. After my freshman year, I interned at Bank of America. A neighbor helped me to get the internship. It was a corporate strategy type of role, supporting the financial advisers. My work was interesting, and I realized I did like the financial services world. But it was a little bit task-based, a little slower and behind the computer screens. I really wanted to be out talking to people and in something more exciting and fast and rigorous. That was the first step for me in narrowing down what I wanted in finance.
"From there, I joined different mentor programs. It's really interesting how the banks do this. They hold women's mentorship days or diversity days when they put out applications and they take selected candidates into the firm to show them what the bank is about. That led to another internship my sophomore year. I was at Credit Suisse and did a sales and trading role so I was actually on Wall Street getting to try it out. I loved it! That's when I knew this was definitely something I wanted to do."
Q: How did you find out about The Road to Wall Street program?
A: "I saw a flier and applied as a sophomore. They were still trying to build up the program at the time. At first I just thought this could be a nice thing to put on my resume. Looking back, it ended up being really meaningful."
Q: How was it really meaningful?
A: "I guess for me, it was two-fold. It was the mentor I was given. Brian Gallagher, who is also a pretty active Rutgers alum, helped me to get my junior year internship and mentored me all along the way. I'm not sure if I could have gotten that full-time offer at Morgan Stanley without his help. He was someone who gave me advice during the recruiting process, the internship process and now, I think, will be a friend and a life-long mentor. And two, I feel like I already have a lot of friends in the industry. The way they look at Road to Wall Street is like a cohort where you all go into it together and you go through training sessions together and you'll eventually graduate together. It helped me make a lot of connections. Right now, we're friends, but after we graduate, they will be my colleagues."
"At first, I just thought (Road to Wall Street) could be a nice thing to put on my resume. Looking back, it ended up being really meaningful."
Q: You've had your own experience breaking through a glass ceiling of sorts in your role with Little Investment Bankers of Rutgers.
A: "Little Investment Bankers of Rutgers throws an annual summit, where alumni and students come together. I had just met someone who was a recent graduate and on the LIBOR board. I was serving as the only female on the board at the time and was going to be serving as co-president. She said, 'You know, you're going to be the first. We've never had a female president before.' I had never thought about that before. Last year, I was the only woman on the board. This year, there were four women on the board. Our board tends to be students who are going to be working on Wall Street and have been very engaged in the recruiting processes. I'm hoping this is a reflection of where Wall Street is headed. If on a collegiate level, we're breaking the glass ceiling maybe that's something that either one is happening on Wall Street right now or maybe this is where it needs to start."
 Q: What will you be doing on Wall Street?
A: "I'm going to be on a team called financial engineering, which is funny given that I began in engineering and then came to study finance and found a perfect fusion of math and finance. To simplify the work as much as possible, if a client comes into the firm and they have an investment idea, and we don't already have products that fit what they're looking for, my team will design something custom. We'll use mathematical tools and models to figure out the cost and how we can make it the best solution for the client. It's very mathy and technical."
Q: What attracted you to Wall Street?
A: "For me, what motivates me internally is knowing I'm doing interesting work and using my strengths and my talents and enjoying the people I'm around. And for me, that's really the allure of Wall Street. I don't look down on people who want to do it for money, but I'm not sure where the longevity is in that. The money's nice, but it's more about that satisfaction and being challenged every day."
Q: Do you have other goals?
A: "I'm really excited about the job I'm going to have after graduation. I love learning so eventually I do want to continue with my education. One day, I want to teach and be in a role like the professors I've had here, like Dr. Ben, who not only teach students these complicated subjects, but they're also mentoring them and inspiring them and giving them career advice that could change their life. That's a long-term goal."
-Susan Todd
Press: For all media inquiries see our Media Kit