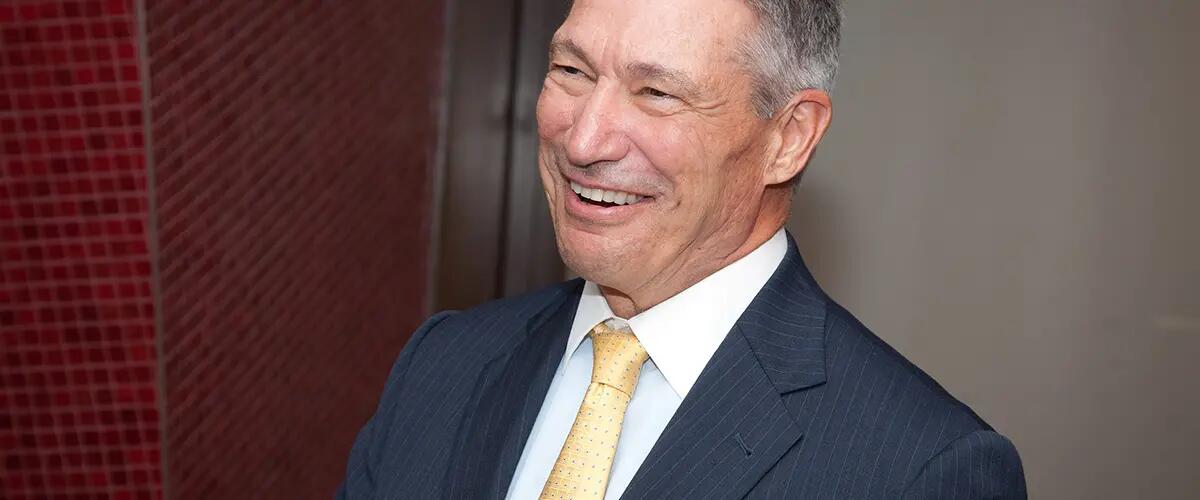 Building relationships proved to be key in career of MBA alumnus
There were times during Gregory Weaver's career at Deloitte & Touche when a mentor's advice convinced him to take an opportunity he did not immediately recognize on his own.
The first came early in his career when Weaver's mentor, a senior partner named Frank Bruni, asked him to transfer to another, smaller office after Weaver had spent some time at the company's offices in Hartford, Connecticut. Weaver balked.
"I remember saying, Frank, I don't know why I would want to do this. And he said, 'there's somebody I want you to work with.'"
Weaver, now the 62-year-old CEO and chairman of the U.S. accounting, auditing and risk advisory subsidiary of Deloitte LLP, said Bruni's "somebody" was William Parrett, who went on to become a global CEO of Deloitte & Touche.
Weaver followed Bruni's advice, developed a good relationship with Parrett and, ultimately, the move led to more and bigger opportunities.
Weaver, who graduated from the Rutgers MBA professional accounting program in 1975, will be the featured speaker during the next installment of Rutgers Business School's CEO Lecture Series on Tuesday, Oct. 29. He will share his thoughts on professional excellence.
The CEO Lecture Series was established to provide students with access to leading chief executives, many of whom have been Rutgers alum, and the real-life insights they can share about the business world. In the past, the event has featured Sheri McCoy, a former Johnson & Johnson executive who is now leading Avon and Anne Whitaker, who leads the North America pharmaceutical business for Sanofi-Aventis. Keith Banks, president of U.S. Trust, Bank of America Private Wealth Management, appeared as part of the series earlier this year.
Weaver's talk, which will be held in Bove Auditorium at 1 Washington Park beginning at 6 p.m. on Tuesday, is open to all students, alumni, faculty and staff. Everyone is welcome. Registration is encouraged to ensure a seat.
"I think developing relationships both internally and externally is very important," Weaver said in an interview leading up to his visit to Rutgers Business School. "Taking advantage of opportunities is very important. Often, you don't recognize what that opportunity really is. I know my inclination was to generally say no to things that actually had the biggest impact on my career."
"Being open with those people who can help you with what you want to do is important," he said. "Too often, I don't think people are comfortable telling people what they want to do from a career standpoint."
There were other moves that Weaver weighed and initially resisted and then decided to take after senior executives had worked to convince him of the opportunity it held. One of those moves meant uprooting his family to Columbus, Ohio, when his oldest child was in high school.
"Being open with those people who can help you with what you want to do is important," he said. "Too often, I don't think people are comfortable telling people what they want to do from a career standpoint."
In Columbus, Weaver was involved in the leveraged buyout of a nearly bankrupt Borden Inc. The company had been one of the nation's largest producers of dairy and pasta products. After five years in Columbus, Parrett, who had become the company's U.S. chief executive, moved Weaver to New York to run the company's audit business.
It was 2000. "A year later, you had 9-11 and then Arthur Andersen imploded and then Sarbanes-Oxley was passed," Weaver said. "I'm the CEO of our audit business and it's probably the biggest change in our profession of any period of time."
Looking back, Weaver said there was a lot of introspection by the profession after Andersen and a wave of corporate accounting fraud cases, including Tyco and HealthSouth, occurred.
"To some extent, we had been too focused on growth and development of other businesses," he said. "It was a bit of a wake-up call for people doing the audits to understand the responsibility to the capital markets and the need to be skeptical about information and how important that really is."
Weaver remained chief executive until 2006 when he was asked to serve as the lead partner overseeing the firm's account at Morgan Stanley. Then in 2012, he made a rare return to the corner office at Deloitte & Touche. "I'm a lot more focused on passing the baton to someone else than I was the first time," he said.
For Weaver, who lives in Far Hills with his wife, the path to Deloitte & Touche started at Rutgers. When he was finishing his undergraduate degree in mathematics at Albright College, he thought he would take a job teaching high school math. A friend from his hometown (Gettysburg, Pa.) had recently completed the Rutgers MBA program and landed a job with a large accounting firm. And that gave Weaver another idea.
"I decided to go to the Rutgers program," he said. "It was absolutely terrific because for the first time since I started any kind of post-secondary education I was actually focused on something that would support getting a job."
Weaver landed an internship with Deloitte and then after graduation began working with the company as a staff accountant.
"One of the reasons I decided to go into public accounting was, hopefully, to get to see a lot of different things," Weaver said. "I was going to stay as long as I was learning and when I felt I wasn't learning or getting good opportunities, I would go work in the corporate world as a CFO or something.
"But 40 years later,'' he said, "I'm still here and still learning and still doing exciting things."
-Susan Todd 
Press: For all media inquiries see our Media Kit