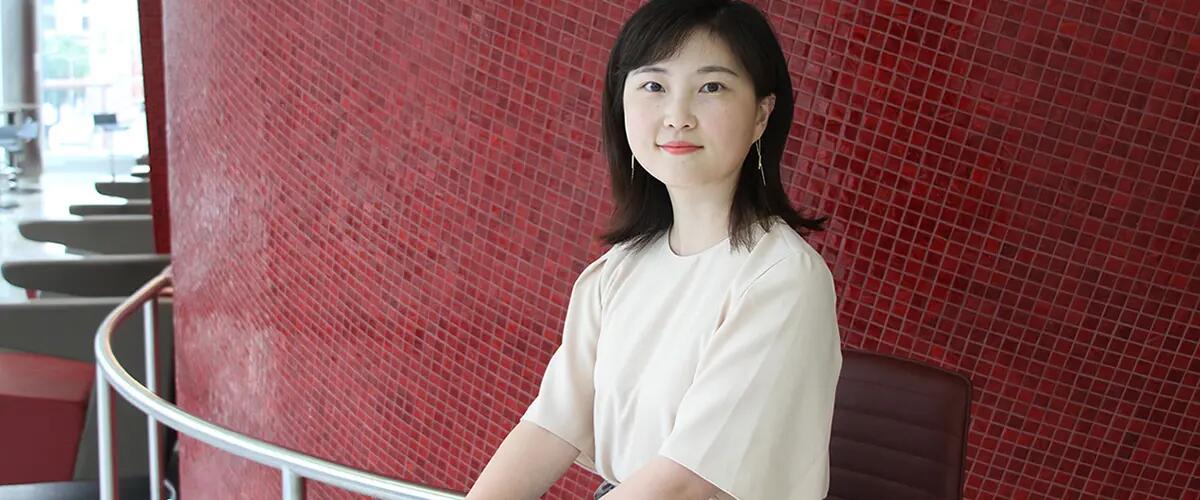 Business of Fashion program suited for entrepreneurial-minded students
Xinying "Mimi" Cao's idea for a new business started to take shape when she began the Master of Science in Business of Fashion program.
For an entrepreneurial-minded student with a passion for fashion, the program was like a launching pad, providing her with the skills and knowledge that helped her to take an idea and begin to build it into a company.
"My interest was in the fashion industry," she said. "This program gave me a business foundation." 
When she came to the U.S. more than five years ago, Cao spent a summer working as a sales associate at Forever 21, a trendy California-based clothing retailer.
But she soon started a small online business of her own, working as a personal shopper for hundreds of customers who sought her help with styling and accessories. After a certain point, the business was difficult to grow, Cao said. Once she realized it had plateaued, she started to take classes to learn more about running a business. She is currently scheduled to complete a Rutgers Master's of Science in Business of Fashion in December.
As an undergraduate in China, Cao studied accounting and human resource management. But she never learned how to structure a business. She never learned about budgeting or strategy.
When Cao talks about the business of fashion graduate program, she lists individual classes and what she's learned from each of them – how to develop a practical business plan, marketing fundamentals, supply chain, supply chain strategy in the garment industry, including how to react to an interruption, or crisis, in the supply chain. She also learned about entrepreneurship, product development and sustainability.
"My interest was in the fashion industry. This program gave me a business foundation." - Xinying Cao, who is expecting to complete a Master's of Science in Business of Fashion in December.
As she and her business partner husband Steven Ma work to build an online sock retail business called Module, Cao said she is applying her lessons constantly. The name Module reflects how they are engineering a better sock with multiple features for comfort and fit.
"There are so many socks out there, but they aren't good quality and they don't have good functionality," she said. She also disagrees with the concept of one-size-fits-all, steep prices and choices that are limited to traditional – or playful.
In 2019, the U.S. market for socks was valued at $7.5 billion, behind China where the market is worth nearly $9.3 billion, according to Statista Market Forecast.
Cao sees potential to grab market share with a line of socks designed for durability and support. Her socks will also come in three sizes for better fit.
Cao and her partner have researched sourcing, manufacturing techniques and they have plans to launch a crowd-funding campaign to help raise the initial capital necessary to get the company operating. "We still have a lot of work to do," she said.
Meanwhile, she's looking forward to some remaining classes in the Business of Fashion Program including "How to Start a Fashion Line." "I am very grateful to the program," she said. "It's very practical for entrepreneurs."
- Susan Todd
Press: For all media inquiries see our Media Kit