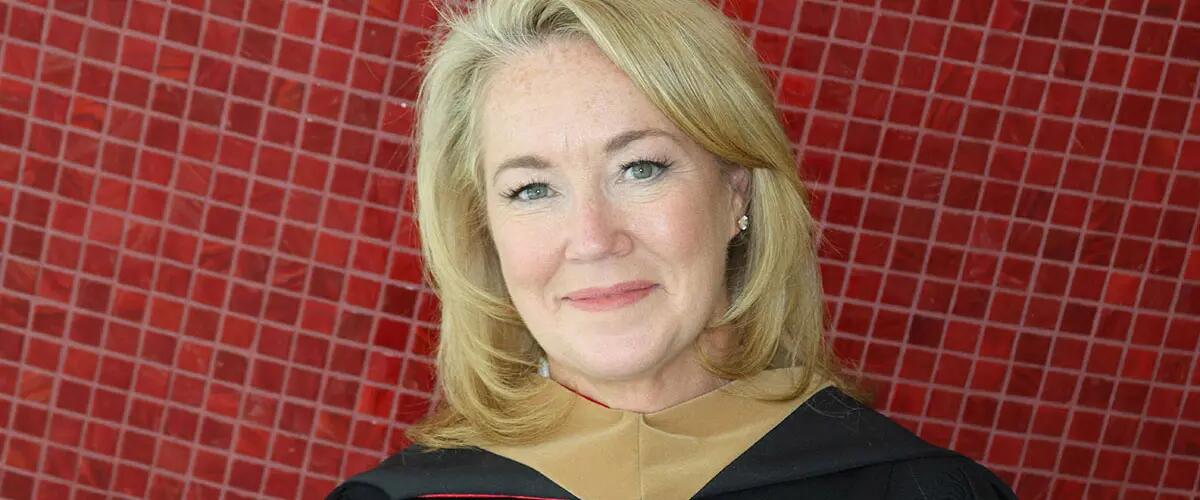 Businesswoman turned philanthropist will deliver keynote to graduating students
When Amy Towers takes the podium to deliver speeches at two Rutgers Business School convocation ceremonies this month, she will draw on her experience as a businesswoman, mother and philanthropist.
The former chief operating officer of Glenview Capital Management may not be widely known at Rutgers Business School, but over the past six years, she has been an influential voice on the board of directors for the Rutgers University Foundation. She joined the university's Board of Governors last summer.
An alumna of the University of Wisconsin, Towers is a fan of Big 10 athletics and a "super advocate" for Rutgers.
While she was still working on Wall Street, Towers held seats on several boards, including non-profits where her knowledge of finances, taxes, budgeting and development made her an asset. It also contributed to her decision to go into philanthropy when she decided to leave banking as a mother of four young sons.
Hear Amy Towers speak during the Center for Women in Business "Celebrating Women's History Month" event.
"Being a woman on Wall Street in banking during the early 90s was tough," Towers said. Now, equity and inclusion are two of her causes at Rutgers. In other parts of the world, she works to advance human rights, fight food insecurity and improve access to health care. In 2005, she took her first trip to Niger, which launched her career as head of The Nduna Foundation and its humanitarian work across Africa.
"I think my key strength is being a problem-solver," she said. "I don't have any special degrees, but I can figure out what structures need to change, figure out logistics and talk to people about mobilizing resources."
What will she draw on to inspire graduating students at Rutgers Business School? "All of it," Towers said.
"The tagline for the foundation is make it matter. I really believe that. You're put on this planet for a purpose," she said. "Make your time useful. Make your resources useful. Make whatever you do matter."
- Susan Todd
Press: For all media inquiries see our Media Kit