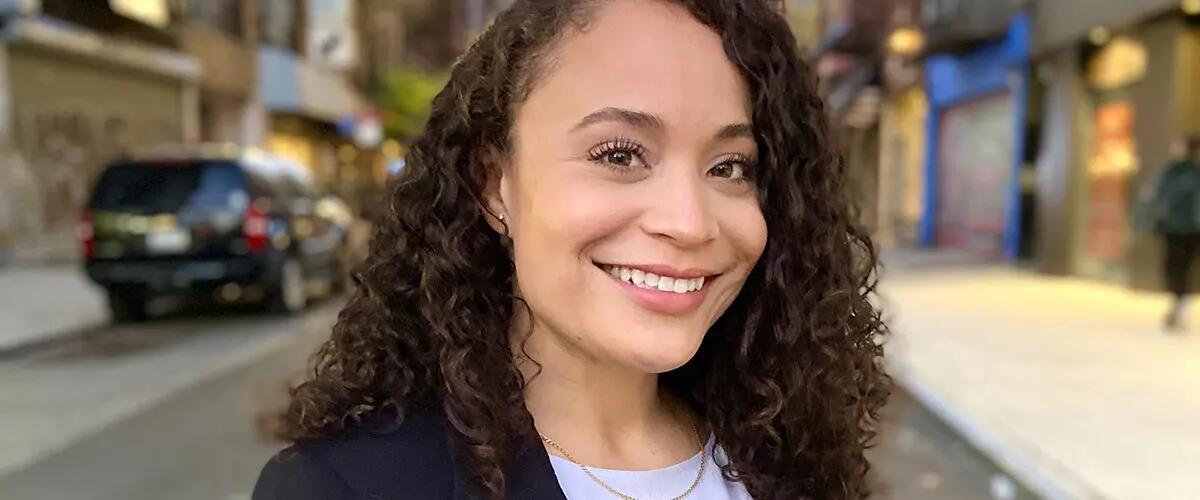 Career-changer MBA student takes on another challenge: the New York City Marathon
Within two months, Pilar Grullón made two huge life decisions: to run her first marathon in memory of her brother, and to upend her government career and pursue a Rutgers MBA. This semester, Grullón has been training five days a week while immersed in MBA studies focused on pharmaceutical management and supply chain management.
"It certainly has been a bit of a time-management puzzle, but I'm exactly where I want to be," said Grullón, who will run in the New York City Marathon on Nov. 5. "I feel like if I can complete this massive challenge, I can do anything."
Time management was Grullón's job as the NYC mayor's director of scheduling. In 2022, she was promoted to deputy chief of staff for the city's comptroller's office, but by early 2023, she realized her career path there had maxed out.
When the coronavirus struck the U.S., she watched as her boss and other leaders tried in vain to stem the spread of disease and death. But in the ensuing months, Grullón witnessed the miraculous feat of a government-pharmaceutical partnership that led to a successful mass vaccine rollout.
"I saw what good can come when government and industry work together in the name of a greater good," Grullón said. That experience reignited her interest in the pharmaceutical industry and planted the seeds for a possible career change.
Before the pandemic she earned a bachelor's degree in toxicology at St. John's University, but followed her interest in politics and went to work on Hillary Clinton's presidential campaign. She subsequently worked on a gubernatorial campaign in New Jersey and then the re-election campaign of Bill de Blasio.
In March, Grullón applied to Rutgers Business School because of its reputation and strong connections with the pharmaceutical companies in New Jersey. "It was the only school for me," she said.
"I saw what good can come when government and industry work together in the name of a greater good," Grullón said. That experience planted the seeds for her career change to the pharmaceutical industry.
An immigrant from the Dominican Republic, Grullón said she pushes herself not only for her own success, but to honor her family's sacrifices. The 31-year-old was the first in her family to attend college, and she credits federally funded programs like Head Start and the college-access program Upward Bound with ensuring she had the opportunity.
"None of this is just for me," Grullón said, "I'm going to take this as far as I can."
For months, Grullón has spent her free time training for the marathon,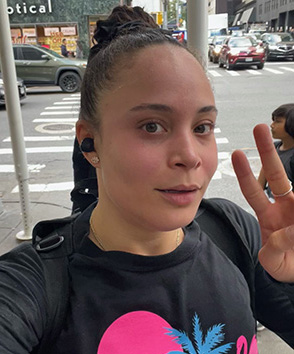 doing shorter runs and cross-training on weekdays, and then running for hours each Sunday. The biggest challenge? "Sometimes I just get bored," she said. Grullón expects the cheering crowds lining the route through the five boroughs will keep her energized. Her goal is to complete the 26.2 miles in less than four hours.
She wiped tears from her eyes as she explained running the marathon in memory of her brother, José Raúl Grullón García. He died in September 2021 at age 27 from complications of Crohn's disease. She is part of a team that is running and raising money for the New York Foundling, one of NYC's oldest child welfare agencies. "I'm excited," Grullón said. "I feel like all the sacrifices have paid off."
In addition to serving as communications director for the Rutgers Black & Hispanic MBA Association, Grullón is volunteering alongside other MBA students to help two Newark-based childcare providers strengthen and expand their business. The project is a result of a partnership between the Local Initiatives Support Corporation, the Center for Innovation, Excellence and Leadership and Procter & Gamble. It's more than an experiential learning experience for Grullón though.
"I'm a product of Head Start, and I want to pay it forward," she said.
Dean R. Vera, director of the MBA Office of Career Management, said Pilar exudes the qualities a leader possesses. "She is high energy, and focused," he said, and serious in her pursuit of an internship. Vera said he gave her "tough love in her mock interview" and she used that feedback to hone her pitch. Grullón landed a spot in Johnson & Johnson's Procurement Leadership Development Program where she will work alongside MBA candidates from Ivy League schools during the summer. "It's well deserved," Vera said.
Looking for a challenge? Learn more about the Rutgers MBA Program during an online Information Session on Tuesday, Nov. 7, from noon to 1 p.m. or Thursday, Nov. 16, from noon to 1 p.m.
- Margaret McHugh
Press: For all media inquiries see our Media Kit