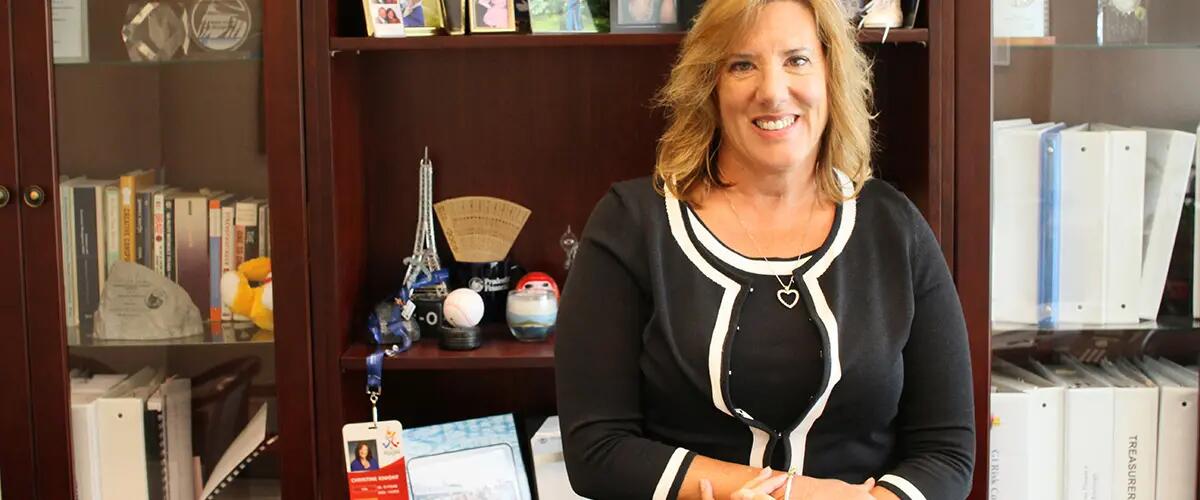 Career moves at Prudential prepared Rutgers MBA alumna for role as CFO of Group Insurance
Christine Knight may be proof that Facebook Chief Operating Officer Sheryl Sandberg was onto something when she talked about careers in terms of jungle gyms rather than ladders.
Knight, who is now chief financial officer of Prudential's Group Insurance, started working at Prudential as an entry-level accountant in a reinsurance subsidiary the Newark-based financial services has since spun off. After the divestiture, she stayed on as controller for the run off businesses the company continued to operate until they were also sold or closed or consolidated.
"There were some significant businesses that still needed to be managed," Knight said. "It was an interesting role and it helped me to expand my experience beyond financial reporting to include contract negotiations, outsourcing and dealing directly with state regulators."
Taking on the controller job was the first in a series of career moves Knight made at Prudential that reflected a combination of moxie and ambition and what one executive described as Knight's drive for "continuous improvement."   
"I absolutely had people all along the way who helped me," Knight said recently, "but in large part, it was me identifying opportunities that I wanted to go after."
Knight, who earned her Rutgers MBA in 1990, moved around Prudential unafraid to take on new duties and learn, which is what Sandberg meant in her book "Lean In" when she described the more interesting career in terms of a jungle gym rather than the proverbial ladder.
After her stint as controller, Knight moved into Prudential's corporate finance area where she spent 10 years in different positions, gaining new experience working with ratings agencies like Moody's and helping to prepare for the company's annual rating agency review meetings and focusing on the company's capital and liquidity needs during the financial crisis.
"I absolutely had people all along the way who helped me,"
Alumni Spotlight: Christine Knight, MBA Class of '90
One of the jobs she held during that decade was business unit treasurer for four of Prudential's U.S. businesses, including annuities and group insurance. "All of those experience really helped me to get to my current spot," she said.
Bernie Jacob, chief financial officer of Prudential's U.S. businesses, attributed Knight's ability to take on new roles and succeed in them to a half dozen traits, including the fact that she is "highly intellectually curious."
"Christine likes to understand more than the direct issue," Jacob said. "She likes to understand a lot of the collateral issues that shape decision-making."
Knight, who went to the College of New Jersey as an undergraduate and worked on her MBA at night in the late 1980s, is not reluctant to share the insights she has gained during her 30-year-long career at Prudential. While she participates in formal company-sponsored mentoring programs, she also is an informal mentor to countless other employees and coworkers.
"I get calls all the time from people, many of them women, saying will you meet with me, will you mentor me or I'd love to get your take on this," Knight said. "I can't say no. I always try to make time to meet them."
Jacob said while it's not unusual for managers like Knight to fill the role of advocate or mentor, he is struck by the number of people who seek Knight out – and the number she agrees to help. It's a reflection of some of the other traits Jacob sees in her.
"She enjoys leading," he said. "She enjoys the interaction and she enjoys setting the direction."
As CFO of the group insurance business, Knight, who is 53, manages a team of about 45 people. The team has grown since she started as chief financial officer, and it is now much more focused on engaging with the business and providing insight to the business leaders.
Knight said she thrives on the varied and diverse nature of her job.
"People might put all the things that I do in a box related to finance and reporting, but it's really much more than that," she said. "It gives me the ability to engage the leaders of the business, to help make strategic decisions, to see the impact that finance can have."
"To the extent that we can shed light on what's driving the results of the business and help point the leaders in the direction of areas they need to focus on and help them make better decisions," she said, "I really enjoy that a lot."
EXECUTIVE SNAPSHOT
Christine Knight
Title: Chief financial officer, Group Insurance
Age: 53
Education: Rutgers Business School, MBA, 1990; College of New Jersey, B.S. in accounting, 1983; awarded the Chartered Financial Analyst designation in 2005.
Personal: Married with two children.
Currently reading: Low Hanging Fruit 77 Eye-opening Ways to Improve Productivity and Profits by Jeremy Eden and Terri Long.
Down time: "I love the outdoors particularly the beach. We have a boat, which I enjoy. I also like to bike ride, ski and cook for my family and friends."
Favorite take-away from Sheryl Sandberg's book Lean In: "I like the message that you shouldn't put your career on hold. I'm a believer in where there's a will, there's a way. That is how I've always lived my life – going after what I want, and things always fall into place."
Qualities that make someone a strong leader: "Caring about people, planning ahead, seeing the big picture without losing sight of the details, focusing on what's important and excellent communications skills."
-Susan Todd
Press: For all media inquiries see our Media Kit