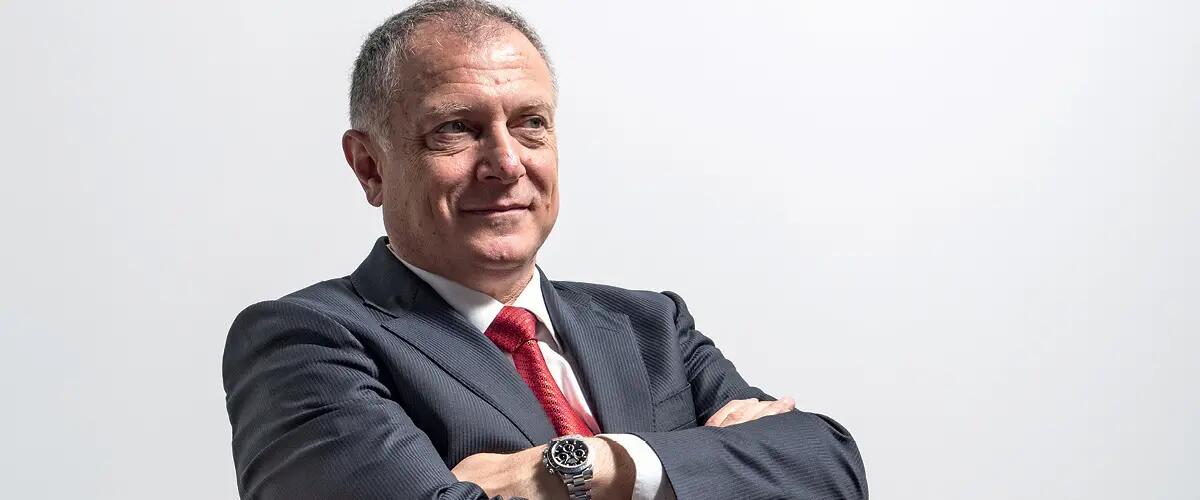 CEO: Innovation is in our DNA
This story originally appeared in CEO Magazine on June 20, 2019.
While many executives might relish the opportunity to talk about their business achievements, Oemer Akyazici is quite the opposite. Rather than spend too much time reflecting on the past, the Schuler China CEO prefers to keep his eyes firmly focused on what's happening now and in the future.
"A company like Schuler should never be satisfied with its past success in light of rapidly changing market conditions," Oemer explains.
"Of course, thanks to our outstanding employees, we're solidly positioned in many different areas. However, if we wish to remain competitive in the future, it's essential we generate a constant stream of product innovations."
Hot off the Press
As a pioneer in forming technology, the Schuler Group has a long history of innovation. The company was founded in Germany in 1839 and soon began constructing sheet-metal working machines.
In 1879, it became the first company in the world to introduce eccentric and drawing presses – shaping metal through moulding, bending and hole punching – and in 1895 Schuler delivered the first coin-minting presses to China.
"We are a company with a very long history – innovation is in our DNA," Oemer says. "Our technology has been developed over many decades to meet the demands of our customers. Innovation is an important component of our history, and hopefully also our future. You could say Schuler is an old lady, but she still knows how to dance."
Today, the Schuler Group offers customised, first-rate technology in all areas of forming, from the networked press to press shop planning. In addition to press, the company's diverse product offering also includes automation and software solutions, dies, process know-how and service for the entire metalworking industry.
"Our customers include automotive manufacturers and suppliers, as well as companies in the forging, household appliance and electronics industries. We also supply coin-minting presses for more than 180 countries," Oemer says.
"When it comes to the digital transformation of forming technology, we support our customers worldwide as a supplier of innovative system solutions. Whether it's forward-thinking production methods for electromobility or purposefully using the industrial Internet of Things for efficient production, Schuler's emphasis is on innovation."
Schuler employs 6,600 people at production sites in Europe, China and the United States, as well as service companies in more than 40 countries. About 1,500 of these employees are based in China, where Oemer has been CEO since 2012.
"In the early 1990s, we opened our first site in Tianjin," Oemer says. "Since then, we have gained a strong footprint in the Chinese market. Today, our sales and after-sales service network is mainly distributed in Shanghai, Beijing, Dalian, Jinan and Guangzhou."
Local for local
Schuler China has experienced significant growth in recent years. In 2018, the company generated new orders in China worth €466.3 million (US$523.6 million), which represented an increase of 59.2% on the previous year's figure of €292.9 million (US$328.9 million).
While the company is a market leader in the high-performance segment, Oemer highlights the mid-level segment as an opportunity for growth.
"We have a particularly strong position in the high-performance segment – one that we intend to expand," he explains.
"However, we are also seeking to enhance our existing portfolio in order to more adequately address the needs of the mid-level performance segment.
"We need to keep working hard to improve our market position and footprint by carefully developing a range of products, services and solutions for that segment. This area offers tremendous growth potential that can be harnessed with solutions specifically tailored to local needs."
Having local manufacturing facilities in China allows Schuler to produce and market its products on the strength of optimised cost structures. In 2015, the company increased its local footprint by acquiring a majority stake in Yangzhou-based press manufacturer Yadon.
Oemer describes the acquisition as a "fruitful addition" to the Schuler Group. "Our local-for-local approach is a fundamental requirement for strong and profitable growth at Schuler," he says. "This is why we have become the majority shareholder of Yadon. In this regard, one plus one is actually more than two."
Moving from an export model to a local-for-local model is one of the biggest challenges for Oemer. "Our strong local presence gives us a deep insight into the needs of our Chinese customers.
This way, we can develop products tailored to the local market," he explains. "This, in turn, allows us to further improve our competitive position relative to local competitors, while also using the developed products to expand into other emerging markets."
Partners in Innovation
Schuler works closely with both local and international suppliers to deliver the highest quality products, latest technology and best possible service to its customers.
"We produce high-tech products and the most advanced machinery. This is only possible with qualified and capable suppliers," Oemer says.
"The qualities we look for in partners include competitive prices, well-organised logistics, reliability, entrepreneurial flexibility, and a willingness to find innovative solutions. However, this is not a one-way street: we can only meet the challenges and take the next step together, on an equal footing."
While Oemer believes forming strong partnerships with suppliers is important, he points out the company can also benefit from symbiotic relationships with its customers.
"By improving the business of our customer, we are improving our business. This means we are providing solutions and systems for our customers and for the forming industry. In doing so, we help them to improve their business, but it also gives us the opportunity to get ahead with new applications and new developments," he says.
"Schuler is providing state-of-the-art solutions and introducing new developments and technologies. As the requirements of our customers increase, they are in need of high-end solutions. We are closely following up and supporting our customers with their development into new markets and applications."
Forming the Future
When it comes to the digital transformation of forming technology, Schuler prides itself on being a supplier of innovative system solutions. The Schuler Group's answer to the Industry 4.0 era is the Smart Press Shop.
In the intelligent and fully networked press shop of the future, it will be possible to accurately predict potential downtime with the aid of sophisticated sensors and actuators, along with the data they collect, and to avert this downtime well in advance.
This will help to increase the quality of the parts Schuler produces while reducing its energy requirements, and it will ensure its customers' productivity.
As a result, the Smart Press Shop will deliver improved reliability and increased cost-effectiveness to the field of forming technology. "We have already begun making Schuler more dynamic and bringing customer-driven innovations to market more quickly," Oemer says.
"For Schuler and our customers, digitalisation is not a vision, but a reality. Innovation is everything. We need to develop products in line with entrepreneurial flexibility and a willingness to find innovative solutions."
In the next few years, Schuler aims to accelerate the pace of product development, while also better aligning its innovations with the demands and requirements of existing markets.
"I'm convinced the economy in China will continue to enjoy growth on a high level over the long term. With our machines and our expertise, we are assisting China in manufacturing high-quality products ranging from premium segment cars and efficient electric motors to household appliances," Oemer says.
"We need to understand the needs of the industries we serve even better. Apart from making Schuler generally more customer-focused and market-oriented, we must also take advantage of every opportunity for digitalisation in the process. This will help improve both efficiency and productivity at the customer site. In the future, we also want to establish Schuler as the world's leading global digital press manufacturer."
As Oemer looks to the future, he says it's vital for Schuler to anticipate market changes and developments well in advance and have the solution ready and waiting to meet customer needs.
"We have the capability and speed to adapt to volatile and changing environments. Customer empathy and anticipation of future development will define your success, especially in China. Do not chase the ups and downs – get ahead of it," he says.
Focus on Solutions
After more than six years as CEO at Schuler China, Oemer still finds the role as challenging as ever. He strongly believes the answer to overcoming challenges is to take a step back and look at the bigger picture.
In fact, this is an approach he tries to instil in his employees. "People struggle mostly with problems. Sometimes you are in the forest and can only see trees. Get out and see the forest," he advises.
"Most of the time, people tell me their problems, challenges and mostly who did it wrong and why it doesn't work. My piece of advice is to look at the whole picture. If you don't have a solution, you are part of the problem," he says.
"Always look for solutions, get help to find solutions or help others to find their way. This approach will help you to focus on what's important and will take emotions out of the equation. Every day we are learning something new and, as we all know, life is not long enough to gain all the experience by ourselves."
Oemer strongly believes a good leader should be a role model and coach who communicates openly and on the same level as his employees. "I'm very people-oriented. I try to motivate and develop my staff by challenging and nurturing them in accordance with their skills," he says.
"The aim is to utilise and multiply the strength of the individual or the team, at the same time making shortcomings and weaknesses irrelevant. I think this is really essential. And you know what? If you help your people to become better and always look for answers and solutions, I think they are happier. They come to work with a smile in the morning and they go home with a smile in the afternoon."
While Oemer is no doubt an influential and motivational leader for Schuler's 1,500 employees, he says much of his personal inspiration comes from his team. "Our staff are our most important asset and a decisive factor in our market success. It is exactly these people who inspire me the most," he smiles.
"Every member of our staff has a capacity I admire. However, all of them are focused on our customers, cooperate business-wide, are efficiency-oriented, take on responsibility, embrace change and show both leadership and entrepreneurship. These are Schuler's success factors."
Press: For all media inquiries see our Media Kit