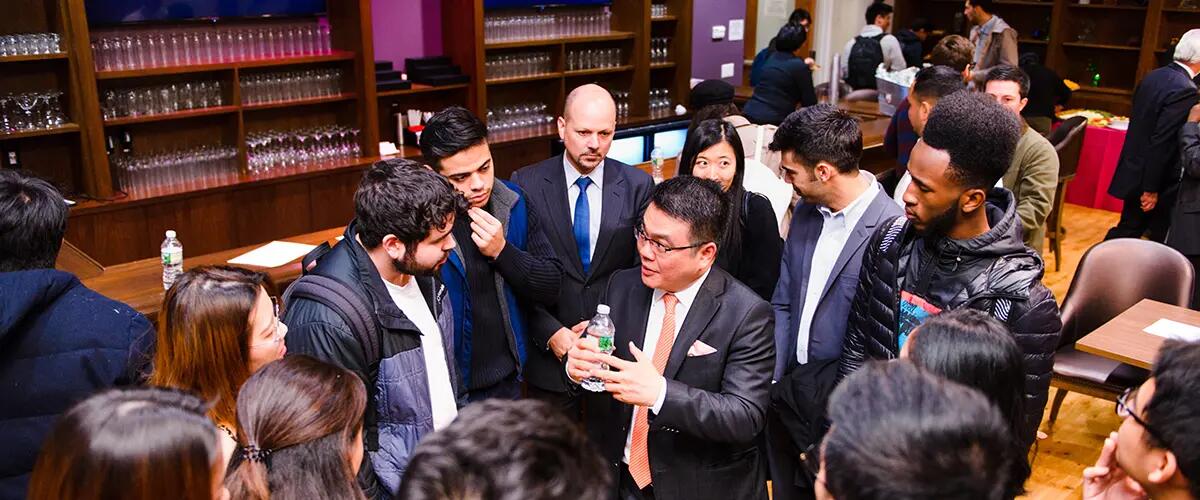 CEO Lecture Series speaker SY Lau: "We are the global caretakers for future generations"
SY Lau, Tencent senior executive and Rutgers Executive MBA alumnus provides students close access and a peak into the digital future.
SY Lau, senior executive vice president and chair of group marketing and global branding at China's technology giant Tencent Holdings Ltd. spoke informally with Rutgers Business School students on Nov. 20 in the intimate setting of Clement's Place at 15 Washington St. adjacent to Rutgers Business School - Newark.
Lau, who completed a Rutgers Executive MBA in 2004, gave a brief review of his career and a preview of his remarks for the CEO Lecture Series before taking questions from the students. Students were afforded nearly 30 minutes for mingling and chatting with Lau, a pioneer of the Internet industry in China.
"This is so exciting; I would never have this opportunity in China," said Yang Luo, a Rutgers Master of Information Technology student familiar with Tencent's services. "I am from China, everyone uses WeChat, QQ.com, QQ (instant messenger) QQ Games and Tenpay."
The venue then shifted to the Great Hall. One of the short videos that Lau showed demonstrated how Tencent is bringing the Internet connection advantages enjoyed in urban areas to the countryside and poorer mountainous villages. The Tencent Charity Foundation launched the WeCountry open platform and offered mobile Internet tools, free resources and training workshops. "Tencent hopes that by pooling village resources and providing development and communication support, more young people will start businesses locally," said Lau.
Lau advocated for corporate, and personal, social responsibility with a compelling argument for proactively shaping "The Fourth Industrial Revolution." Lau's presentation followed three main points: technology matters, China matters, and you matter.
Technology and the Internet are changing nearly every industry and job, said Lau. That matters because this affects everyone and how universities prepare future leaders for the "Digital Civilization," he said. China matters, because it is a playing field where Industry Revolution 4.0 is happening in the world today. For example, in the past two decades, China's mobile payment has grown to eleven times that of the United States, according to Lau. China is the best in class case study of Industry Revolution 4.0 and will see more innovations and unicorns taking place in the near future.
He stressed to the students attending the lecture that in spite of the growing power of technology, people still have an important role. "Technology doesn't have values, people do. You must fight the potential dark force within technology: declining moral compass, loss of privacy and cybercrime, with a sense of urgency and responsibility," said Lau. "Always be a person of integrity and take the high road. We are the global caretakers for future generations and each of us must do our part."
-Sean Ireland
Press: For all media inquiries see our Media Kit