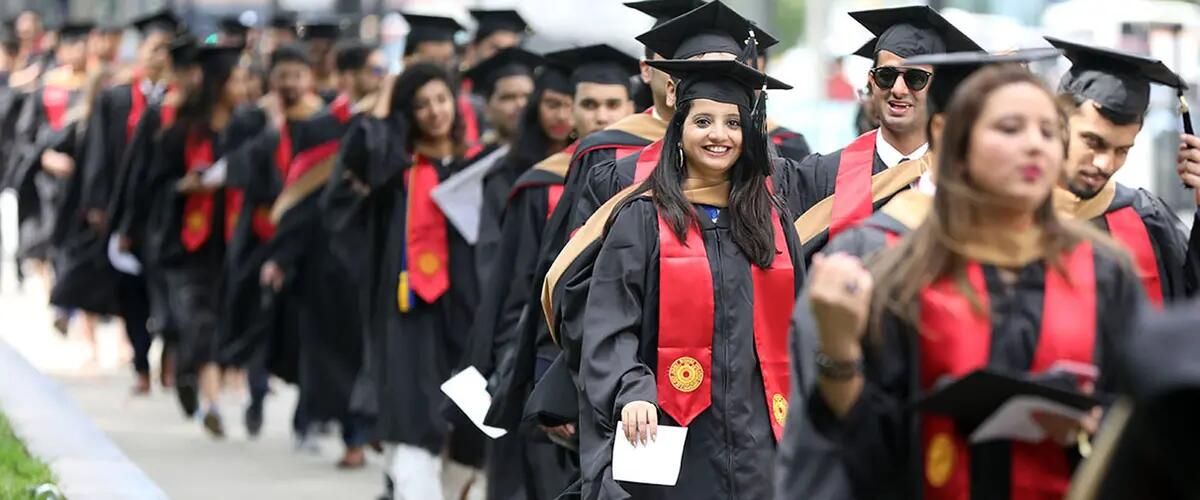 A ceremonious transition from graduate students to alumni
More than 600 Rutgers Business School students marked the completion of their graduate programs during the 2019 convocation ceremony at the New Jersey Performing Arts Center.
Keeping with tradition, the graduating students, dressed in full regalia, lined up behind a group of bagpipe players, deans and faculty members outside Rutgers Business School and then formed a procession up Broad Street.
As the procession moved along, car horns honked and passersby shouted congratulations to the passing crowd – a mass of ceremonious black caps and gowns. Outside one small restaurant, three women stood taking photographs of the procession.
Inside the ornate performing arts center, family members and friends gathered in the balconies shouted and waved as the Majestic Brass Quintet played a recessional and the graduating students filed into the theater. The students had completed a variety of programs from MBAs and Executive MBAs to specialty master's programs, including the Master's of Science in Information Technology and Analytics, which had a total of 173 graduating students.
Rutgers Business School Dean Lei Lei congratulated the students on their accomplishments and told them they had contributed to the rising stature of RBS.
In addition to the traits of Resilient, Responsible and Resourceful, which have become the Rutgers brand, Dean Lei said the graduating students could now add a fourth "R" for Reinvent, a quality they will have to demonstrate as they begin careers in the digital era.
The students received insight and encouragement from convocation speaker William Federici, a retired pharmaceutical executive who graduated from Rutgers University and later earned a master's degree from Rutgers Business School.
Federici encouraged the graduates to maintain their core beliefs, to embrace change and to find a balance between work and life. "We are counting on all of you," he said, "to create the innovative solutions our world so needs."
After Sharon Lydon, executive director of the Rutgers MBA program, had announced 663 names, and after the graduating students had crossed the podium, Ashwani Monga welcomed the graduates to the RBS alumni family. And one more loud round of applause and cheering filled the theater.
Press: For all media inquiries see our Media Kit