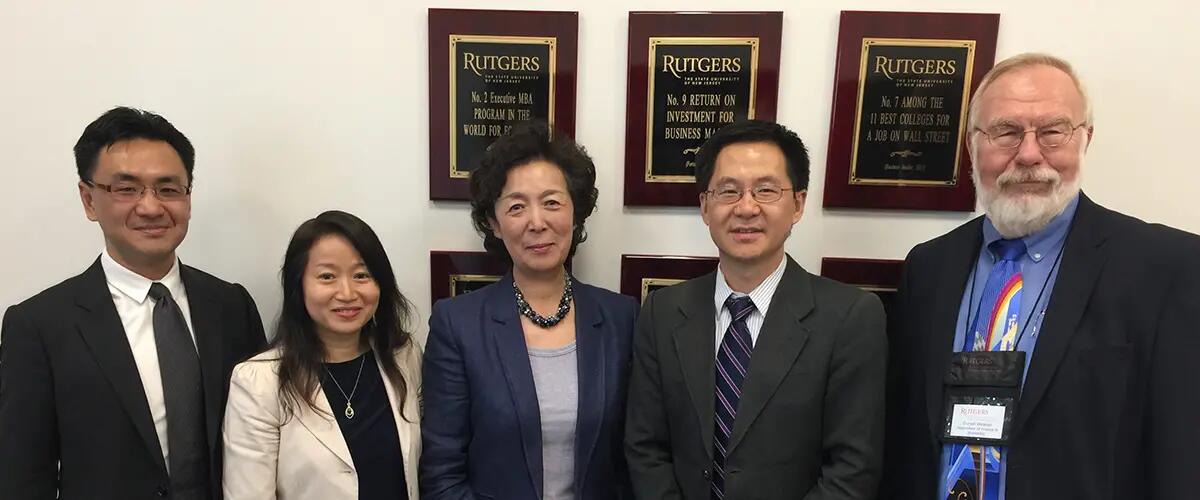 Chinese Finance Association networks with master of financial analysis students
The Chinese Finance Association (TCFA) leadership came to Rutgers Business School – New Brunswick to meet with current Master of Financial Analysis (MFinA) students.  They highlighted the mentoring and professional networking opportunities provided to TCFA members and invited the students to join.  Each speaker spoke about their career path and the range of careers in finance.
Jiang is a Senior Director at Credit Suisse.  She gave an overview of the association with its 12 regional chapters.
Founded in the U.S. in 1994, TCFA has served as a central venue for Chinese professionals and students to exchange ideas, to learn from each other, and to advance their careers. Since the beginning, TCFA has served as a bridge between the U.S. and China in the field of finance. Truly a networking organization, all teams and board members work on a volunteer basis.
CFO Bo Liu works at Citigroup Global Markets.  Liu told the students "You are me 15 years ago!"  Liu holds a PhD in finance from Rutgers Business School.  "I studied with some of the faculty with whom you are studying now.  Rutgers' MFinA program fills a unique educational niche while preparing graduates for a wide range of careers."
Practicing what she advises about networking and connecting with TCFA, Director of Career Management Kim Molee, PhD, attended the TCFA 22nd Annual Conference in New York with Assistant Director of Career Management Ying Ni.
Molee said: "The conference was titled 'China and the World at the Crossroads, Will the New Economy Spur Growth Despite Global Uncertainty?'  It was very informative and engaging; I met and connected with business and education leaders, and grew my professional network. As the career manager for the MFinA program, I am always working to build relationships that will benefit our students."
MFinA Assistant Director of Career Management Ying Ni, Kim Molee Director of Career Management, and TCFA President Maggie Jiang attended the TCFA 22nd Annual Conference in New York.
-Sean Ireland
Press: For all media inquiries see our Media Kit