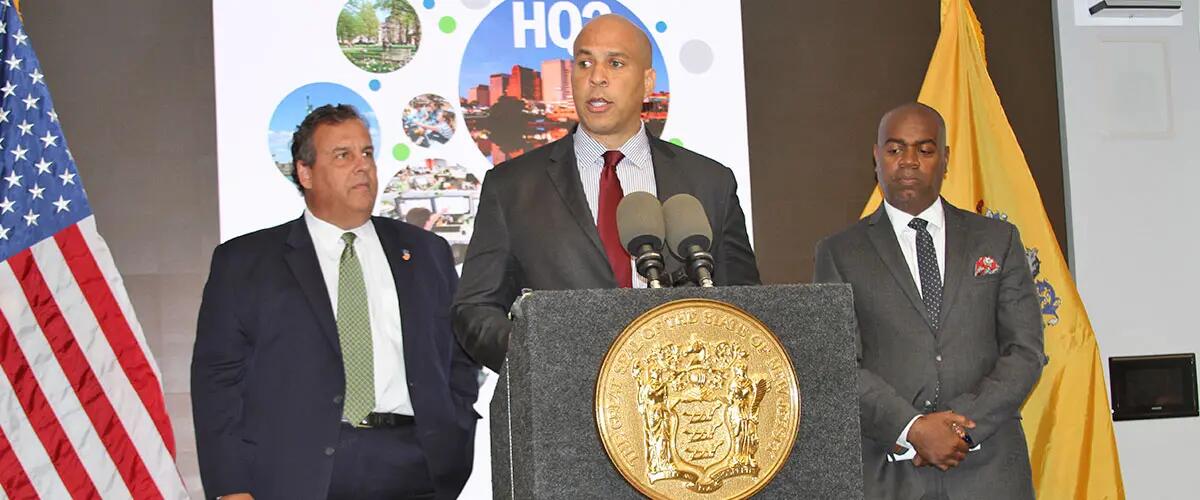 Christie, Booker and Baraka unite behind Newark's bid for Amazon HQ2
For one day Rutgers Business School was the center of a unified State of New Jersey. Governor Chris Christie, Senator Corey Booker and Mayor Ras Baraka stood shoulder to shoulder to support Newark's bid to be the site of Amazon's second world headquarters, known as "Amazon HQ2."
Amazon expects to invest over $5 billion in construction and grow a second headquarters, similar in size to their current campus in Seattle, that could include as many as 50,000 jobs.
The announcement was made in Rutgers Business School's new state-of-the-art corporate presentation room overlooking the Newark Broad Street train station that offers frequent direct 18-minute train connections to Manhattan.
The state's highest representatives were visibly excited and confident in Newark's chance to win Amazon over. "Senator Booker and I don't play for participation trophies," said Christie, who spoke wistfully about driving around Newark with then Mayor Booker eight years ago dreaming of what the future could hold for New Jersey's largest city.
Booker acknowledged the hardship of Newark's past but also pointed out that the city had been a leader in innovation and technology from leather and iron to insurance and jazz. And now a business renaissance was bringing it back. "Businesses are choosing Newark," he said. "Amazon would make the right business choice by coming here. And they would be showing the world that this is how you bring a city back the right way."
Panasonic moved its North American headquarters to Newark in 2013. Prudential opened a stunning $444 million skyscraper in 2015 solidifying its home in downtown Newark. The online audio book publisher Audible, which was acquired by Amazon in 2008, came to Newark in 2006 taking the top floors of 1 Washington Park, a building shared with Rutgers Business School. And Whole Foods, also now owned by Amazon, opened to large crowds in early 2017 across from the recently redevoloped Military Park in downtown Newark.
 
They [Amazon] would be showing the world that this is how you bring a city back the right way - Senator Corey Booker
One of the reasons Christie said Newark made sense for Amazon was that they would be able to access diverse talent at colleges like Rutgers University–Newark, Rutgers Biomedical and Health Sciences and New Jersey Institute of Technology. "Higher education is the foundation of this bid," he said.
Rutgers University–Newark has been a pioneer in providing opportunities for underserved populations in the greater Newark area and New Jersey to attend college. A financial aid initiative started by Chancellor Nancy Cantor gives all Newark residents who gain admission and whose household adjusted gross income is $60,000 or less, scholarships covering 100% of undergraduate tuition and fees.
Admitted students earning an associate's degree from any New Jersey county college, and whose household income is also $60,000 or less, will also be offered scholarships covering 100% of undergraduate tuition and fees to attend Rutgers University–Newark.
Rutgers Business School's rising reputation could also help draw Amazon to Newark. Rutgers Full-Time MBA program, based in Newark, has been climbing in the rankings, going from the No. 1 MBA program in New Jersey in 2015 (U.S. News & World Report), to the No. 1 MBA in the Tri-State area in 2016 (U.S. News & World Report) to the No. 1 MBA in the Northeast United States in 2017 (Financial Times).
"The rankings have been going up because we are focused on helping graduates find jobs that have improved their career prospects," said Lei Lei, Dean of Rutgers Business School. Bloomberg Businessweek ranked Rutgers MBA No. 1 in job placement in the U.S. in 2016; and Financial Times reported in 2017 that Rutgers MBA graduates had the largest salary increase (130%) in the U.S. three years after graduation, No. 1 in the U.S. See story.
Moral Case
Booker believed that there was "a moral case for this city," arguing that Amazon coming to Newark would send a powerful message that "you can do good and do well."
The city has been building the technology infrastructure to attract companies like Amazon offering the world's fastest internet at 10 gigabits-per-second data speeds, built on an a 26-mile underground dark fiber network.
Newark already boasts a unique location as a transportation hub with an international airport (including six nonstop flights to Seattle a day), extensive rail connections and the third largest seaport in the country, that would position Amazon at the heart of a vast supply chain network amidst 20 million people in the Tri-State area.
Ultimately Newark will be facing off against metropolises like Chicago, Atlanta, Denver and New York City and has not been on tech pundits' radar to win the bid. But Newark promises to score well in Amazon's metric-driven approach to choosing a second home, including miles of affordable developable land and the will of state and local politicians from both political parties, making it a pesky underdog contender.
"I am a big believer in envisioning good things happening," said Baraka. "Amazon will be in Newark." The decision by Amazon is expected in 2018.
 - Daniel J. Stoll
Press: For all media inquiries see our Media Kit