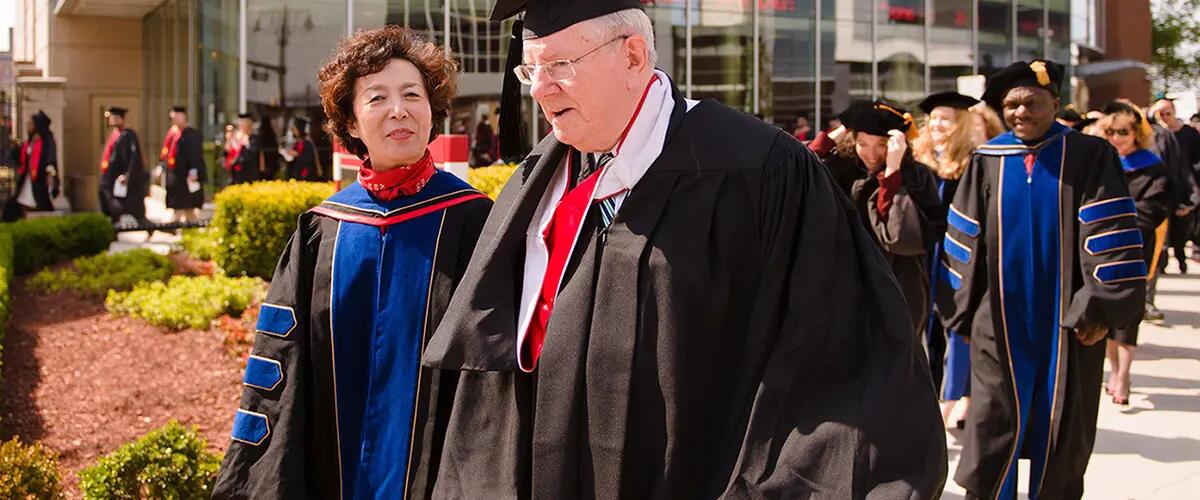 Confidence, innovation, ethics resonate in graduate convocation speeches
Students completing graduate programs at Rutgers Business School – Newark and New Brunswick gathered in Newark on May 19 for convocation and celebration.
As they prepared to walk in the traditional procession to a convocation ceremony at the New Jersey Performing Arts Center, students completing full-time MBAs and part-time MBAs, specialty masters, Executive MBAs, and the International Executive MBA-Singapore congratulated one another and spoke about their exciting futures.
MBA candidate Ahmed Tijani Agwedicham prepared in Rutgers Business School's Bove Auditorium with other MBA graduates.  Majoring in finance, Agwedicham plans to work in the middle market investment banking sector.  "Professor John Longo was an exceptional teacher and mentor," Agwedicham said.
In the third-floor lounge, Master of Quantitative Finance graduates Maria Karalis and Prateek Bhatnagar prepared with other specialty master graduates.  For the immediate future, Karalis will continue with her year and a half research analyst internship with Constellation Capital Management LLC in New York City.
"The professors and the Office of Career Management were always there for us," Karalis said. "Ronnee Ades was the greatest help, my key mentor.  From class selection to career path, Ronnee always went above and beyond to help and guide us."
Prateek Bhatnagar came to the program with a mathematics background as did Karalis. "I chose Rutgers Business School for the range and  diversity of the curriculum," Bhatnagar said.  "Having completed the program now, I can see that the guest speakers and mentoring we received on top of the course work prepared us to interview well. In June, I will begin my career with JPMorgan Chase & Co. in New York City in the area of risk management." 
With preparations complete, faculty led the graduates from Rutgers Business School to the New Jersey Performing Arts Center for formal commencement.  After Senior Associate Dean Yaw Mensah and Senior Associate Dean for Graduate Programs Phyllis Siegel welcomed the graduating students, families, and guests, Dean Lei Lei encouraged the graduates to be confident, innovative, and strong as they go forth from Rutgers Business School.
"Be confident without being arrogant. You graduated from the No. 1 MBA program for job placement nationwide.  Together, we have made RBS the No.1 public business school in the Northeast and the No. 1 return on investment in the U.S. based on salary increase (%) three years after graduation," Lei said.  
"Be innovative and keep your entrepreneurial spirit," Lei said. "Be strong in your ethics, teamwork, and social responsibility."
Convocation Speaker Steve Forbes echoed much of Dean Lei's sentiments. "While this may sound unexpected given much of the news reported, free enterprise markets are fundamentally moral endeavors.  You succeed by meeting the needs and wants of other people," Forbes said.  "Provide what makes someone's life better.
"Through innovation, looking at problems from new angles and perspectives, you can be hugely successful in the long term if you remain moral and ethical," Forbes continued.  One of his many examples of innovative thinking and problem-solving was water use in Israel.  "Since its formation in 1948, Israel's population, agriculture, cities, and manufacturing have increased many times over, yet today they use 10 percent less water than they did in 1948."
In closing, Forbes told the crowd of Amazon founder and CEO Jeff Bezos' "Two pizza rule."
"If you get your team together and it takes more than 2 pizzas to feed them, the team is too big," he said. "Small teams with cognitive diversity can make paradigm-changing inventions, and they can make small changes that add up to significant financial returns from looking for solutions differently.
"And remember: it's not who you know, it's whom."
-Sean Ireland
Press: For all media inquiries see our Media Kit