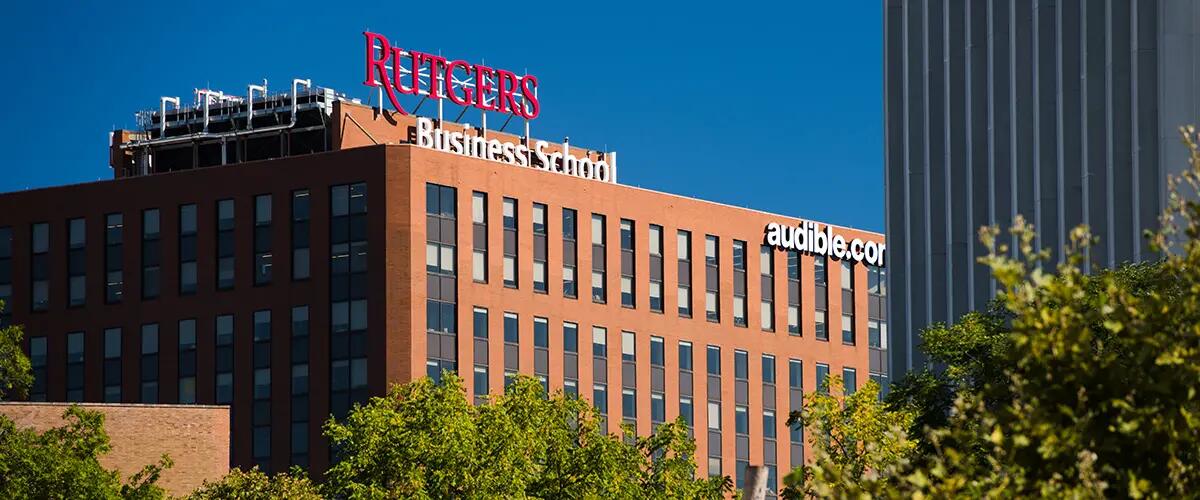 CTEC class project takes top prize in Rutgers University's first LaunchR pitch competition
Three Rutgers students with ambitions of building a company around a new device for harvesting wind power won the top prize of $50,000 in a U.S. Department of Energy-sponsored business pitch competition.
The students – David Talarico, Ryan Annibali and Antoni Milewski – will now advance to a national competition in Colorado.
The winning technology is something Talarico, a doctoral mechanical engineering student, has been working on for six years. He originally came up with the idea for his senior project when he was an undergraduate.
But the technology might have continued being a past-time if Talarico hadn't signed up for the Collaborative for Technology Entrepreneurship and Commercialization, a new course focused on taking ideas and new technologies to market.
Annibali and Milewski are both part-time Rutgers MBA students who took the CTEC class and were teamed up with Talarico.
The Collaborative for Technology Entrepreneurship and Commercialization, or CTEC as it is called, is a new initiative led by Rutgers Business School professor Ted Baker and Roger Debo, who is director of the CTEC program and an instructor at Rutgers Business School.
The two professors worked with Stephen Tse from Rutgers University's Department of Mechanical and Aerospace Engineering to teach the program, which is designed to give graduate students the experience of working as entrepreneurs, from vetting proposed technology to pitching to investors.
As part of the class, Annibali, Milewski and Talarico were given a variety of technologies to systematically evaluate for their market potential. In the course of doing that, Talarico decided to add his patent-pending wind-harvesting technology to the mix.
Ultimately, the students selected Talarico's idea for their class project – a proposal for a start-up company. "It became very clear that this was a viable technology," Milewski said of his team mate's idea.
At the center of the team's business plan is a 15-foot sail that moves back and forth on a track harvesting wind that is converted into energy. A 17-story office building equipped with 18 of their devices would generate enough power to supply 100 percent of the building's energy needs. One of the benefits of the roof-top turbine is its price: about half the upfront cost of a solar array of the same capacity.
Talarico was excited that his dream of building a company around wind power finally had the support of a serious entrepreneurial effort. "It was a validation that I hadn't been wasting my time," he said.
And then Rutgers University's first-ever LaunchR pitch competition took the excitement around the project to another level.
The U.S. Department of Energy had selected Rutgers as one of eight institutions in the country to host one of its regional CleanTech University Prize Competitions. The competitions are designed to help fund and develop viable, innovative clean energy business ideas at universities across the country. The DOE has a reason for trying to turn the ideas into realty. It is trying to ensure that the U.S. meets its goal of relying on renewable energy sources to provide half of the country's power needs by 2050.
At Rutgers, where a student-run venture capital club led by Aaron Weber and professors like Dunbar Birnie helped to organize this year's event, the competition became LaunchR.
"It was a place to really test our abilities and concepts," said Annibali, who juggled the class, the startup project and competition around a full-time job as a financial analyst.
Milewski, who also works full-time around his MBA classes, said the three students spoke every day and met once a week to work on their business plan. They applied what they had learned in class and took the advice of professors and business executives who helped them hone their idea.
They practiced their pitch "hundreds of times," by Talarico's estimate.
Annibali said they also spent hours conducting "voice of the customer" research to determine if they had a product companies would want to buy – or what it would take for them to buy it.
On April 22, the three delivered a finely polished 10-minute pitch about the proposed, still unnamed sail-harvesting business at the LaunchR competition in New Brunswick. They competed against seven other finalists, including ones from Princeton, the University of Delaware and New Jersey Institute of Technology.
Birnie, a professor of material science and engineering who played a major role in getting Rutgers selected as one of the DOE's host institutions, said the competition offers students a chance to participate in the process of developing ideas and products.
"Rutgers has a long tradition of innovation," he said. "This helps us raise that profile even further."
When the three Rutgers students were announced as winners at the event, Talarico said he was stunned. "When they said our names, I couldn't believe it," he said. The win was particularly sweet for Milewski and Annibali who will graduate from the MBA program this month.
All three students credited their CTEC professors and Debo's network of business executives for enabling them to create a winning pitch. "There was a lot of work that went into putting a business structure around this technology," Milewski said. "If it wasn't for the class, this wouldn't have happened."
Annibali agreed. "We probably wouldn't be where we are without CTEC," he said.
In Colorado, the Rutgers team will face 23 other finalists from the regional competitions. The teams will be vying for $100,000 that can be used to take the winning product to market.
"The great thing about this space," Talarico said, "is that even if we don't win, everyone is trying to get this green technology out there, so it's a win no matter what."
- Susan Todd
Press: For all media inquiries see our Media Kit