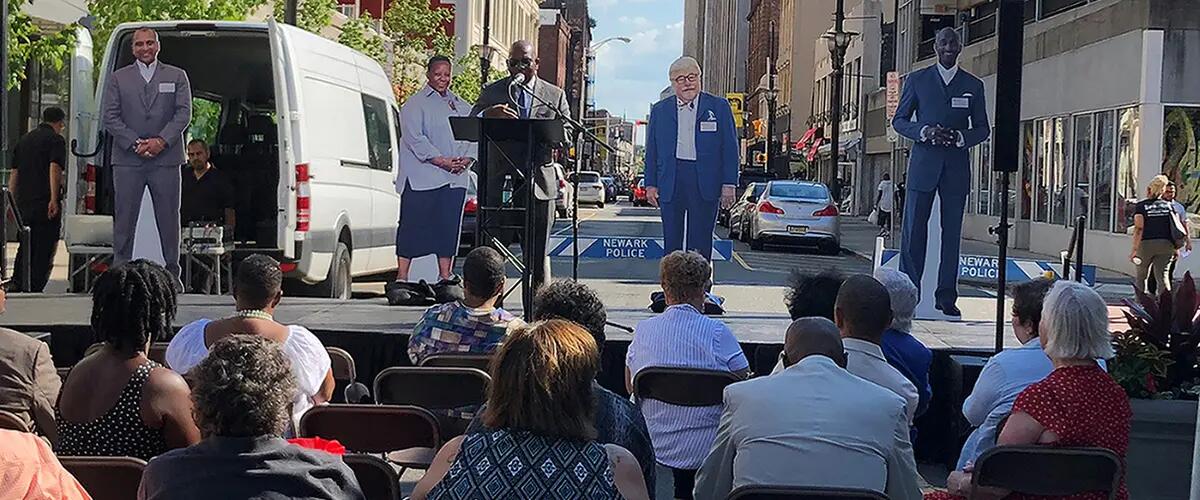 CUEED celebrates its first decade with big plans for the future
The Center for Urban Entrepreneurship and Economic Development at Rutgers Business School-Newark celebrated its 10th anniversary on July 19 with a public ceremony on Halsey Street, where its efforts to nurture entrepreneurs have contributed to a neighborhood renaissance.
With Prudential's towering office building on one side and a block of new and old small businesses on the other, Lyneir Richardson, the center's executive director, reflected on CUEED's beginnings and described some of its ambitions for the next decade.
"Our first decade was impactful," Richardson said. "We worked with 400 entrepreneurs. In the next decade, our goal is to get to 1,000 entrepreneurs. We want to generate more impactful research and expand our programs to outside partners who will license our curriculum."
"The idea," Richardson explained, "is not only to create a stream of revenue for CUEED but to create more impact and get more visibility for the center."
In his remarks, Richardson announced the formation of the Rutgers Council of Entrepreneurs and its founding members – Marc Berson, Antonio Ibarria, Sunny Kancherla, Tom Malava, Marjorie Perry, Randal Pinkett and Lawrence Hibbert. "We want to find 10 or 15 more," Richardson said.
He asked the crowd to help identify other business people to round out the council, particularly female entrepreneurs. CUEED, which relies on grants and philanthropy to carry out much of its programming, has roughly a week left in a crowdfunding campaign. Money raised will help expand the reach of its award-winning Entrepreneurship Pioneers Initiative. 
"Our first decade was very impactful." Lyneir Richardson, executive director, The Center for Urban Entrepreneurship and Economic Development.
Marjorie Perry, a Newark-born entrepreneur, said the council members will serve as advisers and advocates to CUEED. "We share out stories, listen to their strategies, guide them," Perry said.
The anniversary event was part celebration, party block party, part reunion. Among the crowd gathered on the street outside the Black Swan Espresso shop was dt ogilvie, a former Rutgers Business School professor who started CUEED, and dozens of alumni from the center's Entrepreneurship Pioneers Initiative and other programs.
"We learned a lot from all of our efforts," said Rutgers Business School professor Jeffrey Robinson, who is founding assistant director of The Center for Urban Entrepreneurship and Economic Development. "We learned how to work within the community. We learned how to engage with local entrepreneurs. We learned how to support the ecosystem."
"There are so many cities," he added, "that can benefit from what we've learned."
And in fact, some of the ambitions Richardson laid out for CUEED in the next decade are already taking hold.
Robinson said in a new partnership with a Memphis startup, CUEED will help carry out its Business Hub for Creatives Program in the Tennessee city. Other cities, including Jacksonville and Richmond have telephoned to find out how they can also replicate CUEED's programs, he said.
The Center for Urban Entrepreneurship and Economic Development is part of Rutgers Business School-Newark.
Press: For all media inquiries see our Media Kit