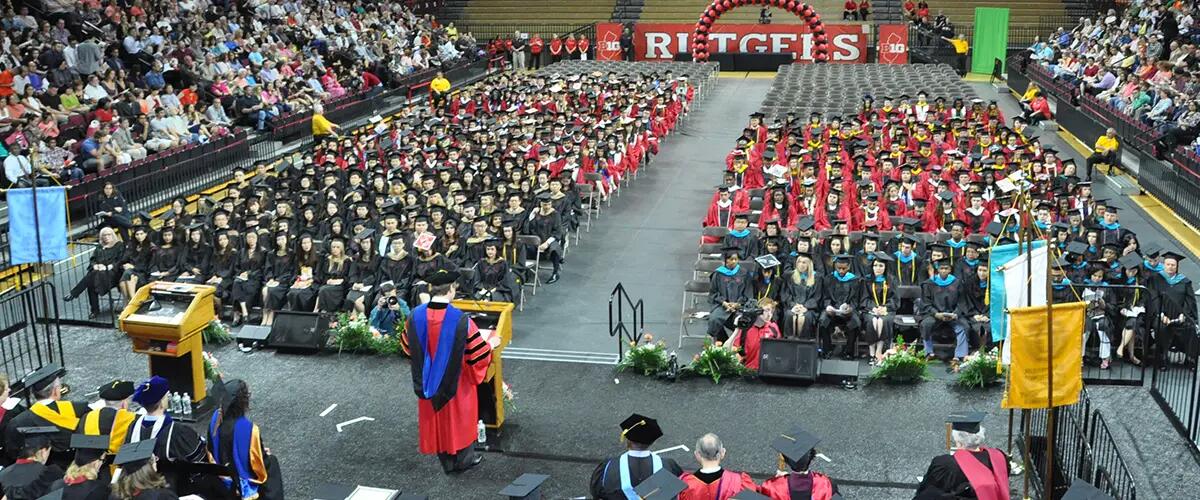 "Do something you love," commencement speaker Arthur Certosimo told students graduating from Rutgers Business School-New Brunswick
"Don't go into a career that you think you should or someone else thinks you should. You will probably work over 40 years, and I can't imagine doing something I don't like for 40 years," Certosimo told the graduates.
When beginning his 36-year career in international banking, Certosimo was asked what he wanted to do. "Coach football," he answered. The next question was, "What about coaching a team of financial advisors?" Certosimo blended his two passions into a rewarding career that he still loves. Certosimo retired in 2014 from The Bank of New York Mellon and now serves as vice chairman of the Promontory Interfinancial Network,
More than 500 graduates, their families, and friends laughed, cheered, and hung on his every word. Another lesson Certosimo imparted to the graduates: "Figure things out yourself."
"Remember the first time you were trying to sign-up for classes and asked will someone just show me how to do this? and of course nobody did," he told the graduates. "That was the beginning of a four-year lesson on how to figure out things for yourself!"
"You can't really wait for others to help you. The self-reliance that you have developed, like your experience dealing with pressure, will come in handy many times over during your career," Certosimo said.
As each graduate's name was called, her or his photograph, name, and personal message were displayed on the center-court giant displays.  Faculty members from every department were on stage to personally congratulate and shake hands with every graduate.
"I could not be happier" said Senior Associate Dean Martin Markowitz. "I have received many compliments about the ceremony itself, Art Certosimo, the faculty, and the 'feeling' that was communicated.  This feeling was especially enhanced when the faculty congratulated each of their students as they crossed the stage. It gave a large ceremony a personal touch."
"I am especially appreciative of our staff who made the ceremony run flawlessly. Helen Pensavalle and Michelle Tomitz did a super job organizing everything.  Everyone in my department and from across the school did all that they could to give the graduates, and their families, the convocation that they deserved," Markowitz said.
"Also, the staff of the Rutgers Athletic Center were superb," continued Markowitz.  "They literally put everything together, did an excellent job at directing students and guests, made sure all components of the ceremony were in place on time, and made sure everything (sound system, the marching order software, the music) worked perfectly."
-Sean Ireland
Press: For all media inquiries see our Media Kit