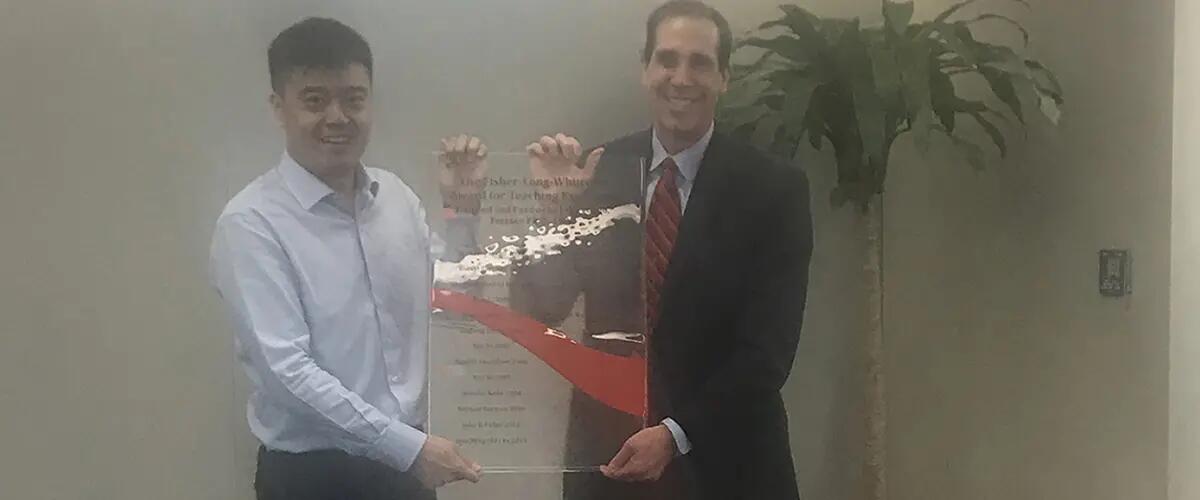 Doctoral student is recognized for exceptional teaching
"Great teaching may impact our students for a lifetime," - John Longo, professor of professional practice, finance and economics.
Ge Wu, a Ph.D. candidate in finance at Rutgers Business School, was presented with the prestigious Fisher Long Whitcomb award for exceptional teaching on April 13.
John Longo, a professor of professional practice in finance and economics, presented the award to Wu during a ceremony at Rutgers Business School in Newark. Longo established the award in 1998, shortly after completing his Ph.D. in finance at Rutgers. He subsequently established two more awards at Rutgers Business School, the Brick Whitcomb Award for Research Excellence and the Ben Sopranzetti Prize for Service.
"Great teaching may impact our students for a lifetime," Longo said. "I created this award to recognize outstanding teaching by our Ph.D. students. They do a great job teaching our students at RBS, and they will ultimately be our future colleagues and peers. I congratulate Ge on his outstanding teaching."
Wu said he was thrilled to be selected as the recipient of the Fisher-Long-Whitcomb Award for Teaching Excellence.
"I would like to thank Professor John Longo for establishing this award for Ph.D. students. It will help me a lot on the job market this year," Wu said. "My four years of teaching have been both challenging and rewarding. In order to meet the demands of a varied cross-section of students, I used certain teaching approaches which I believe helped me convey foundational concepts and how students can apply them in real-world situations."
Wu also expressed thanks to his advisor, Darius Palia, and to Professor Ivan Brick for giving him an opportunity to teach.
Press: For all media inquiries see our Media Kit