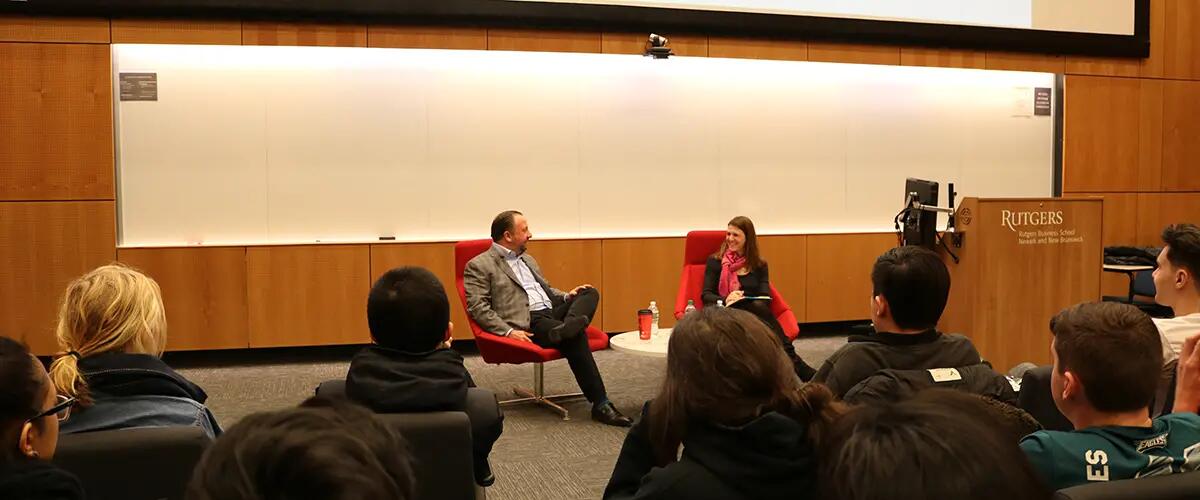 "Don't be afraid to try something, learn from everything," Samsung EVP Stinziano told students
Joseph Stinziano, the executive vice president of Samsung Electronics America's Consumer Business Division recently spoke with Rutgers Business School marketing students during the Business Leader Speaker Series - Spring 2018.
The Business Leader Speaker Series is organized by Can (John) Uslay, associate professor, director of special projects, co-director of the Center for Market Advantage, Marketing department.
Stacy Smollin Schwartz, instructor of professional practice, Marketing department, posed questions to Stinziano who also took questions from the students.
"He was straight forward; he said it like it really is," said Nick Zrebiec, Business Analytics and Information Technology major. "His informal interaction was big for me, as well as his insights from multiple companies."
Stinziano outlined his winding and varied career path, that put students as ease who said that they did not yet know exactly what they wanted to do.  "Follow your instincts, see what fits; you can't make career mistakes this early in your career," Stinziano said. "A disjointed career path is OK if you can connect what you learned along the way."
Smollin Schwartz agreed, but added that professionals also need to be experts in a chosen area. "At some point you have to go deep," said Stinziano. "Find your fit, what drives you, and get very skilled in something."
"I am really anxious to try things now," Marketing major Shannon Thompson, said. "I really liked when he said, 'Don't be afraid to try something, learn from everything.'"
-Sean Ireland
Press: For all media inquiries see our Media Kit