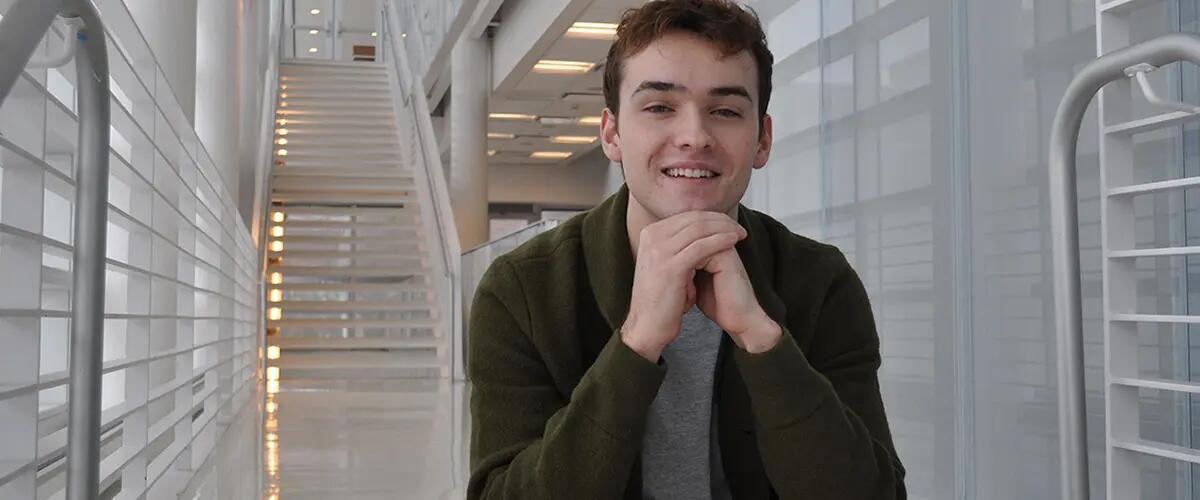 Enactus competition sparks student interest in social entrepreneurship
Student teams propose novel ideas for helping to solve the issue of food insecurity in New Brunswick.
Ben Foresti, a senior at Rutgers Business School, has gained a lot of experience as a member of Enactus, a group that fosters social entrepreneurship as a way for students to empower their communities. 
Last semester, he worked closely with the chapter's executive board to organize a social case competition that inspired a group of Rutgers students to create a novel high school-based incubator program to help decrease food insecurity in New Brunswick.
In an interview, Foresti, who is majoring in Business Analytics and Information Technology and minoring in statistics, spoke about Enactus and the experience of organizing the competition with the chapter's executive board, including senior Kimberlie Chao, the chapter president who chose the issue of food insecurity, and Allison Szeliga, director of projects for Enactus, who found 10 sponsors for the competition.
How did you become involved in Enactus?
"While I was exploring clubs to join, I thought I wanted something that would give me good professional development and I was also looking to do something volunteer related. Enactus seemed like a good intersection of the two concepts. It offers professional development and there's also the focus on improving your community in a sustainable way. It struck me as a perfect organization."
Why was it important for Enactus to hold a social case competition?
"We thought a case competition would be a good way to introduce the wider public of Rutgers to social entrepreneurship. We're also in a transitional stage now, where a lot of our past projects are wrapping up and our ability to positively impact those organizations is coming to a close. We thought this would be a good way, potentially, to get some ideas for new projects."
What are your impressions of the winning team?
"The biggest distinction that set the winning team apart – they're name is beLeaf – was the way they choose to think about the problem. When it comes to social entrepreneurship, it can be really easy to take an existing solution, especially one that's trendy, and find a new place to apply it. A big problem that exists in New Brunswick right now is that while families have the opportunity to get food from food pantries at almost no cost, a lot of them choose not to because the food available isn't culturally relevant. beLeaf won with an idea to implement an incubator at New Brunswick High School where children in these families could be taught how to use the food available in New Brunswick to make culturally relevant dinners."
What was the highlight of the competition for you?
"Obviously me and the whole leadership team put in a lot of work behind the scenes. It was definitely rewarding to see that the students came up with really good ideas. Two years ago, we had taken the idea of social entrepreneurship and said basically go into New Brunswick, find some issue and come up with an entrepreneurial idea to solve it. That's incredibly broad. It's sort of like when someone tells you to write an essay on whatever you want. You don't know where to start. We shifted the way we approached this case competition in that we gave people more direction. We found an issue in New Brunswick and then presented it to the competitors in the form of the case."
What was the biggest challenge?
"I had a specific vision so it was hard for me to let go of tasks. Once I did sort of let go, it was rewarding to see that people came through."
Press: For all media inquiries see our Media Kit