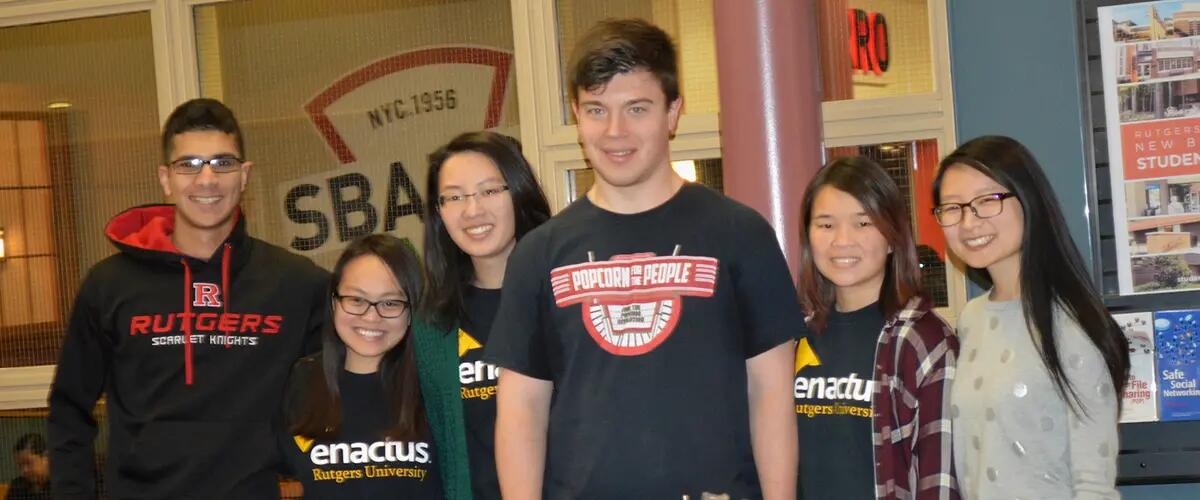 Enactus students take entrepreneurial action to help struggling local businesses
Popcorn for the People wasn't started to make a profit. It was started to make a difference in the lives of autistic adults – 80 percent of whom are unemployed.
The goal was simple: hire autistic adults to make and sell gourmet-flavored popcorn, and use the profits to pay them. But executing that goal on a large scale was a challenge founders Steven Bier and Barbie Zimmerman-Bier weren't sure they could undertake.
 
They needed advisers, ones with business acumen, modern approaches to marketing and production – and willingness to work pro bono. It was a tall order, but one Bier was able to fill with help from Rutgers University-New Brunswick's chapter of Enactus, an international nonprofit organization whose student members improve their world through entrepreneurial action.
"They've done everything from painting the walls to setting up a work flow process in the facility to aiding with digital marking and getting us a front page story on MyCentralJersey.com on Thanksgiving," Bier said of the Enactus team assigned to see Popcorn for the People (which is run by the nonprofit organization Let's Work For Good) through its transition from a tiny storefront in the Brunswick Square Mall to a larger donated space in an East Brunswick processing center.  "It's like having a group of specialists, this little business SWAT team that can both plan and respond to the daily emergencies that come up."
 
Since forming in the Rutgers Business School-New Brunswick during the spring of 2014, Enactus has grown from a group of fewer than 10 business majors to nearly 70 members from diverse fields of study. The club taps into a strong commitment to social entrepreneurship on campus, said chapter president Justin Liu. Its objective it to connect members with struggling local nonprofits and small businesses and use the skills they gain in the classroom to troubleshoot real-world problems.
"Rutgers students generally come from more humble backgrounds and are socially conscious," said Liu, 21, a senior double majoring in supply chain and marketing. "Our goal here was to create an organization for people to come together and act on their passions to make social change in a structured way."
 
That structure – which includes mentoring, training and assigning specific tasks to members – is the key to Enactus' success, said Zahra Khetani, 21, a senior majoring in supply chain management and director of projects for Rutgers' chapter. In addition to Popcorn for the People, the group is advising one other nonprofit called Youth Empowerment Services. Khetani's role is to ensure members working on any of the club's projects know their job, have access to the resources they need to succeed and follow a path that is sustainable for the owner.
"The most important component of an organization is its people. Without people you can't make change. You need motivated, accountable, inspired people," said Khetani, who added that Enactus is run more like a company than a club. "We try to engage our members, because when they are empowered, you can empower other people."
Enactus took that philosophy to Popcorn for the People in September when they conducted a needs analysis for Bier and Barbie Zimmerman-Bier. They learned the couple had tried spending money to make money, but had dug themselves into a little hole instead.  
 
"This was put together by people with medical training, not business training," said Bier of him and his wife who work as a radiologist and developmental pediatrician, respectively, and were inspired by their autistic son, Sam, to launch the nonprofit. "We were trying to turn a struggling local store into a self-sustaining model that we can reproduce."
 
But before they could accomplish that, operations didn't just need to be streamlined, they needed to be established.
"There was no set process," Khetani said. "Just instructions scribbled in a notebook."
Enactus members spent time observing and tracking processes, figuring out production costs, identifying ways to keep the budget in check while expanding the business. Then Enactus member Anh Ngo was called in to hammer out a marketing plan. The 19-year-old finance major purposefully chose a role within the club to take her out of her comfort zone.
 
"It's definitely pushed me out of the Rutgers bubble," Ngo said. "It's forced me to talk to local business owners, community members and reach out to media professionals."
 
In the process of building on her communication skills, Ngo raised Popcorn for the People's profile through social media marketing, a popcorn and movie pairing event at Hidden Grounds Café in New Brunswick and successfully pitching stories about them MyCentralJersey.com and The Daily Targum and this publication.
 
Experiences like those are hard to come by during internships, said Kevin Lyons, an associate professor in the Supply Chain Management Department at Rutgers Business School-New Brunswick. Lyons, one of several Rutgers professors and business leaders who serve on Enactus's advisory board, said the club provides a unique opportunity for students to gain hands-on business experience.
 
"At an internship at Goldman Sachs or one of the big Fortune 500 companies, they are not going to bring you into the boardroom and have you solve some big worldwide problem," Lyons said. "Through Enactus, students get to work side by side with small business owners. They are strategic in helping them make positive decisions, and then they get to see cause and effect right in front of them."
Press: For all media inquiries see our Media Kit