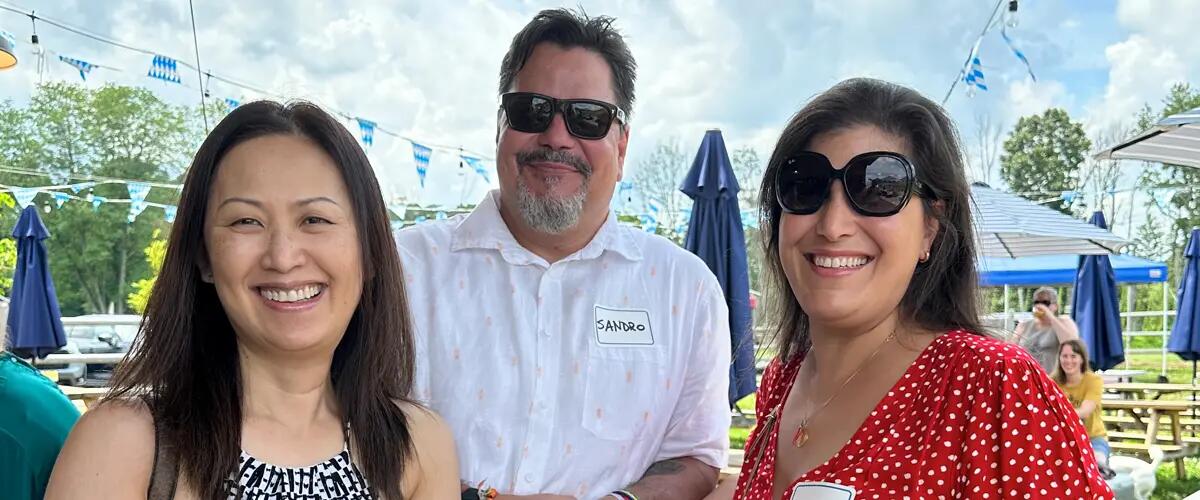 Executive MBA Program hosts powerhouse alumni networking event
Over 100 Rutgers Business School (RBS) alumni, family, and friends gathered at the Readington Brewery in the beautiful rolling hills of Hunterdon County in rural northwest New Jersey on a sunny Saturday in July. Hosted by Rutgers Executive MBA program with the RBS Office of Alumni & Corporate Engagement (ACE), the networking event brought Rutgers EMBA alumni together with current students from the EMBA program, and the Full-Time and Part-Time MBA programs along with their spouses, partners, and kids.
The family-friendly atmosphere reunited alumni with some of their favorite faculty and staff friends, including professor and Executive MBA program director Farrokh Langdana, who basked in seeing his former pupils. "It was so good to see the big 'Engine Room' alumni of the Rutgers Executive MBA Powerhouse again," he said. "Team EMBA was expecting 50 people and friends; we had over 100 in attendance!" 
Langdana went on to thank many of the staff and faculty who helped make the event possible: Sharon Lydon, Josephine Sears, Michele Taylor, Ozgur Yaglidere, EMBA executive coach Joe Schaffer and his wife Maureen, and professor Hap Patorniti. Langdana also promised that the event would happen again next year.
See below for photos from the "Powerhouse" alumni networking event. Learn more about the Rutgers Executive MBA program by attending one of their Open Houses or Request More Information.
Summer Executive MBA Alumni Networking Event
Press: For all media inquiries see our Media Kit