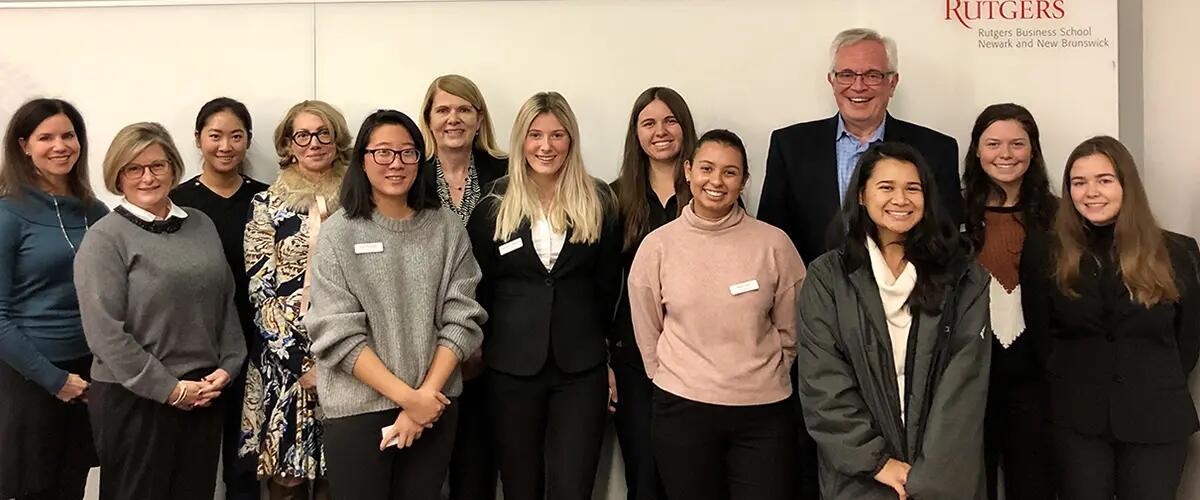 Executives, alumni coach women's golf players for business world
By Ana Cortes and Carrie-Ann Lee
As seniors, we have seen the Rutgers Women's Golf program grow tremendously over the last three years. We climbed more than 60 spots in the national rankings, while holding the top team GPA among all Power 5 conference golf programs since 2018 and helping others by performing more than 320 hours of community service each year. We continue to raise the bar in our athletic and academic pursuits, but we also began to consider our lives after graduation. With ambitious goals in mind, we started forming our personal brands with the help of Rutgers Business School alumnus Bill Downey. Coach (Kari) Williams and Bill created the bRandU curriculum for our team to understand and grow our personal brands while also developing our professional networks. Coach and Bill led several bRandU sessions over the last few semesters, helping us all realize the importance of our individual brands, networking, and mentorship opportunities.
These gatherings gave us a strong base to build upon and led to the EAGLE (Executive Alumni Guiding Leadership Excellence) panel initiative. The EAGLE panels were an eye-opening experience that exposed us to a great group of highly successful female professionals from various industries. In our first panel, we heard from three exemplary women about their career paths, keys to success in the workplace, and how to ask for more when deserved. A critical lesson we learned was the importance of authenticity when developing our personal brand. Being genuine has always been a central lesson in all of our career discussions, and it has helped us develop a brand that is reliable, personal, and unique to us. Eileen Comerford, a municipal bond expert, specifically emphasized the significance of authenticity during the interview process and the importance of creating personal relationships. Deborah DeGenova, a leader of global teams, led us in a conversation about performance expectations and stressed that being excellent and going the extra mile is what will differentiate us from others. Our third panelist, Rutgers University alumna Kathi Love, formerly a CEO of a publicly-traded company, offered us key negotiation advice that we can use in a wide range of professional and personal scenarios. A major takeaway for us and our teammates was that getting out of our comfort zone is the first step towards creating our own success, and this lesson extends beyond the workplace and can be applied in the classroom and on the golf course.
During the second EAGLE panel, we shifted our focus to explore the little details that can make a huge difference in our lives. Corinne Costa Davis, a leader in corporate management and Lisa Kaplowitz, Rutgers Business School professor and d irector of the Center for Women in Business, reviewed the importance of how we present ourselves and how that can contribute to our success. We were also joined by Rutgers University alumna Debbie Lynch, a member of the Rutgers Board of Trustees and a former director of psychology, and Leigh Smith, a marketing management professional. Debbie and Leigh offered their thoughts on effective communication in teams and group settings, something we as a team are always trying to improve upon. This panel session progressed towards discussing various ethical situations and other hardships our guests had experienced in the workplace. Hearing personal life stories gave us all more perspective about what challenges we may face in the future and how to deal with that adversity.
Ex-pe-ri-ence: The process of doing and seeing things and of having things happen to you; skill or knowledge that you get by doing something.
Kathi Love, a guest of our first EAGLE panel, was able to join our team again for a lesson on negotiation skills. We built upon our initial discussions and dove deeper into strategies for salary and performance reviews. It was empowering to hear about real life situations, and we left with tools to better position ourselves during the hiring process. An important lesson Kathi shared with us was keeping a personal diary of our successes in the workplace, big or small. This track record of our work history can be valuable in understanding our worth and believing in what we are bringing to the negotiation table.        
The EAGLE panels and our career development sessions have been an inspiring and enriching experience for us, and we treasured the opportunity to learn from successful, hard-working women who had so much advice to offer. We look forward to applying all we have learned from them in the classroom, on the course and in our future careers. These women have become key connections in our professional networks and models of success for us. As such, we aspire to one day be resources for other women as well.
Ana Cortes and Carrie-Ann Lee are Rutgers Business School students and co-captains of the Rutgers Women's Golf Team. Cortes is studying finance and management. Lee is a supply chain management major.
Press: For all media inquiries see our Media Kit