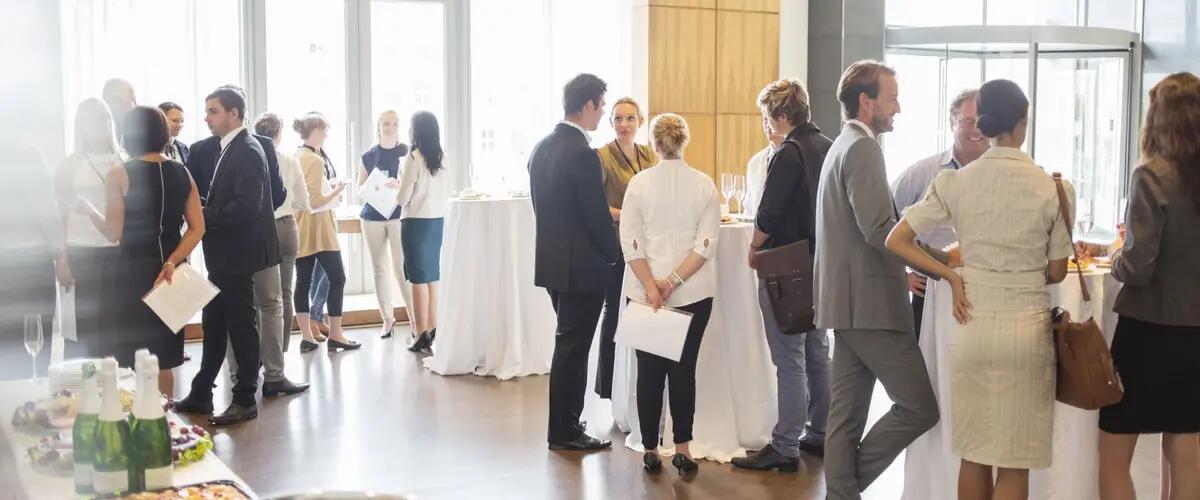 EXPERIENCES: He's got an easy model for successful networking
By Benjamin Lioue
When I think of networking, I think about opportunities. When I enter a room, I see individuals with different resources, backgrounds and knowledge. As an extrovert, I enjoy being around people and meeting new people daily. In today's world, that counts as a skill because being able to network is critical in order to succeed. Networking isn't as difficult as it may seem. It's just about proper planning and execution and follow-up.
Planning
The first step to networking success is always plan ahead. What I do first is read some sort of news depending on the networking event. I prefer the Wall Street Journal and Bloomberg News over Thomson Reuters. Depending on your field or your interest you may want to read different things. This is critical because these are potential conversation starters. As professionals, most people will keep track of news and know what is going on in the world
Experience: The process of doing and seeing things and of having things happen to you; skill or knowledge that you get by doing something.
Next: Pick your target. Whether you want to meet KPMG, Ernst & Young, Goldman Sachs or Bloomberg, create a short list of three or four companies that you want to meet and find out who is going to be there from those companies. If you do not know, then ask. If you don't get an answer, be prepared to meet anyone from the associate level or even a partner, depending on the firm.
Lastly, prepare good questions. As a student, we have the luxury of asking questions, but make sure you ask questions the person you are speaking with can answer. Questions like these: "What is the best piece of advice you can share with a student?" or "Why did you pick the firm you are working at now?" or "What are the most critical skills I should pick up in college to help me in the future?" By doing this, you allow individuals free range to answer your question as they see best rather than questions like, "Do you have internship opportunities?" and other  yes or no type questions.
Executing
Now you're ready with a plan about who to approach, the next step is execution.
First, always start with an introduction and a handshake, standing tall with feet at shoulder length apart while standing up straight and making eye contact. But before that, breathe and relax. The most important part of this execution is being genuine, while also being professional. Listen carefully to what the other person says and build a rapport with the individuals you have targeted. If they are not responsive or if they're busy, do not be discouraged. Keep moving forward and bid him or her a farewell, and move on to the next target. At networking events, and in general, many individuals will approach those who are top dogs so you need to make sure you stand out. The conversation does not need to be about work and can digress to other things, but make sure you find something in common and talk about it. The most important thing is making sure you get contact information or a business card to ensure that you can follow-up and add the people you've met to your network. After you have mastered this, just repeat it until you feel comfortable. The next part is the follow-up.
Following-up
In my opinion, the follow-up is the most important part of networking.
It's great that you met this awesome person who works at a firm you dream of working for, but if you do nothing with it, how does it benefit you? The rule of thumb is to send a follow-up e-mail or LinkedIn request – or both – within 24 hours after you meet an individual. It is critical that you do it in such a time frame because people meet others on a daily basis. To ensure they remember you, it is vital to be quick. In the e-mail or personal message on LinkedIn, explain to them how you enjoyed speaking with them and would like to set up time for coffee or a phone call to learn more about the firm, their role or something else. By doing this, it continues the conversation after the initial meeting with the hope that the person can introduce you to others.
Successful networking is hard work but with the proper game plan, lots of practice and remembering to follow up, you, too, can be a successful networker.
Benjamin Lioue is a senior at Rutgers Business School, majoring in finance and accounting with a minor in honors college. His proudest networking accomplishment was meeting Sarah Wood, co-CEO of Unruly Media. This essay is part of an ongoing feature highlighting the expereinces of Rutgers Business School students.
Learn more about Rutgers Business School's undergraduate programs in Newark and New Brunswick.
Press: For all media inquiries see our Media Kit