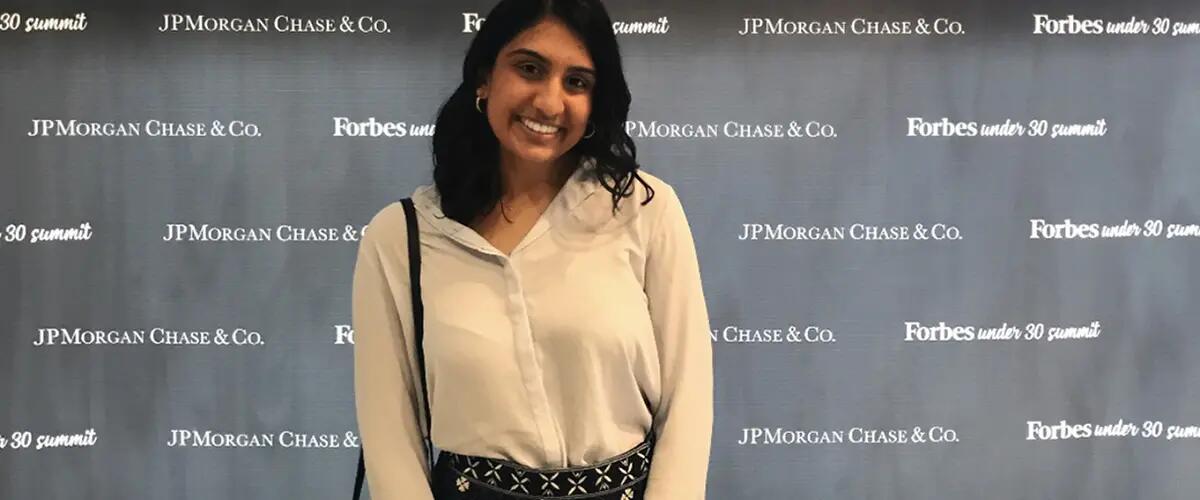 EXPERIENCES: Student entrepreneur gets an opportunity to learn, network, to be inspired
By Sri Narayanan
In early October, I had the opportunity to attend the Forbes 30 Under 30 Summit in Boston. I participated in the conference for three days, and each day I was presented with new opportunities to explore and learn from the stories of young visionaries. There were nearly 7,000 people in attendance, and I was excited to be part of a community that embodied the entrepreneurial spirit. 
I am passionate about entrepreneurship. At Rutgers Business School, I met Alfred Blake, the assistant director of undergraduate entrepreneurship programs, and after telling him that it was my dream to attend the summit, he provided me with ways that I could transform the dream into a reality
On the first day of the conference, I attended the Women@Forbes event, and it was such an empowering and personal experience. I was in a room filled with women leaders, actors, and successful female founders. As I began networking with the women in the room, I realized that nearly one out of four women were founders of their own company. I was beyond impressed. Several panel discussions took place, and one that stood out to me was "Scaling Young: Rewriting the Rules" with the CEOs of Thrive Causemetics, Gobble, Sweeten, and Uncharted Power. They were all entrepreneurs who built high-growth companies starting at a young age. Here are some of the things that I took away from the talk:
Youth is an asset

Learn the difference between dreaming and doing

You can't achieve the next big thing overnight
During the second and third day at the conference, I listened to panel discussions and distinguished speakers such as the CEOs of Casper, Rent the Runway and Spanx. I also had the opportunity to network in the VIP Lounge and meet the 2018 Under 30 list-makers.
Ex-pe-ri-ence: The process of doing and seeing things and of having things happen to you; skill or knowledge that you get by doing something.
One stage that excited me was the Ideas Stage. It was dedicated to teaching entrepreneurs how to launch and run their companies. It was terrific to get advice from experienced entrepreneurs about doing DIY marketing, developing a good cofounder relationship, and raising the first million in funding. The panel "How to Be a Boss When You've Never Had a Boss" also captured my attention. The speakers were all young entrepreneurs who started their ventures in college while they were full-time students. The CEO of Aspetto, a bulletproof luxury clothing line, gave an excellent wrestling analogy: You don't go into the ring thinking you're going to lose. That point made me realize that my motivation as an entrepreneur should lay in the belief in my product and understanding the problem it was solving.
Attending the Forbes 30 Under 30 Summit allowed me to further my knowledge by listening and learning from experienced entrepreneurs and leaders. It also helped me to grow my network. Every connection you make will lead to a new opportunity and you will be surprised to see that usually people are eager to help you. Opportunities like this are hard to come by. So if you get one, grab it!
Sri Narayanan is a Rutgers Business School sophomore double majoring in Business Analytics and Information Management and Marketing. She is also a student entrepreneur developing an EdTech startup in the field of adaptive test prep.
Press: For all media inquiries see our Media Kit