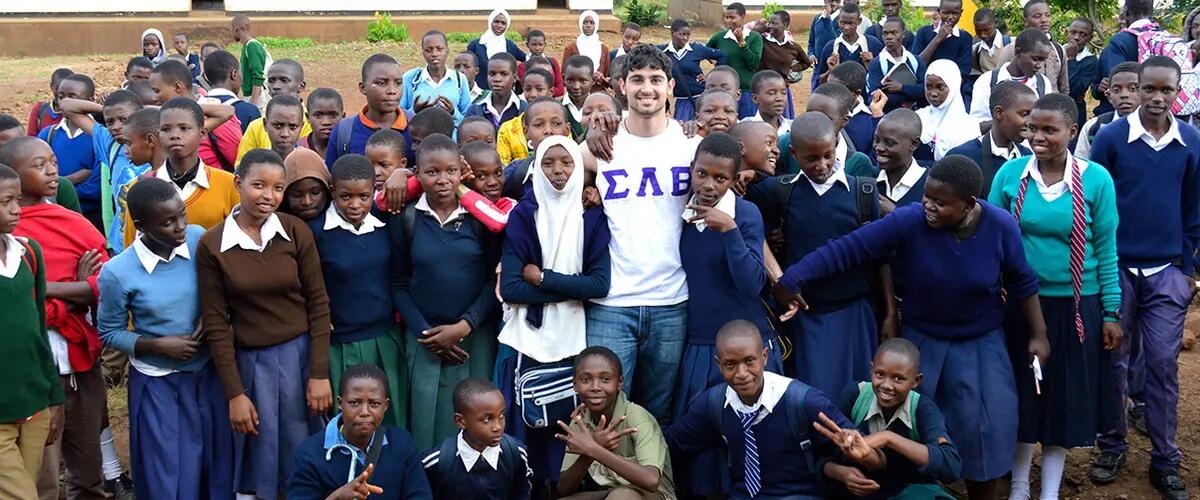 EXPERIENCES: Student gets a look at life in Tanzania
By Amir Ismail
One of my aspirations is to travel the world and gain a global perspective that will enhance my learning and life experience. During the past spring, as I completed my junior year at Rutgers Business School, I had the opportunity to visit Tanzania, Africa, as part of an exchange program sponsored through the Office of Student Life and Leadership at Rutgers University-Newark.
The attitude I had before going to Tanzania was to make the most of the experience by giving back at a grand capacity. Throughout my college career, I have hoped for an opportunity to partake in an experience bigger than myself and to impact a culture through the power of service and exchange. This was my chance!
Although I was anxious and curious as to what it would it be like in Africa, I was also excited to experience a new society. My initial impression of the country was how welcoming the local citizens were, accepting us as their own and not as "outsiders."
One of fondest memories was working in a secondary school in Arusha, a fast-growing city in northern Tanzania. I was immediately struck by the infrastructure and the school's shortage of resources. The Rutgers group, which included eight undergraduate students, began its work by helping with the construction of a dormitory, planting trees, renovating a classroom and donating school supplies. The laugher and jokes that I shared with the children during our work was uplifting and one of my best memories.
Ex-pe-ri-ence: The process of doing and seeing things and of having things happen to you; skill or knowledge that you get by doing something.
As a group, we successfully planted more than 75 trees, renovated a brand new classroom and donated about $200 worth of school supplies. I became friends with one student named Victor, a teenager who attended the school in Arusha. He was so engaging and curious. He told me he loved music and one day, I taught him a dance move. I left him with a gift of my shirt, shades and a photograph of the two of us, and we have been exchanging emails since I left Africa.
Another memory I have is of working with the Massai people, who are an indigenous population outside Arusha. We got a deeper understanding of the Massai by observing their community and learning more about what they do to survive. Playing with the children brought us joy. Seeing how hard the women work to keep the community afloat by creating beads and selling them was empowering. I was given a bracelet by a young girl of the tribe who made it for me to take home.
As part of the program, we spent time helping many establishments, such as the University of Zanzibar, a sober house, an orphanage and a health clinic, but we also got to see the beauty of Tanzania. We had a chance to visit Ngorongoro Crater to see some of the wildlife of Africa.
The image of Africa's mountains, grass and the seemingly never-ending abyss of nature is something that will be forever imprinted in my memory. 
I was introduced to the exchange program by previous participants and a direct referral from a colleague. I had to write a statement to the deans of the Paul Robeson Campus Center explaining what the trip would mean to me and how it would advance me academically and enrich me culturally.
After the program, I was required to write a paper reflecting on the trip, and I received three academic course credits from the School of Public Affairs and Administration.
One hears about what goes on in the rest of the world, but to see it, breathe it and be able to live it is a completely different experience. This exchange allowed me to see the world through a different lens and proved to me that the world is much bigger than New Jersey. I am much more appreciative for what I have and all of the many sacrifices that my parents made to put me in the position that I am in today.
Through this experience I've learned a very critical component in my life — the gift of giving back and learning about a community of people different then my own.
Amir Ismail is a Rutgers Business School senior majoring in accounting and supply chain management.
Press: For all media inquiries see our Media Kit