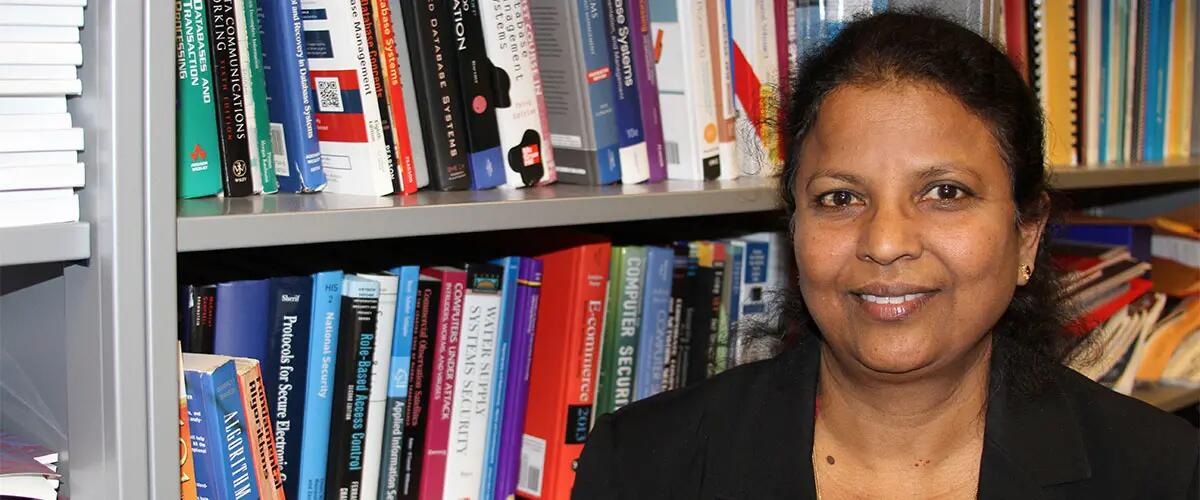 Faculty Snapshot: As tech revolution races on, a field of research grows more challenging
Vijay Atluri, professor of Management Science and Information Systems, director of the Master of Information Technology and Analytics program, research director at the Rutgers Center for Information Management, Integration and Connectivity
Expertise
Information systems security, database management systems, distributed systems, data analytics, workflow management, spatial databases and electronic commerce.
Current research
Her research focuses on information security and specifically on how protection can be enabled automatically based on the credentials of users and the types of resources to be safeguarded. "Cyberattacks are so prevalent compared to 10 years ago. It's not going to go away. It's only going to worsen. Because it's a growing issue, more funding is being allocated for research. It's rewarding to be in a field that is interesting and challenging."
Outside the classroom
"I love gardening, even indoor plants. I have a lot of Jasmine plants at home, at least 10 varieties."
On becoming an engineer
"My father wanted me to be a doctor. I wanted to be an engineer. I thought the two were elegant professions. But people kept telling me you can't be an engineer, and I took that as a challenge."
Thoughts on how technology is changing the world
"Technology has dramatically changed in the last two decades – it is not surprising that it has affected everything including business, retail, banking and social interactions. What's surprising is that it's all happening at such an accelerated rate."
What new technology is she most excited about
"Virtual reality has the potential to revolutionize the way we interact with others through social networking, teleconferencing, etc. However, this may bring its own security and privacy challenges."
-Susan Todd
Press: For all media inquiries see our Media Kit