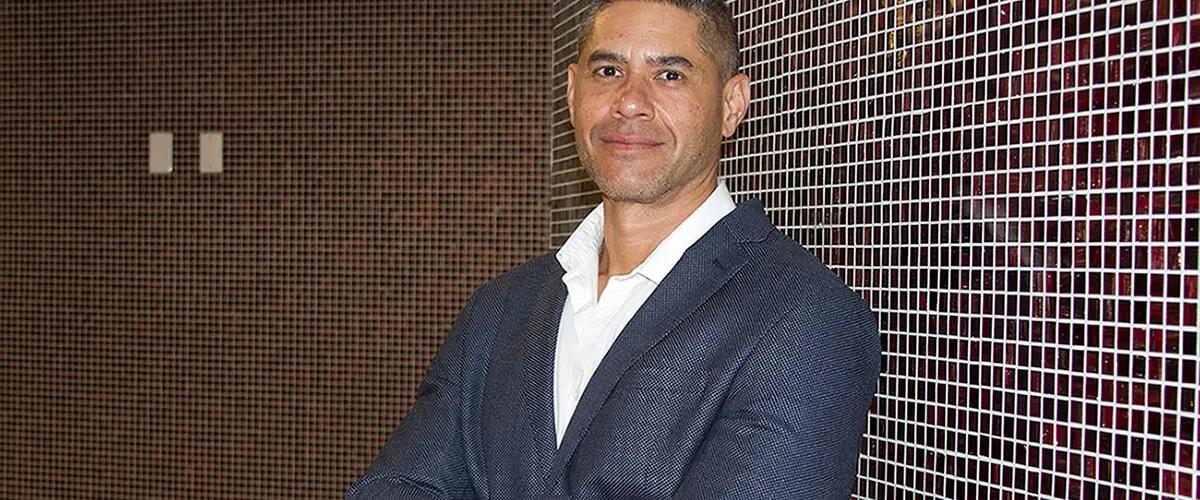 Food scientist pursuing a Rutgers MBA creates Perfect Life Nutrition
Juan Salinas, who is concentrating his MBA studies in entrepreneurship, won first place in the 2018 Rutgers Business Plan Competition for his efforts to grow a startup company.
When he started working out in college, food suddenly began to captivate Juan Salinas, a part-time Rutgers MBA student and founder of Perfect Life Nutrition.
A Rutgers engineering student at the time, Salinas switched his focus to food science, allowing him to combine his strengths in math and science with his new interest in nutrition. "It was a good fit for me," he said.
He has stayed on that path ever since, expanding his knowledge as a graduate student and then as a Ph.D. candidate while he worked for major food companies like Nabisco, Kraft and Cadbury. While he was able to innovate during his career, it was only when he started his own company that he felt he could focus on creating something healthy.
"I always felt I couldn't really eat the foods I was making, Salinas said. "They just weren't for me. I wanted to trying to introduce products that had nutritional value."
That ambition led to the creation of P-nuff Crunch Baked Peanut Puff, a plant-based protein snack sold mostly in health food stores and Amazon.
Salinas, who is concentrating his MBA studies in entrepreneurship, won first place in the 2018 Rutgers Business Plan Competition for his work to grow Perfect Life Nutrition and develop his first snack product. The top prize came with $20,000 to infuse into the three-year-old business. The win also put him in the company of a number of other Rutgers Business School MBA students and alumni who have gone on to grow their businesses after winning the competition, which takes place in Newark every year.
Learn more about the Rutgers Business Plan Competition. Enter the 2019 Competition!
Salinas grew up in Honduras and moved to New Jersey after high school graduation. He spent his first six months in the U.S. learning English. After taking the standardized Test of English as a Foreign Language, he started classes Rutgers.
"I just kept thinking, this was my chance to do something different." - Juan Salinas
After Rutgers, he began his career as a product developer at Nabisco, working on a baked potato chip and a new, sweet version of Ritz Bits mini sandwiches. At Cadbury, he was given the task of innovating the Trident brand in a division that also made Sour Patch candies and Dentyne. Salinas and his team created Trident Splash, which would become one of the company's top-selling gum.
Then he began working on foods for athletes.
He left Cadbury and went to work for Power Bar, part of Nestle. He spent five years at Power Bar, where he was able to combine his expertise in food science with knowledge he gained in sports nutrition working on a master's offered by the International Olympic Committee. He helped to develop a puree made from fruit concentrate to provide a shot of energy for runners and tri-athletes. He also worked on a protein wafer made from ingredients that would help athletes enhance their performance in workouts and competitive events.
Power Bar was eventually sold off to Post and its future became more uncertain. Before long the business was divested and employees were let go, Salinas among them. "I just kept thinking, this was my chance to do something different," he said.
Salinas said he had learned a lot working at "three huge companies," and he considered two offers before he decided his next job would be doing something on his own. In 2015, he started Perfect Life Nutrition, and after eight months and hundreds of recipes, he introduced P-nuff Crunch Baked Peanut Puff. "Everyone wants to eat things that are good for them, but I wanted to create something that people wouldn't know wasn't junk food," he said. "I wanted it to be tasty and nutritious."
Meanwhile, he was also pursuing his MBA. In one of his entrepreneurship courses at Rutgers, Salinas learned about the business plan competition and decided to submit an application.
 "Even though I had planned my business, I hadn't put it through the rigor," he said. "The competition helped me to refine the company."
In the months since the business plan competition, Perfect Life Nutrition has pushed out two new versions of P-nuff Crunch, both are peanut-based but one is cinnamon-dusted and the other is flavored with cocoa. Salinas said he is also seeking to secure financing from investors, who can also work as advisors, providing him with expertise in food sales, marketing and management.
For a listing of stores that sell P-nuff Crunch Baked Peanut Puff, go to pnuff.com/shop/.
- Susan Todd
Press: For all media inquiries see our Media Kit