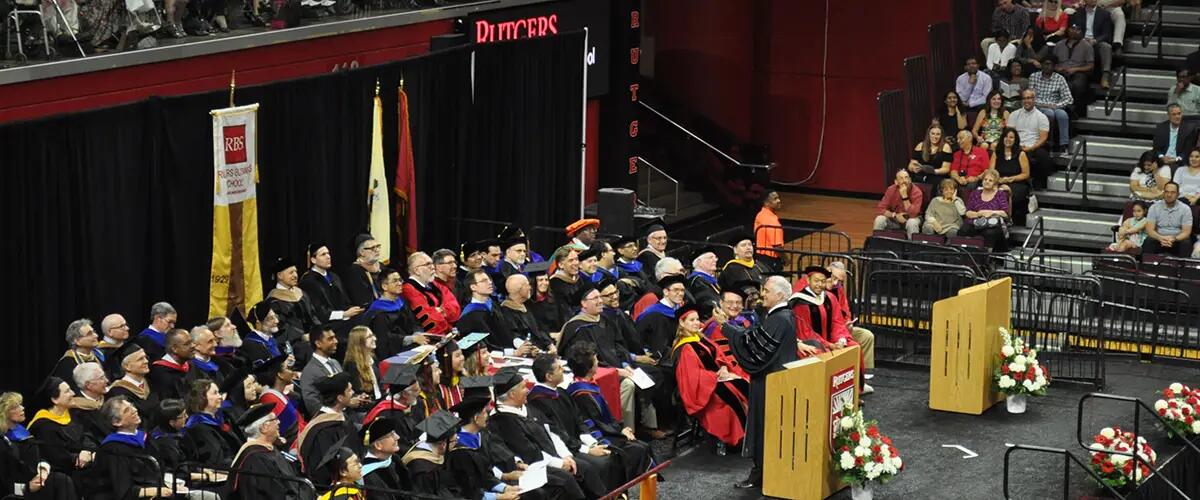 Founder & CEO of KIND gives graduates the secret to life
The speaker for Rutgers Business School – New Brunswick 2018 Convocation Ceremony was Daniel Lubetzky. He is the founder & CEO of KIND, which makes delicious and nutritious snack foods. A not-only-for-profit, KIND also works to elevate kindness and empathy through its business and The KIND Foundation, which is a separate philanthropic entity. The Foundation's most ambitious commitment, Empatico, aims to connect more than one million students through meaningful virtual interactions by 2020.
Lubetzky told the graduates, families, faculty and guests that he was "honored to witness this important rite of passage." He jokingly said that the only reason he was invited to speak was that he might bring KIND bars to all the graduates. "Well, you can look under your seats right now," he said. "There is a little treat for you guys."  Volunteers had taped KIND bars to the graduates' seats, and Lubetzky provided KIND bars to everyone attending as they left the event.
In all seriousness, Lubetzky said that he was "very proud to be here among the Scarlet Knights, because of Rutgers' embodiment of diversity and pluralism in American society. . . . Rutgers is one of the nation's most diverse universities, with students from all 50 states and 115 countries."
Lubetzky mentioned a hateful act of anti-Muslim flyers on campus and Rutgers' response.
He said: "I am particularly proud to be here among you because when the Rutgers community found flyers calling for violence against Muslims all over campus earlier this year, the community rose above that hate-baiting and chose to build bridges instead."
"At Rutgers, you are not just equipped with a solid academic education," said Lubetzky.  "You are also equipped with an essential and sorely needed skill to be critical listeners, to navigate differences, and to find ways to forge common ground. Take those strengths out into the world. Business is a formidable force for connecting people. You have the power, not to just create financial value, but also societal value as you use market forces to connect people across the world."
"It feels like this is the first day of the rest of my life." Tyler Baisden
Shifting to his message of the secret to life, Lubetzky said that it is not kindness, introspection, grit or purpose. "So what could it be?" he asked. "The secret is balance."
While acknowledging that "the biggest secret to my fulfillment and effectiveness, not just in business, but in life" may come as a surprise, Lubetzky continued: "Developing the skill of balancing between competing forces, between character traits within ourselves, and between considerations we may be facing in life, can help modulate and impact everything we do." 
Lubetzky explained that "Aristotle saw virtue as finding the right balance between character traits." Bravery, according to Aristotle, said Lubetzky, "must be tempered or in its excess it becomes rashness and generates foolish risk. But lack of bravery results in cowardness."
Using further examples, Lubetzky demonstrated that balance, in work, in life, within ourselves, really is the key to a fulfilling life. "Graduates, from 'the banks of the old Raritan' armed with deep values and knowledge, march forth to make this a better world, and have fun while you are doing it."
Press: For all media inquiries see our Media Kit