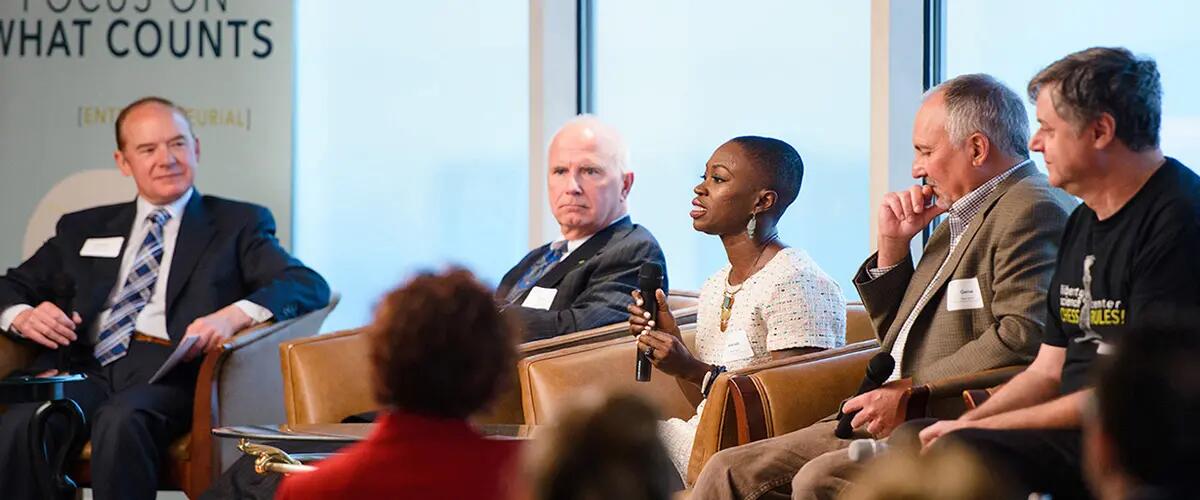 Four executives explain leadership at CEO Evolution event
Four chief executives shared their experiences of building and running businesses during the second annual CEO Evolution sponsored by Citrin Cooperman and Rutgers Business School.
CEO Evolution recognizes notable business leaders and brings them together to share their insights and practices as a way of inspiring other leaders, professionals and students.
The 2016 panel included Adenah Bayoh, whose company bears her name and serves as the parent corporation of two thriving IHOP franchises and a $225 million portfolio of urban redevelopment projects; Kevin Cummings, president and CEO of Investors Bank; Paul Hoffman, president and CEO of Liberty Science Center; and Gene Muller, founder and CEO of Flying Fish Brewing Co.
Moderated by Citrin Cooperman partner Edward Horton, the event was a candid and revealing conversation about the passions and principles that drive business people and shape leaders. They spoke about perseverance and the importance of giving back.
Muller described himself as a "reluctant entrepreneur who liked the science and creativity" of making beer while Bayoh attributed her drive to the influence of her enterprising grandmother.
In addition to the four panelists, Citrin Cooperman and Rutgers honored James Beamesderfer, a U.S. Army veteran who is vice president of program management in the Office of Veteran Initiatives at Prudential Financial.
"In its simplest form," Beamesderfer said, "leadership is getting things done through others."   
-Susan Todd
Press: For all media inquiries see our Media Kit