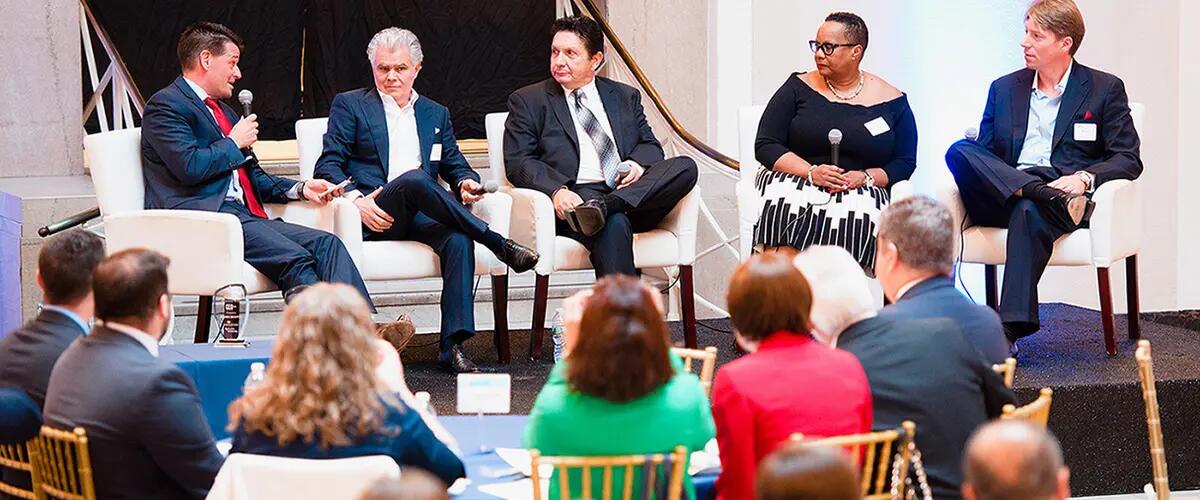 Four executives share the essence of leadership
From their strategies to their mistakes, four executives opened up to talk about their experiences as leaders during Citrin Cooperman's annual CEO Evolution event.
Michael Napolitano, a partner at Citrin Cooperman, moderated a discussion among Braun Kiess, a chief executive officer and angel investor; Marjorie Perry, owner and chief executive officer of MZM Construction and Management; Biagio Scotto, president of the Villa Restaurant Group; and Tom Tsivgas, owner and chief executive officer of Yesterday's Business Computers.
Citrin Cooperman, in partnership with Rutgers Business School, sponsors the CEO Evolution as a way of honoring business leaders and providing a venue for their leadership to inspire others in the business community. Dozens of working professionals and Rutgers Business School staff and students attended the 2018 event at the Newark Museum.
During the course of the discussion, the executives described their challenges, mistakes and ambitions. They talked about strategy and leadership style. The also spoke about the importance of loyalty and learning.
Perry spoke about working to constantly remain four or five steps ahead in order to innovate. "We're constantly learning, constantly training," she said.
The executives also offered their perspective on what the next wave of college graduates will be looking for in their careers.
Kiess, who also teaches entrepreneur-minded graduate students, said students who are preparing now to enter the workforce want to make an impact. "They don't want to be just a cog in the wheel," he said. "They expect more from an employer than just a paycheck."
Tsivgas, a U.S. Army veteran who served in Vietnam, was honored as the 2018 Veteran Leader. In addition to his service between 1973 and 1977, he served in the reserves for three years.
Press: For all media inquiries see our Media Kit