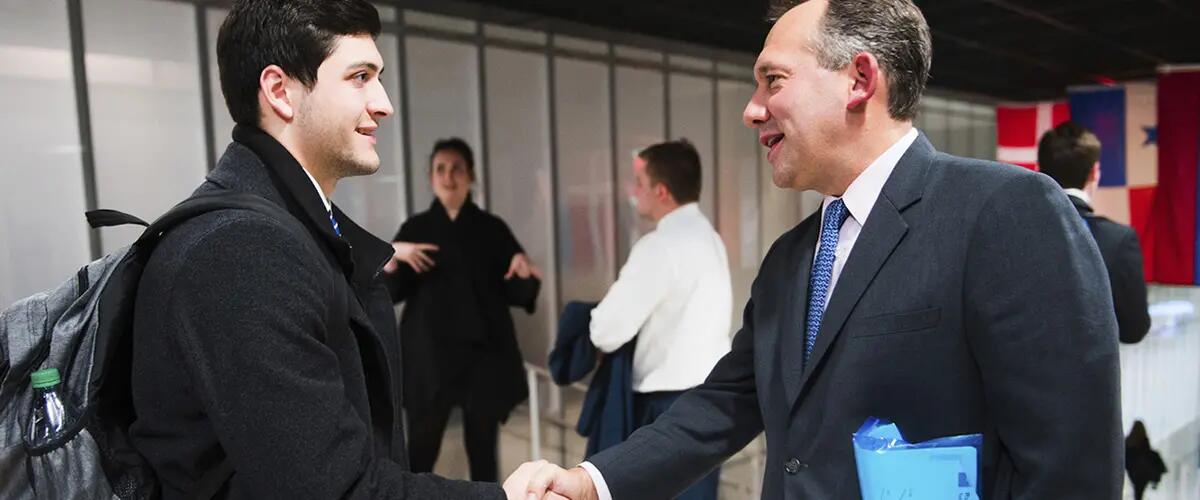 Goldman Sachs partner returns to Rutgers campus with wisdom for current students
Hundreds of Rutgers Business School students had a chance to hear Goldman Sachs partner Gary Chropuvka talk about his career during a fireside chat with finance professor Fred Hoffman.
Chropuvka, a Rutgers University alumnus who is now co-head of quantitative investment strategies with Goldman Sachs Asset Management, said he spent his first three years at college studying chemical engineering. After attending a career fair, he changed his major to math.
His career in the finance industry began with an unpaid internship. "It was intellectually stimulating and very cool," Chropuvka said.
It led to a full-time job at Morgan Stanley that proved to be a critical springboard for his career. When a co-worker left Morgan Stanley to work at Goldman Sachs, he brought the young, hard-working Chropuvka to the company with him. Over the course of two decades, Chropuvka worked his way up to managing director and partner.
In his day-to-day work as co-head of quantitative investment strategies with Goldman Sachs Asset Management, he works with a team that leverages information from different data sets to develop investment strategies. He described his work, some of his interests outside work and the qualities recruiters look for in candidates vying for jobs at Goldman Sachs.  
During his career on Wall Street, the Rutgers alumnus has worked closely with Rutgers Business School to help influence its reputation and help groom students for jobs in the financial industry. He is a member of Dean Lei Lei's board of advisors and sits on the board of advisors for the Road to Wall Street program. He is also a member of the Trustee Board and the Rutgers Investment Committee.  His talk at Rutgers Business School was part of the fall semester Distinguished Speaker Series.
"I'm an investor in each and every one of you," he told the audience, adding that he hoped to leave them with a nugget or two of insightful advice.
Sophomore Bhaavi Patel, who is studying business analytics and information technology and marketing, said she was impressed by Chropuvka's comments de-emphasizing the importance of a job candidate's grade point average. Patel, who is working toward a 4.0, said that "knowing it's not everything is a relief."  
"I love listening to people who attended Rutgers talk about their success" she said. "If they achieved that, it gives me the hope that I can."
Here are some of the nuggets of wisdom Chropuvka shared:
"Give yourself the highest probability of success."
"Be long-term greedy. Find your passion as early as you can."
"Be intellectually curious. Ask questions."
"Bring your whole self to work."
"Inside a huge company, you can substantively network.  Large firms are some of the largest universities around.  You can get to be where you want to be. It's easier for a company to find you (talent) inside the company."
- Susan Todd
Press: For all media inquiries see our Media Kit