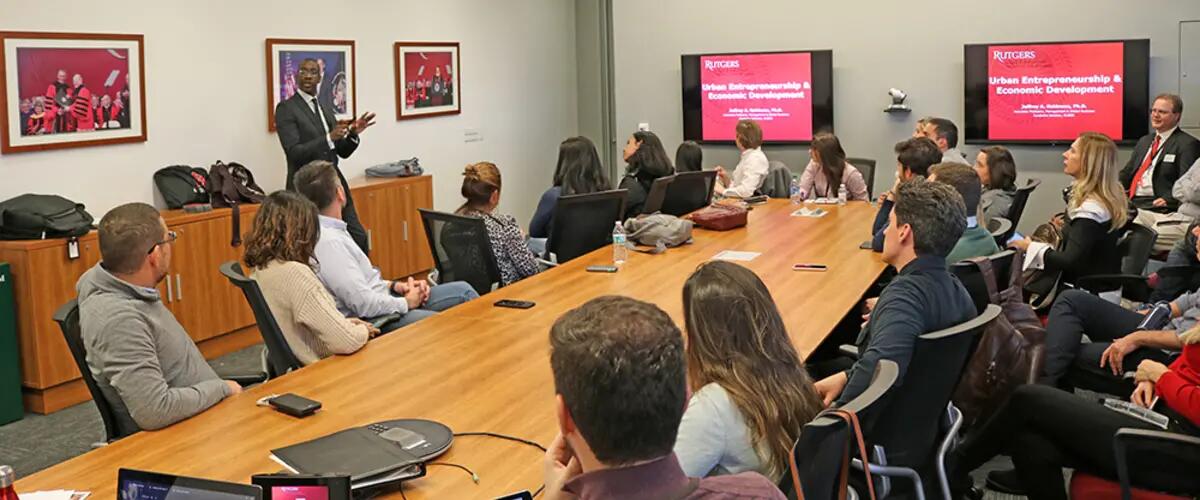 Graduate students from Brazil visit Rutgers to learn how America does business
Rutgers Business School hosted a delegation of graduate students from Brazil who came to the U.S. to learn about public-private partnerships and other American business practices.
The graduate students, who are all working executives studying at Brazil's FGV-EBAPE, attended lectures at Rutgers Business School, traveled to Trenton, visited the New York Federal Reserve and the Port of New York and New Jersey. They also toured the New Brunswick Performing Arts Center, a recently completed project resulting from innovative public-private partnerships permitted by New Jersey law.
The immersion program was custom-designed for the group by Douglas Miller, associate dean for MBA programs, and run by Dietrich Tschanz and Monica Giron of RBS International programs.
The 37-member delegation included one faculty and one staff member from FGV-EBAPE, which is short for the Escola Brasileira de Administracão Pública e de Empresas da Fundacão Getúlio Vargas, an elite school that trains leaders from Brazilian society. Many of the students are currently pursuing a Master of Business Administration program, and some are studying for a Master of Public Administration.
The delegation's visit was intended to showcase the expertise of Rutgers faculty and in business and public administration and to raise the stature of Rutgers Business School in Brazil and around the world.
- Susan Todd
Press: For all media inquiries see our Media Kit