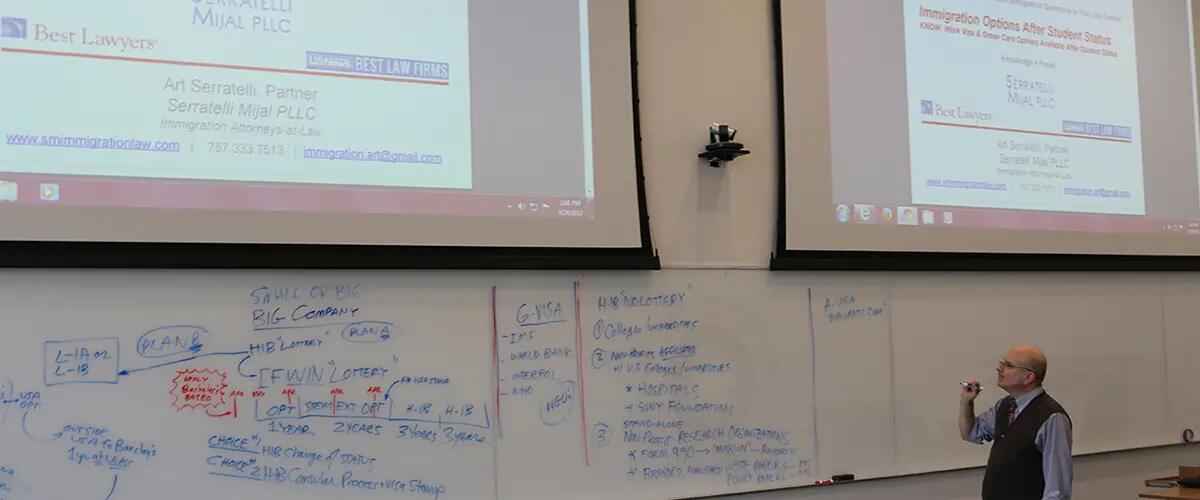 Graduate students counseled on options for obtaining work status
The Master of Financial Analysis Career Management Office provides career-related counseling, resources, and programs to help current MFinA students and alumni to clarify career goals, establish career plans, and develop job-search skills. The office builds relationships with alumni, employers, and other career offices to optimize career opportunities while also creating strategic partnerships with stakeholders.
In addition, the Career Management Office established a partnership with an immigration law firm to provide employers with set fees and resources for obtaining work visas and employment-based permanent residence options. 
Additionally, Rutgers' Centers for Global Advancement and International Affairs (GAIA Centers) coordinate an array of services for international students and their spouses, for faculty, scholars, and their spouses, and for academic, research, and administrative units.
Recently, Arthur Serratelli of Serratelli Mijal PLLC, which specializes in immigration law, came to Rutgers Business School to speak with current MFinA students about the services available to them. 
"Most students and employers are familiar with the H-1B visa lottery," Serratelli said.  "But there are other options, work status, etc. available such as temporary work status, and non-profits like universities. Financial analysis graduates can pursue their careers, and oftentimes, have more impact with a smaller company and avoid the poor chances of the H-1B lottery."
-Sean Ireland
Press: For all media inquiries see our Media Kit