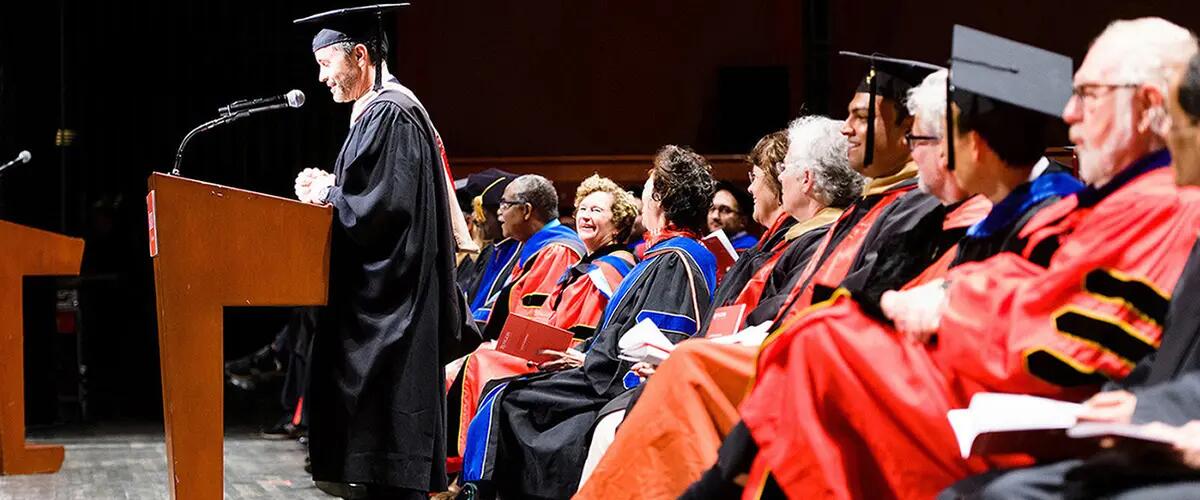 Graduate students get parting advice about choosing a life well lived
"Think about your career and life as a pursuit to maximize your own human potential and reach the highest levels of personal integrity and character. That will lead you along the path of a life very well lived." - Convocation Speaker Gary Cohen.
More than 740 graduate students marked the completion of their programs at Rutgers Business School on May 18 with enthusiastic words about their potential and a wise message about integrating a successful work life with a meaningful life's work.
Convocation Speaker Gary Cohen, executive vice president of global health at Becton, Dickinson & Co., and president of the BD Foundation, recalled his own feelings at his graduation from the Rutgers MBA program, which occurred "almost to the day" 35 years before.
"Take this opportunity to make decisions and choose paths you'll be proud to look back on many decades from now," Cohen told the crowd.
"A successful career is certainly one think you'll feel good about years from now," he said. "Yet one day when you look back on your career, what I think you'll remember most is how you touched people's lives in a positive way and the opportunities you took to leave this world in better shape than the way you found it."
Cohen spoke about his own career at medical device maker Becton, Dickinson, where he has worked since 1983 when he landed a job five months after completing his Rutgers MBA. Early in his career, Cohen said he took an interest in healthcare worker safety at a time when there were concerns about contracting HIV and other infectious diseases from needles after they were used on patients.
"As the world's largest producer of needles, BD had an important opportunity for positive impact," Cohen said. In 1988, Cohen said he led a strategy to redesign BD's needle products by adding safety features by retooling manufacturing processes, engaging in collaboration with safety advocates, researchers and professional societies and training tens of thousands of health workers and even pursuing changes in national laws.
He also spoke about BD's work to help eliminate childhood diseases by improving immunization practices, its efforts to reduce HIV, and more recently, the company's work with a number of external organizations to combat antimicrobial resistance.
His work at BD combined with the increasing expectations among customers and investors for today's companies to engage in ethical and sustainable business practices contributed to Cohen's plan to work with Rutgers Business School to establish the Rutgers Institute for Corporate Social Innovation.
Read more about the vision for the institute: "Rutgers Business School and MBA alumnus Gary M. Cohen to establish Rutgers Institute for Corporate Social Innovation"
"This new institute will position Rutgers Business School at the forefront of one of the most important trends in business by establishing a full curriculum to educate present and future business leaders on integrating societal impact into business strategy," Cohen said.
Before Cohen's speech, Rutgers Business School Dean Lei Lei told the students they would represent the brand of RBS and encouraged them to make a difference in the world.
But before they left campus, she urged them to network one more time with their classmates. "Some of them may become your customers," she said. "And one of them may become the next CEO of a Fortune 500 company."
Matt Furey, who spent four years working on his MBA part-time as he worked full time, was closing a chapter that had its challenges as he juggled his studies and his job.
"It was tough," Furey said, reflecting on his accomplishment as he headed for the convocation ceremony in a procession with hundreds of other graduating students. "I had to pay bills and keep working, but I also wanted to keep advancing."
With a concentration in analytics and information management, Furey said the investment paid off. "I moved up pretty quickly," he said. "So, it did the job."
In a prelude to the convocation, a trio of bagpipe players led a procession of deans, faculty, staff and hundreds of students – a Rutgers Business School tradition – along windswept Broad Street to the New Jersey Performing Arts Center. Pedestrians along the route of the procession stopped, some offered congratulations to the black-gowned students passing by and clinging to their graduation caps to keep them from flying off in the wind.
A quick look at the graduation ceremony by the numbers:
300 students from the Master of Business Administration (full-time and part time)
53 Executive MBA
9 International Executive MBA
91 Master of Accountancy (Financial, Government, Professional, Taxation)
158 Master of Information Technology and Analytics
48 Master of Quantitative Finance
40 Master of Financial Analysis
28 Master of Science in Supply Chain Management
2 Master of Science in Supply Chain Analytics
16 Master of Science in Business of Fashion
- Susan Todd
Press: For all media inquiries see our Media Kit