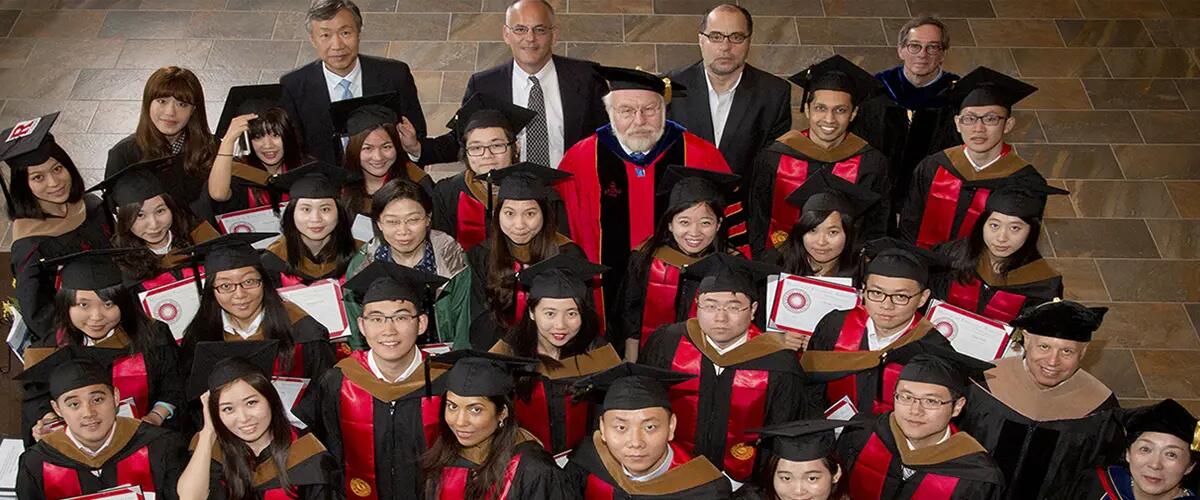 Graduates of Masters of Financial Analysis program launch impressive careers
Students in the Master of Financial Analysis Program receive lots of resources to ensure they are job-ready. Here is a look at where several recent graduates have landed jobs.
Chris Maniscalco, project manager, Bioprocessing Solutions Alliance, closely managed his time to be able to continue working at his current entry level position at BSA while attending the Master of Financial Analysis (MFinA) program.
"The professors ensured that the course material directly applied to the students' future careers," said Maniscalco.  "I found this essential to my intellectual growth, and I immediately used what I learned in class at my job."
"One of the most valuable parts of the program," Maniscalco said, "was that there are many organized site visits as well as highly experienced financial industry guest speakers who come to speak and spend time with the class.  They provided an opportunity to learn from their personal careers as well as network with company leaders which is practically unheard of outside this program.
"I was able to thrive in the Master of Financial Analysis program as well as at work by staying focused, determined, and knowing a goal of where I wanted to be in my career. The path that I chose by partaking in the MFinA program provided me with a priceless experience that will continue to benefit me throughout the rest of my life. 
"Since graduating with my degree in May of 2016 I was quickly promoted from an entry level job to a project manager position within my current company.  I am confident that this progression would not have been possible if not for the MFinA program," Maniscalco said. 
Since graduating, Catherine Ma works full-time as an analyst in supply chain management at the U.S. headquarters in New Jersey of the global company SOMFY Systems.
SOMFY is an acronym for Societe d'Outillage Mecanique du Faucigny which translates to Mechanical Tooling Company of Faucigny. The company roots go back to 1750 when it began making parts for Swiss watches in south east France. Today it is helping to create smart homes and workplaces with weather-controlled awnings and shutters, motorized projection screens, interior shades and more.
"I came to the U.S. for my master degree directly after college in China," Ma said.  "I am in a group of people, most of whom have no work or American experience. The Rutgers MFinA program provided me many opportunities to learn skills before entering the real world of my professional career. My Master of Financial Analysis degree and the career services were absolutely necessary to my securing my position with SOMFY.
"The MFinA Career Management office provides career-related counseling, resources, and programs to help current students and alumni to clarify career goals, establish career plans, and develop job-search skills. The office builds relationships with alumni, employers, and other career offices to optimize career opportunities while also creating strategic partnerships with stakeholders.
"One of the best parts of this program is our special events every Friday; for example when The Chinese Finance Association leadership spoke with us. The different events taught us how to network and how to build our career path" Ma said.
Neel Patel earned a Bachelor of Science degree from Rutgers Business School in 2013 majoring in finance, and a Master of Financial Analysis from RBS in 2016. He currently works as an investment analyst at the New Jersey Department of Treasury, Division of Investment.
"The program prepared me for my role with the State of New Jersey by equipping me with the necessary skill set that I need to start my career in finance on a strong note," said Patel. "One of the things that is pertinent to my job as an alternative investment analyst is ratio analysis. A framework that was thoroughly covered in my investments course. 
"I analyze many companies in the alternatives realm in different sectors of the market on a daily basis. One of the many means of analysis that I use to see if an investment is worthwhile is looking at the firms' various liquidity and debt ratios and see how they stack up against their competitors.
"In addition, the Master of Financial Analysis program taught me that finance is an industry that never sleeps. When one market closes, another market opens to begin its trading session," Patel said. "While I was in the program, I made it a daily habit to get myself immersed in all the various activity going on in the financial world by reading news sources such as The Wall Street Journal and networking with companies that came on campus."
Press: For all media inquiries see our Media Kit