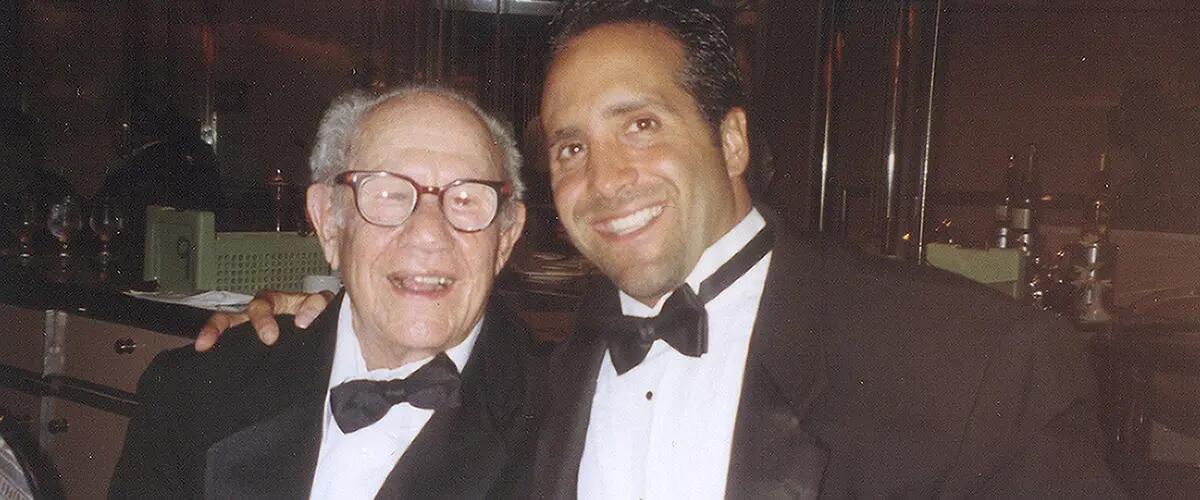 Grandfather's wise words fill a book
Rutgers Business School alumnus Marc Demetriou credits his success in work and life to what he learned from his grandfather, so now he's passing it on to others.
Rutgers Business School alumnus Marc Demetriou credits much of his success to what he learned from his grandfather, a Depression-era immigrant who doggedly pursued his dreams and retired a millionaire at age 60.
Demetriou, a top-ranked mortgage producer and public speaker, wrote "Lessons from my Grandfather: Wisdom for Success in Business and Life," a guide that chronicles his grandfather's path from poverty to wealth and distills 15 principles he lived by.
Charlie Pistis left Cyprus at age 16, taking on any job as he made his way in Greece and England, and then in New York City, just as the Great Depression hit. He worked long hours and always did more than expected.
Pistis married his childhood love, served in the U.S. Navy during World War II, and helped arriving immigrants settle into their new lives. He also learned about investing in the stock market from members of clubs he managed. He retired in 1969 and enjoyed 37 more years of life.
Pistis loved telling stories and dispensing advice, and Demetriou soaked it all up.
Today, Demetriou, 49, is branch manager of Residential Home Funding Corp. and ranks in the Top 1 percent of mortgage originators in the U.S. The 1991 Rutgers graduate lives in Montville and has three daughters, the youngest is named after his grandfather.
Q. Did you spend a lot of time with your grandfather growing up?
A. I spent so much time with him, and we talked on the phone almost every day. He thought of me as the son he never had. He always read two or three newspapers a day, and when he was in Florida, he'd cut out articles about family, business, and success and mail them to me to fuel my brain.
Q. Why did you write this book?
A. I was so blessed to have him as my grandfather, mentor, and best friend. I felt I needed to share this man with the world. He helped me get ahead in life and I wanted to inspire, motivate and empower others with his wisdom. I also wanted to share the immigrant story, the people who came to this country in the 1920s and 30s and overcame so much hardship. I didn't want that wisdom to be lost.
Q. What are the top values you've drawn from your grandfather's life?
A. Attitude is everything. Believe in yourself, always, and be resilient. And know that no one in life is above or below you. I truly believe that you can control life rather than letting it control you. Success is a choice.
Q. You almost didn't get into Rutgers Business School. How did you turn things around?
A. I was in TKE (the Tau Kappa Epsilon fraternity) and having a lot of fun the first semester of sophomore year, and I wound up with a 2.5 GPA. You needed a 3.0 to get into the business school. I set up a meeting with Dean (Marty) Markowitz. He told me if I earned a 3.5 GPA in the spring semester and took calculus over the summer, I'd get in. I didn't go on spring break, I studied hard, and I got it done. Now when I speak to high school and college students, I tell them this story.
Press: For all media inquiries see our Media Kit